Fida on the Figo - A true Value for money Car
I owned a Maruti Zen ( 1997 ) for around 3 years and was planning to buy a new car, test drove almost all possible cars. My First test drive was the Chevy UVA, followed by the SPARK, then the VISTA, MANZA, PUNTO, LINEA, i10, SANTRO, SWIFT, WAGON R, ZEN ESTILO and then the SWIFT DZIRE. Dragged all my buddies, family members to all the test drives, at a point all my friends started telling me to finally buy a car and excuse them from the embarrassment :). So we finally planned that we wud go in for the SWIFT DZIRE diesel as it had a very huge boot and the MARUTI tag until i happened to see the FIGO. I decided to once again pull my friends and go in for a test drive of the FIGO. The drive completely vowed me, the space , the leg room, features, interiors, music system ( is awesome ) and the boot space. Went back home and told my family members, test drove the FIGO with them too, My Kid who's 3 & 1/2, completely loved the FIGO, she wanted to take home the car which was on display :) She especially liked the rear seat functionality, where the seat completely goes flat, she gets that whole area to freak out. Booked the car ( SQUEEZE TITANIUM ) and got the delivery within 15 days. When i touched my car, it was the same feeling when i held my kid for the 1st time :) From that day on my kid's in love with the color ( calls it the FIGO COLOR ) and wants everything that we buy for her in that FIGO COLOR :D Areas of disappointment were 1. Even after insisting the dealer did not give any kind of accessories with the car. 2. As I bought the Top Variant, it was shocking to hear that they had no alloys, fog lamps, mats and Mud flaps, Ford as a company should at least provide all these accessories in the top variant. But even after not getting all that extra jazz, i still love the car, it has good pickup, good stability, good space ( boot + interiors ), the suspensions cud have been a little more better, My family likes the area where the rear doors have manual roll up windows ( rather than all four power windows ), coz in cases like the 26 july, the cars with all power windows had to suffer and people literally had got stuck in there. In city it gives me an average of 17 kmpl and on highways 22 kmpl, quite happy with the decision to go in for the FIGO. And especially many heads turn and take a glance at the car because of the color ( love the squeeze ). I'm proud to own the FIGO and i'm loving every piece of it :) So if you are looking for got leg room, space, decent average, good features, good looks, this is the car you should go in for :)
Write your Comment on Ford Figo 2012-2015
1
k
karanbir shah
Sep 19, 2010 7:35:00 PM
really seems to be an honest opinion it will help me as i am researching for buying one.... But economy issue is little doubt full. all the best..
Reply
1
a
avnish
Aug 24, 2010 7:44:56 PM
how u will able to get average of 17 kms in city as it used to give only 12.5 kmpl.
Reply
1
n
nishant patil
Aug 22, 2010 11:43:08 PM
@ Anil
Reply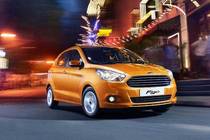 This car model has expired