A disappointing purchase
A disappointing purchase
I regret having bought this car. I had never owned a Ford before and I didn't do enough research before buying it, assuming that a company that practically invented the assembly line and has been making cars for more than 100 years would have nothing to offer but good quality. Too late I realized that in the US, fewer and fewer people are buying Fords citing bad product quality relative to European and Japanese cars.On the plus side, this car handles very well. The steering is very light and the interiors are fairly quiet. Finishing is good. So far, my passengers find it comfortable, both in the front and in the rear. Its automated airconditioning system is pretty good too, although once summer comes maybe rear side passenger vents will be found desirable. On the negative side, unfortunately, I can point out more negatives than positives:
The car is not designed for people who are taller than about 5'3". I like to have my driver seat positioned relatively close to the steering wheel, with the seat height raised a little. In this position, my head bangs the visor almost everytime I enter the car. The mileage is pathetic. I get no more than 8 kmpl in normal (slow moving) Bangalore traffic on my petrol version without using the AC, and up to 8.5 kmpl on a highway. This is absolutely ridiculous, and nowhere close to their claimed and advertised mileage. Ford's standard response when I report this problem is to insist on a test drive of about 100 to 150 km with a fresh tank of fuel to verify the mileage themselves before they will even investigate the problem. Disgusting attitude of denial. When I told a service manager that this is the figure I got both on the cluster readout as well as by a simple manual verification test, he finally admitted that it is the actual mileage to expect. Generally Ford Service seems more interested in claiming service coupons and talking nicely rather than doing. They have approached me a ridiculous number of times for feedback on the dealer after service visits, but not once do they solicit feedback about the car quality and about my impressions of Ford Motors India. The gear shift is remarkably unsmooth. Even small cars these days have much smoother gear shifts. The dealer replaced some clutch cable for me, but I don't find any improvement after that whatsoever. The inbuilt stereo system (which cannot be changed) has poor sound quality, with too much damping of higher frequency notes. Even a cheap mp3 player has better sound quality than what comes with this car. The screen navigation design sucks. It took me an hour of frustrating attempts to find out how to stream music over bluetooth from a mobile. The user manual is silent on it and I finally got the answer from a helpful youtube video that another Ecosport owner posted. The light switch (which one would expect to be controlled on a stem attached to the steering column) is an old-fashioned knob placed at knee level on the dashboard near the driver's door. Almost every time I exit the vehicle my knee hits it and sometimes accidentally turns the lights on. It's very irritating. A major flaw is that there is too much software control over the car. One problem with this is that if electrical power is lost due to something like battery failure (for example), certain critical functions are disabled and there is (very suprisingly) no manual backup. For example, if the battery fails the passenger doors cannot be locked!! This presents a security issue. If you cannot start and drive the car, and you have to leave it somewhere while you go looking for help, you will need to leave the car unlocked. Also, when there is no power, the rear door cannot be opened because it has an electronic switch without a manual backup. Again, this is rather ridiculous, extremely amateur design thinking. I had my first engine malfunction warning light appearing in less than 7 days of taking delivery of the car. It was duly collected for investigation, and I was told that the problem was an improperly tightened air filter hose bolt, which was apparently not a big deal. Something that small causes an engine malfunction warning indication? At low speeds the car drives fine, but as you accelerate you are reminded that it has just a 1.5 litre engine. It feels a bit underpowered when going up steep inclines as well, even in first gear. By design and in performance it is not a real SUV by any stretch of the imagination. The clutch needs to be pressed too completely in order to start the car, but it engages very early as you release it to start moving. This means that in low gears you can't help jerking it a little bit now and then. It takes some getting used to. The keyless ignition is scary, to say the least, but that's a personal reaction. Other customers may find it useful. If your engine is running and you happen to drive away but forget to take the remote along with you,........... all the best!! There is something to be said for having a good old fashioned key that is stuck in its slot while the engine is running, and safely in your pocket when it is not. All in all, I've found this car to be vastly overrated. I don't find enough negative feedback on the internet, so either I have a faulty piece, or Ford's online publicity management is good. I suspect it's the latter.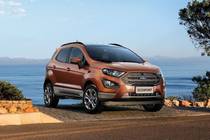 Rs. 8.17 - 11.71 Lakh*
*Ex-showroom Price in
New Delhi
Rs.
9,76,500
*
EMI:

Rs.

21,216
Projector Headlamps with LED DRL
Push Start/Stop
Leather Wrapped Steering
2 Offers
Bring Home Ford Ecosport and Get EMI of Rs...
21 days left