EXPENSIVE in Bangalore, EXTREMELY ARROGANT and MISBEHAVING SALES ...
EXPENSIVE in Bangalore, EXTREMELY ARROGANT and MISBEHAVING SALES ...
I had a tough day test driving a Cruze today. As soon as I saw the car, I tried to compare it with a Civic (find it the closest match in terms of look and segment). I felt Civic looks much more elegant externally. I wasn't pleased with the single tone gray leather interior as we have now got used to dual tone interior. Sun roof looked good with sliding cover. However let me clarify that while looking to buy a car, I am test driving cars right through B+ till D segment and comparing their features, comfort, and refinement while evaluating value for money. Based on these parameters, I was not at all impressed with the LTZ variant's On-road price tag of Rs. 16+ Lac in Bangalore. I was frank with the sales executive who brought the vehicle, comparing each feature and performance with vehicles from other and same segments. The car he had brought was showing a computed overall mileage figure of 9.9kmpl. Was not very pleased with the figure. Getting in the car: Was happy to know that you just need to touch a sensor on the driver door handle to lock the car (barring the need for using the remote or the key to open the door). Sales person Arun suggested that this feature essentially locks the car after you get out and touch the door (or someone wants to open it other than you). However this feature, he suggested would work only if you have the key nearby (could not understand the real use). Got inside the car by unlocking through the key, seat was reasonably comfortable, however, was not impressed by the push button start button (keyless operation, any buyers). I am quite used to using the keys now that I personally feel more comfortable entering the key and turning it round to start the vehicle. Anyway, started the car, noticed that the clutch lever caries some of the engine vibration inside the car (was surprised, that the clutch do not use the drive by wire technology as used in the likes of Swift/Dzire, SX4, Fiesta, etc. Clutch was eventually harder than the modern petrol vehicles. Test drive car had alignment issue! Cant understand why Chevy could not maintain their test drive vehicles down to such basic issues. Right wheel had some rattling sound like some bush or brake canister component was loose! When discussed such issues with the sales executive, he just suggested that it is expected out of a test drive vehicle! (listeners, waddaya feel???) Anyway, moved the vehicle to test it in a long Kanakapura Road with mixed road conditions and cornering opportunities. Talking about the features, I could not stop myself from comparing with those in the likes of Xylo, Manza, Scorpios (some of these car has the same of more of these Gizmos). Driving experience: I felt reasonably comfortable driving the car, but was still annoyed with the pricing of the car in Bangalore. The suspension was reasonably balanced for rough and high speed driving. Tires seemed the same JK Vectra Tyres found in SX4 ZXI (not very impressed with the choice in a D segment car??). Could not test much beyond this point due to the below amusing part: Sales Executive Arun was quite annoyed when I kept comparing the car with those from the lower segment cars!! He suggested if I had really checked on the features of Cruze before requesting a test drive (what type of question was that?? excuse me!). Nevertheless, I kept driving along to test all the features of the car. Still I was unable to stop thinking about the price tag, as I felt that while Laura had less powered engine (TDI), I felt its performance comparable to that of the Cruze (plus I really liked the looks of Laura and Civic - both inside out, even when these vehicles do not have some of the Gizmos like Rain sensor, Air Quality Monitor - I like this feature in Cruze like in Petrol Elantra). However, at this price tag, I felt that the AC should have an air filtering unit like the plasma ionizers we get these days in our home ACs, Clutch should have been hydraulic drive by wire like in Swift, Headlamps should have been Xenon like in Laura and last but not the least, looks! I feel the looks of Laura and Civic are far superior (both inside and outside). Rear suspension, not independent like in Civic. Center dashboard was hitting my knees making me remember good old Alto, talk of legroom.. When requested the sales executive to justify the price tag, he got extremely annoyed and asked me to go for an Indica instead (he seemed to be an under prepared, extremely arrogant sales person). I lost my cool this time and requested him not to suggest a car as I know quite well on how to evaluate the cars. He got more annoyed and quite surprisingly started a BIG argument that I am comparing Cruze with the lower segment cars and INSULTING HIM!!! Boy I lost it completely this time, took an immediate U turn and headed straight to my home. Afterwards it was my wife sitting on the back seat trying to contain such egoistic, arrogant and misbehaving sales staff I EVER COME across!! (Did you, ever?). When I suggested that I am talking about the vehicle and when did I insult him, he suggested that he has never come across a customer who criticize the car to such an extent and he has sold 25 cars in a month (big deal, can someone figure out what was going on his mind when I was honestly comparing the car with others?). Seriously, there were quite a lot of heated arguments there on and my wife and my daughter had to listen to the music till we reached home. Have to report this issue and escalate it to the top management and ask for clarification on the grounds they hire such misbehaving staff (that too sales, for a D segment car like their flagship Cruze). This person was asking me Do you know who I am? like he was the CEO of Chevy (GM, baby, now I am having a feeling for you on how you lost it all, globally). Comments, welcome. Enjoy the ride..
Write your Comment on Chevrolet Cruze
1
a
amar
Feb 20, 2013 9:21:06 PM
what ever the sales person has done is wrong,as we r his customers he should respect us,u should complain abt it to higher officials...
Reply
1
D
dr.ykmurali
Aug 25, 2010 12:24:34 AM
i believe what prankey is saying to a large extent,cruze is destined to fail.
Reply
1
P
prankey
Aug 9, 2010 10:56:57 AM
@Ravi Varma If you would have been a victim of misbehaving sales staff, you would have known if I can play prank on such things. GM has not done ANYTHING to chuck this person "Arun" out except for "prank" promises of action. It was a SHEER harassment to me and my family from GM and I am looking to go the consumer court to claim damages.
Reply
Chevrolet Cruze User Reviews
All (82)
Mileage (38)
Performance (14)
Looks (45)
Comfort (40)
Engine (29)
Interior (19)
Power (25)
More ...
I bought the Chevrolet Cruze 1 year back. I was a little bit confused with the budget but my parents/relatives insist me for this car and I am damn happy now with the per...Read More

Chevrolet's Cruze is technically updated, the best sedan in India under 17 lakh of range. The design given to this car especially from side is awesome, and it gives a lux...Read More

Chevrolet Cruze is the best car, though I have a diesel variant but power is massive. And there are no complaints with its look its just amazing I love this car very much...Read More

I own the Cruze 2012 model. Power is now up to a substantial 164bhp with the torque swelling to a meaty 38.7kgm. The primary focus of the engine tweak has been to improv...Read More

The Cruze is a seriously smooth car, from its slippery shape to the way its doors shut. In large part, Cruz's smoothness is derived from its impeccably compliant suspensi...Read More

I purchased Cruze in Oct 2011. What they project and what is actual has much difference. I am a smooth driver which drives maximum time in local. I found smooth run...Read More

Car with Class and Power, Cruze is looking stunning with its performance and look. Car is spacious and comfort is really good. Can say it is the best car in the class (M...Read More

I love Chevrolet car I always look into that in all site of second-hand cars. my first car is Aveo in the year of 2006, which was giving me not less than 18 km per ltr an...Read More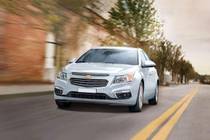 Rs. 13.95 Lakh - 17.45 Lakh*
This car model has expired