Ford Endeavour versus Toyota Fortuner: Comparison test
Published On Oct 14, 2014 By Prithvi for Ford Endeavour 2015-2020
Here are two old blokes who still command respect in the mind and heart of keen SUV enthusiasts. Yes we pit Ford's recently updated Endeavour against Toyota's most trusted and worthy Fortuner to point out which is the better of the two.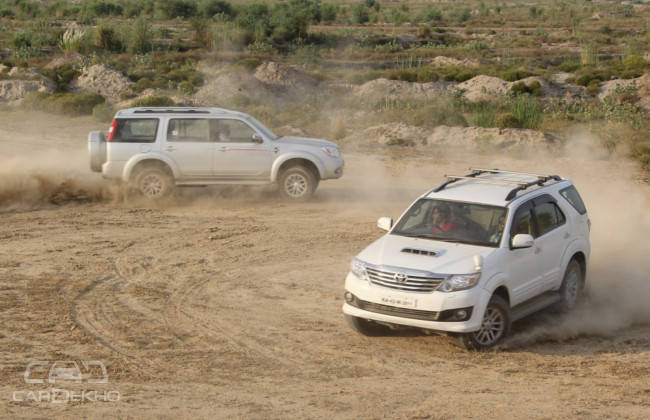 Classified as premium 7-seat SUV both Ford and Toyota have enjoyed their place within the SUV segment. However with the addition of Honda CR-V, Hyundai Santa Fe and Mitsubishi Pajero things have got really competitive out there. So why only these two one would ask and the answer is that they fit the off-road bill perfectly.
Exteriors

Massive that they are, Ford's Endeavour was recently updated with no drastic but minimal changes. The new Endeavour therefore features a redesigned front grille in the form of horizontal slates covered in chrome. A sculpted hood with other elements such as angular headlamps and a re-worked front bumper further enhances its appeal. 16 inch chrome plated alloys with five speed automatic decals on the side highlights the variant while the rear remains pretty much the same.

On the contrary, the Fortuner offers projector headlamps, a chrome finished grille, bonnet scoop and fog lamps that contribute to its bulky image. In support of its front appeal, the side profile caters to 12 spoke 17inch alloy wheels with flared wheel arches and side view mirrors having indicator inserts. The rear too in its case remains unchanged as there are crystal clear tail lights, spoiler and defogger that contribute to its appeal.

Plus there is the option of going in for LED tail lamps that could make your SUV stand out from the rest at an additional price. Specific only to design, the Endeavour still looks old school while the Fortuner stands to impress with its upmarket feel which indicates that each will have its own set of takers.
Interiors
Both offer dual tone interiors, however as expected the Fortuner comes out on top with its superior quality of plastics, fit and finish. This does not mean that the Endeavour is out right pathetic, rather the conventional look of the cabin has helped in attracting many towards the vehicle especially the mature customer who do not want to experiment much.

Its reworked instrument cluster does add flavour and so does the touch screen GPS enabled navigation system that allows the user to find his way as and when required. Other features such as a USB port and Bluetooth connectivity can be found in the Endeavour however connecting iPod via cable will only result in charging and not being able to play music. To simply put into words the system is a bit complicated.

Wooden finish panels found throughout the interiors provide it a much needed premium look. In comparison, the dash on the Fortuner is pretty similar to what we have been seeing on other Toyota models such as the Innova. The centre console does provide a similar layout as the MPV, however what is on offer is another touch screen music system with USB, AUX-in and Bluetooth compatibility.

Air conditioning controls are very different when it comes to both these SUV's. For instance the controls on the Endeavour are circular whereas the Fortuner caters to more simplistic switches that are soft in nature and better to manage.

As for seating and comfort well, the Endeavour definitely seems to be the better one out of the two. It's lumber and under thy support is relatively more comforting to that off the Fortuner with the last rows offering less amount of leg space ideally suitable for seating small kids at the rear.

From a functionality point of view, the Fortuner caters to electronically adjustable front seats while the Endeavour provides mechanically adjustable ones which are a bit of a letdown considering its price point.

An aftermarket fitment, Ford is also offering a roof mounted foldable LCD screen on its top variant for the end consumer which is non-existent in case of Toyota.
Engine and Performance
This is where the plot really unfolds for this comparison. But before that might we just point out that Endeavour utilised for this test was in fact an automatic as it is the only variant available in the 4x4 option whereas the Fortuner being tested here is a manual.

Nevertheless, apart from a few subtle exterior changes, the face lifted Endeavour features the same power plant as before which is 3.0 litre TDCi diesel engine having a displacement figure of 2953cc which hands out 154bhp of power with 380Nm of torque. Of a similar calibration, the Fortuner too has a 3.0 litre D-4D diesel on offer catering to a displacement figure of 2982cc which pumps out 168bhp with 343Nm of torque.

Looking at the stated power figures, one would expect the Fortuner to outshine the Endeavour however to our disbelief it was the Ford that sprinted faster than the Toyota especially in a straight line. Drastic and a significant difference is the 5 speed automatic transmission on board the Endeavour which is fairly decent in providing good shifts both in the city as well as the highway.

However, the NHV levels are slightly on the higher side in comparison to the Fortuner that features a 5-speed manual transmission board. Concerning the all wheel drive system, the Endeavour has something called the 'Electric Shift on Fly' that allows the user to manually switch from 2 wheel to 4 wheel drive via a turn of a knob depending upon the requirement. Whereas the Fortuner is full time all wheel drive with a separate gear lever meant for off road driving (4 high and 4 low).

Their individual off road capabilities are pretty much at par with each other however from a convenience point of view, the Endeavour might seem a bit more favourable. Ground clearance isn't really an issue in both these SUV's but the point to be noted is that there is difference of 10mm between the two. Ford stands to offer 210mm while Toyota caters to 220mm.

Now to the all important ride and handling characteristics, the Endeavour feels a lot more bumpy and unsettled in comparison to the Fortuner when being driven over potholes and broken road surfaces. In case of handling, both offer significant amount of body roll which is expected from SUV's of their stature.
Verdict

Having driven both machines on and off road, one can safely say that the Endeavour and the Fortuner are individualistic in character. One's old school with moderately enhanced exterior and interior design which is bound to interest audiences who only care about utility more than looks, while the other tags in the glamour and status appeal for itself. From a true off-road enthusiast's point of view, in comfort the Ford comes ahead of Toyota while in performance it's the Fortuner that comes out on top.