First Drive: Hyundai Creta Petrol Automatic
Published On Jul 15, 2016 By Aman for Hyundai Creta 2015-2020
Enough has been said and written about the Creta in recent times and its climbing sales chart is evident of its ever-growing success in the Indian SUV market. For me, the Creta has always been a 'safe' compact SUV. Well, why safe? It's because of its overall personality which is like a bloke working at an MNC at a respectable mediocre position. He is paid well, he dresses well and is always one of the good guys in the company. But he doesn't really like to take unnecessary risk or tries to adorn an outlandish costume just to get the bosses' attention for that evening office party. The Creta somewhat justifies that 'safe' tag. It's very well dressed, embracing Hyundai's 'Fluidic design' philosophy, and is packed with a lot of bells and whistles on the inside. It looks niggle-free from all angles and that's why it's enjoying that warm reception from Indian SUV buyers.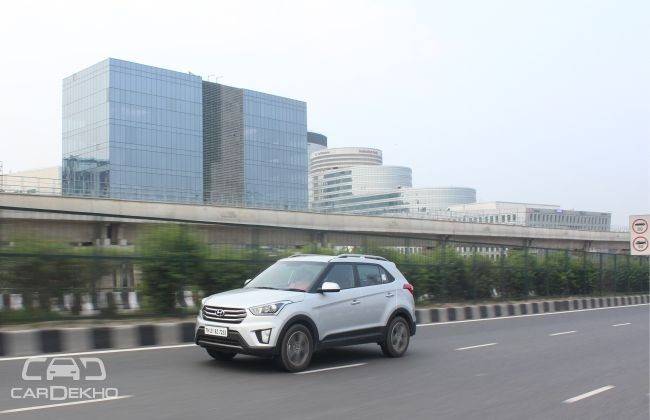 Not only does the Creta stand out from the competition with its modest charm, it has also become the torchbearer of the segment by introducing the first fully automatic petrol variant. Although it was always on the cards, after launching its 1.6-litre diesel motor with an auto box, it's a smart move nevertheless. This new found automatic, or I should say clutch-less, love (keeping in mind the AMTs in the market) is gradually picking up in our part of the world and Hyundai wants to stay in the game.
So we took this 'new' Creta out for a spin for a day to help you decide whether it makes sense to be spending those extra bucks or not.
Exterior Styling
Hyundai has not done any alterations to the existing Creta and why should they? I mean look at it, it is a stunner from all angles. Despite spending a considerable amount of time in the market after its launch, the Creta nowhere feels obsolete. Like I said in the beginning, it's a well dresser!


The slightly-tilted three slats of chrome at the hexagonal front grille amalgamating with the sweptback projector headlamps justifies its 'Fluidic' design. The best bit of the Creta's design is the mix of curves and sharp character lines that are just about perfect, giving it a SUV stance yet keeping it intact by taking away that extra bulk to make it look fit. The vertically stacked front fog lamps keeps this soft-roader compact SUV in proportion.


Step onto the rear, the taillights do look appealing but I feel they don't do justice to the SUV tag. Well, do bear with me for being a little subjective here, and one might have a different view on this. The overall setup somehow tones down its SUV look in exchange of a more sedan-like rear. That for me is a let-down.


But brushing that aside, the automatic variant falling in the SX+ category gets daytime running lights on the headlamp cluster, sporty looking 17'' diamond cut alloy wheels, integrated rear spoiler, chrome door-handles and a shark-fin antenna as well to complete its jazzed up attire.
Interiors
Staying true to the philosophy— "why fix it if it isn't broken?" Hyundai has not played around with the interiors except for housing a chunky automatic gear unit, sitting right beneath the central console. The layout of the dashboard is quite sophisticated and well put together. The beige finished soft touch plastic on the dashboard, continuing onto the grab handles on the front doors, sprinkles elegance to the rest all-black cabin. I really like the smart design of the black plastic casing above the dashboard which splits the cabin with its arrow like design.


The touchscreen infotainment system at the centre is quite easy to use and it offers great feedback. The only little issue that I faced, and I am nit-picking here, is the low visibility of the screen in sunlight, despite selecting its day-mode. For entertainment needs you get USB, AUX and Bluetooth connectivity. To check that out, I paired my smartphone to belt out some EDM tracks. The audio quality is OK and not the best when pitted against stock audio units that car manufacturers are fitting in these days (Like Tata for that matter - its Harman unit in the Tiago is just a bliss). But then again, for hard core music lovers, there is nothing that an aftermarket amp and bass kit can't handle.
Seating remains quite comfortable for both the rows with good amount of side bolstering for the front row. On the whole, this automatic petrol avatar gets a host of useful features and there is very little that you can complain about. But, that is where it also hits a roadblock.
Do remember that this petrol automatic variant comes in SX+ trim which is not the top of the line variant. So, it does get robbed of some features inside, well not some actually, it's quite a bit! First and foremost there are no leather seats, all you get is a fabric layout. You don't get cruise control, auto dimming IRVM, auto headlamps and rain sensing wipers. Hyundai has also cut down on the safety front with just two airbags (Driver and Passenger) instead of six offered only on the top variant. Also, there is no speed sensing auto door lock, Electronic Stability Control (ESC) and Hill Start Assist Control (HAC) as well. Despite being priced a little on the higher side at Rs 12.86 lakh (ex-showroom Delhi), and not getting these features above doesn't really justifies its price tag as far as the equipment list goes.

But, on the flipside, this petrol automatic trim does bag 'some' extra features. It gets a leather package for the steering wheel and gear knob as well. The 60:40 rear split seat option is again a welcoming feature for making more room at the back. Given its already impressive 402 litre of bootspace, you will be using this feature quite seldom.
The Drive

This 1.6-litre petrol motor churns out 123PS of power along with 151Nm of peak torque which are not outrageous numbers but given the fact it weighs well over 1200kg, its power to weight ratio of around 98PS per ton is good enough to catapult this compact SUV at any point of time.

Taking on the congested NH8 (Gurgaon to Delhi route) during peak office hours, I made full use of the auto box on the Creta. The engine is mated to a 6-speed automatic gearbox which makes use of a torque convertor. Now, one would expect some sluggishness from the convertor, but surprisingly it changes gears with ease but all of that depends on the accelerator input. When driving with a light foot, gear shifts are smooth, taking place at 2000rpm, and in return it also maximises efficiency. While testing, we encountered overall mileage figures of 12.7kmpl which is good enough for an automatic vehicle this size. But, as it's an automatic setup and not an AMT, which means better shifts, I really wanted to put this compact SUV to a test.


The power delivery is quite linear and the cabin is well insulated from engine noise when you are taking it easy. But, once you floor the accelerator the outcry of the engine is quite audible inside as the transmission takes its own time to find the right gear. Yes, there is a lag for sure, but it's not something that takes ages to get back into the groove (like in an AMT setup). The good thing about the torque converter is that it adjusts to your input and thus it can even hold a gear towards higher rpms. But all of this does come at a cost if you unleash the Schumacher inside you. The other way to tackle this issue is to switch to manual mode and take matter into your own hands, quite literally! Manual shifts are butter smooth and you are free from that engine outcry.
I have to say, and this is coming from an ex-Hyundai owner, the steering on this is by far the best that I have come across. Usually criticised for offering a very light steering, this one is well weighted and is quite nimble to handle, even in chaotic Delhi roads. Body roll is bare minimum as it takes on corners with confidence but there is a certain degree of muttering that one can sense, as it's not really happy diving in and out of corners. Ride on the whole is similar to its other variants making use of a similar suspension setup. It takes on undulated roads with much ease, while the suspension is a bit on the stiffer side, you do get to feel some jerks but on the whole it makes your drive quite planted.
Is it worth buying?


To answer that, let's quickly sum it up. It's a well-dressed SUV, gets a potent motor under the hood, the auto-box is quite refined, interiors are well laid out and the list of features are quite lucrative. If all of that doesn't excite you, I don't know what else will. But, yes there is a 'but' here, the price point of this variant of Rs 12.86 lakh (ex-showroom Delhi) is a bit on the higher side. Also, because it's not the top of the line model you do miss out on a list of features. Then again, they are not really deal breakers here. I mean, just imagine what benefits the auto-box gives you not just in peak traffic but even when you are out on open roads. As a complete package, it's definitely worth your attention. However, we do recommend to also look at the Honda BRV CVT petrol starting at 11.99 lakh and even the Ford EcoSport Petrol Titanium AT at Rs 9.61 lakh, both ex-showroom Delhi.
Hyundai Creta 2015-2020 is Discontinued and no longer Produced.