Understanding us consumers better
Modified On Dec 22, 2014 12:17 PM By Prithvi
Millions are spend every year by automobile manufacturers to develop technologies that would be life saving in cases of major road accidents. These include things like crash tests, safety features, driving aids wherein manufacturers put in endless number of hours, resources and money to provide the end user best of everything when it comes to their own set of four wheels.
In a similar study, American auto giant Ford has recently provided an insight into how they go about making their cars and SUV's more consumer centric through simulation suits that help their engineers understand the life condition of a person better. Medically these suits are said to yield accurate results which is bound to benefit one and all. Thus to discuss them as prime examples let's take a look at couple of them very closely.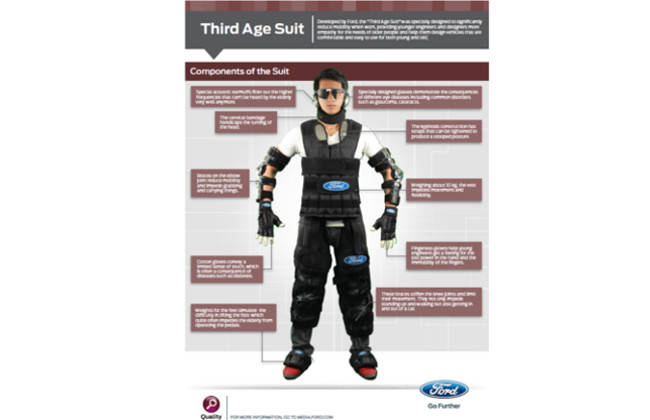 1. Third Age Suit :
The objective of this particular suit is to restrict the movement of a young engineer so that he or she can understand the type of difficulties faced by aged individuals from the time of getting into their car to settling down and then driving away. It also helps in experiencing the driving issues faced by such persons. To help one understand better, To help one understand better, please take a look at the below video:
Ergonomic Engineering: Ford Third Age Suit - II

2. Empathy Belly or Pregnancy Stimulator
This suit basically enables young engineers to feel what it is like to be pregnant and what are the kind of difficulties faced by women in that particular state to be in the driver's seat. Restriction of the stomach and its surrounding areas are critically analysed and then the result is adapted for making pregnant friendly vehicles for women. For a better understanding one can look up at the below video:
Ford Pregnancy Suit

3. Drunk Driving Simulator Suit
Drinking and driving is increasing becoming a major concern when it comes to road mishaps. In order to understand the condition of the driver during a drunken state, Ford has come up with this suit which enables engineers to exactly pin point the issues faced during slow reacting time in the case of sudden manoeuvre. It is important to note that mixing drinking and driving is not good as explained in this video which purely points out that once reaction time does get effected while under the influence of alcohol.
Was this article helpful ?
0 out of 0 found this helpful