Secret Santa: Gifts For Car Enthusiasts
Modified On Dec 22, 2016 01:40 PM By Raunak
Be the most awesome Secret Santa this Christmas for the petrolheads in your life!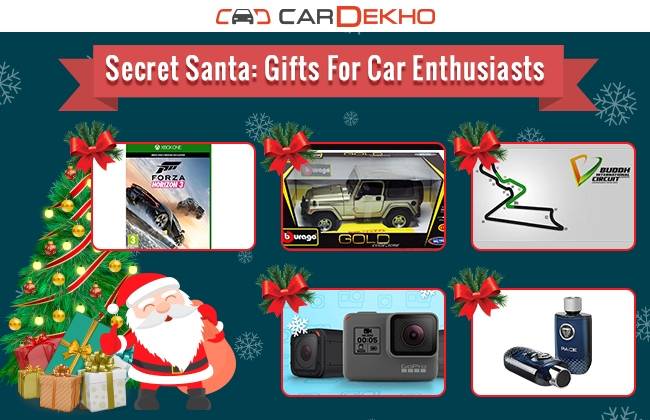 There is a community in almost every part of the world that, much like us, eats, sleeps and breathes cars. The members of such communities can talk all day long about anything that runs on four wheels and, quite often, their world revolves around these four-wheeled beauties too. And there's absolutely nothing in the world that they would appreciate as a gift than something pertaining to the love of their life. If you are planning to play Secret Santa to one (or more) such person/s, we have some cool suggestions to suit every taste, budget and interest. So let's roll!
Scale Models
Die-cast car models of their favourite cars are the closest-looking thing car fanatics can own, at a fraction of the price. These scale models come with opening doors and parts, along with a workable steering wheel. Maisto is one of the leading manufacturers of such die-cast models. It also owns famous die-cast companies such as Bburago and Polistil, and also produces licenced Tonka products.

Action Cameras
An action camera is a must-have accessory for an auto aficionado. And if you're planning to finalise it as a gift, be prepared to lighten your wallet substantially. Apart from recording motoring moments, these cameras can record a lot of other adventurous sports as well. GoPro is one of the leaders in the market when it comes to action cameras, and you can choose from a range of high-end Hero and economical Session cameras. If the intended recipient already owns a GoPro or a similar camera, you can gift accessories and attachments to go with it.

Car Detailing Kits
A lot of people are obsessed about keeping their vehicle clean and shiny all year long. There are a lot of car detailing products available in the market to keep a vehicle in its top condition. And if you are feeling extra generous, you could also gift car detailing kits, which include microfibre cloth, car shampoo, clay, wax, and other items. Also, if the person owns a pressure car washer, you have the option of gifting attachments for the same.

Automobile Books/ Magazines
Gifting one of these is the easiest and the safest option. Before the Internet took over, these were the only option to know what's happening in the auto world for enthusiasts. That said, magazines and books still hold a charm, which sets them apart from web pages, and a lot of people still love reading monthly editions. One can gift a yearly subscription for a magazine or can pick from a large number of auto-related books, including ones on classic cars or the evolution of legendary models such as the Ford Mustang.

Buddh International Circuit Track Hours
This is unequivocally the most interesting thing you can gift to a gearhead, and one of the costliest ones as well. The Buddh International Circuit (BIC), India's only F1 race circuit, lets you relish its twist and turns with tuned Volkswagen Polos. A stripped down, 130PS Polo at the BIC packs a tuned 1.6-litre diesel, six-speed stick shifter, roll cage, and racing seats. Drivers will be briefed before getting on to the track and a half hour session sets you back by Rs 10,000, while a whole hour will cost you Rs 15,000 (both with additional taxes).

Racing Games
Games nowadays are in a league of their own. There's so much involvement that one actually feels he/she is living in a virtual world. These days, racing games offer you some of the world's greatest cars, officially licensed from manufacturers, to ride on some of the most challenging circuits around the world. The latest sensation is the new instalment of the Forza series – Forza Horizon 3 – for XBox One and Windows 10 PC.

Apparels and Accessories from Auto Brands
Leading automakers such as Mercedes-Benz, Jaguar, Porsche and others offer clothing and a larger number of accessories, including mobile cases, bags, keychains, shades, earphones, perfumes, and other items. You will certainly make a car enthusiast's day if you gift one of these to him/her.

Was this article helpful ?
0 out of 0 found this helpful