Racing Academy; Racing to the Finish
Modified On Sep 14, 2012 07:22 PM By Wajeeh
What are the chances of your average person being able to get behind the wheel of a Formula One or NASCAR vehicle and take it for a go around the track? Next to nil unless you happen to get extremely lucky. Nearly every motoring enthusiast has at some point had fantasies of being able to drive a NASCAR or Formula One car and since it is a nigh unreachable goal for the average person, the next best thing is racing games! And an appropriate answer to that would be the Mobil 1 Will You be the One? Contest. This gaming contest, which is open to players the world over, gives both gamers and non-gamers a chance to win the trip to the 2012 United States Grand Prix in Austin, Texas. Sounds like a dream come true for most any motoring enthusiast, doesn't it? My sentiments exactly. This is my two cents on the game itself and what it felt like to play it.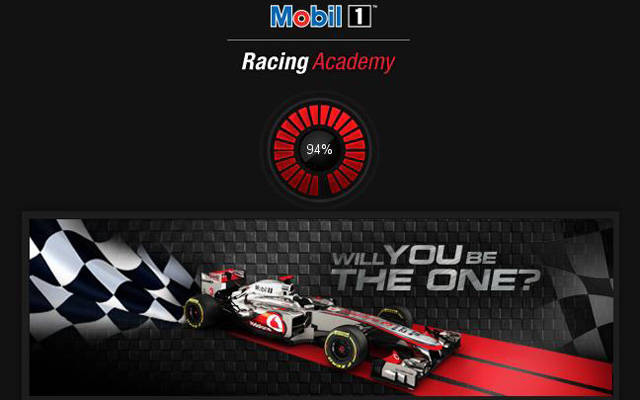 Here's the first thing one should keep in mind about this game; it is a browser based game similar in theme to your Facebook gaming applications like Speed Club and 3D La Supercars but the similarity ends there as Mobil 1 Racing Academy has surprisingly more to offer than your average browser based game.

The basic layout of the game features 3 types of vehicles that you can drive starting from the extremely fun and addictive Go Kart Race. This little section is basically an introduction of sorts to the whole game where you get to zip around on cute little go karts and race with bots (In gaming terms 'bot' stands for robotic responder). Now, this may not seem like much but for someone who has always wanted to race on-track it features a whole host of opportunities. Seeing as Karting is the first step to single seat racing, this part of the game is an excellent way to test your skills. While this race poses little to no challenge even to non-gamers, it is extremely fun and addictive. Oh, and did I mention it's a lot of fun?

The Go Kart section features two races on two separate tracks with the first one being a relatively simple square shaped track and the second one with four hairpin bends that add some variety to the section. Neither of these races pose any challenge to the completion of the track. The tricky part however, is to beat the world record which, believe me, is no easy feat. Having tried several times and failed, I reluctantly admitted defeat. True racing experience here, is of course negligible considering not much can be learned about racing from zipping around on go karts, it is still an excellent way for newbies to acquaint themselves with racing dynamics. In addition to this, the game creators have stood true to the whole point of karting which is enjoying oneself.

Despite the limited number of tracks, there are still quite a lot of antics to perform on-track that will keep you entertained. One of my favorites was to ram into the side of another racer at the beginning of a turn and keep him pinned there for as long as I could. Not very professional behavior granted, but I had my bit of fun. You would be surprised by how challenging it is to keep a driver pinned to your front throughout the race!

The music in the race consists of bass drums, turntable music and cymbals along with a low-key engine revving note that can at times get annoying. However the base drums dominate throughout the race which keeps up with the karting spirit making an otherwise repetitive race, fun.

Once both tracks of the Go Kart section have been completed, the British Formula 3 section gets unlocked. Here's where things get serious. Before you start up on this section, the game provides you with mentors in the form of Formula One driver Lewis Hamilton of McLaren and NASCAR's Tony Stewart. If you chose Hamilton as your mentor you go straight to the Formula One section of the game where as I pointed out before, things get serious and this is where the game begins to get more challenging and definitely more fun.

The British Formula 3 section features two tracks which you need to complete before heading to the Grand Prix racing section. Now I chose Hamilton first and decided to give the British Formula 3 and the Grand Prix section a go. The Formula 3 races were definitely something of a challenge, but as I'm not a gamer for nothing, I managed to complete both tracks on the first go. The music for the Formula 3 races was something of a letdown. I expected something different form the Go kart race music but the similarity was too obvious to not notice. Apart from that, the race itself was excellent with semi-realistic vehicle handling and good graphics. Well, good for a browser based game anyway. Comparing the game graphics with those of PC or PS3 games like NFS or Driver would be optimistic to the point of foolishness. This is a browser based game and as such falls into that gaming category and should be judged at par with other similar games.

Now once you finish both the Formula 3 tracks, you head on to the last section. That's right, the Grand Prix races. The difference between the Formula 3 and Grand Prix races takes a while to sink in. While a lot of things look and feel similar at first; after a little driving one can notice subtle changes in the aggressiveness of the other drivers and also the handling of the car. There is also a slight improvement in the games AI (Artificial Intelligence) and the bot drivers certainly pulled better moves as compared to the Formula 3 drivers. This is by far the hardest race in the whole game.

So, that's it? Three sections featuring 6 races? Not quite! Back when I was asked to choose a mentor, I chose Hamilton over Stewart. This time around I decided to see if anything different happens if Stewart is chosen. Boy, was I in for a surprise? Choosing Stewart leads you to the NASCAR section of the game where you start off with the Midget race section.

Now if you thought the Go Kart section was fun, you are in for a treat with the Midget section. Right off the bat I knew this will be my favorite race of the game and I was right. The races feature 2 dirt tracks that provide lots of slipping and sliding action along with hours of fun. True to NASCAR style these races are rowdy, hard to control and can get quite out of hand. I spent a good while going through the 2 tracks again and again to me unending satisfaction.

The music in these races is also in tune with the NASCAR theme and features heavy drums coupled with the thunderous sounds of engine revs. The music itself is enough to bring out the redneck in anyone.

Once the Midget races are complete, we head to the Open-Wheel challenge. After the thrill and rush provided by the Midget races these set of races seemed fairly tame at first glance. I held that opinion until progressing a little further in to realize just how aggressive these drivers were. At times they were downright crazy! Quite a few times I saw cars flip and go up because they were rammed from the back and on one memorable occasion even had my own car turn turtle after a driver came roaring into the rear-end.

Now after this fun little section was over, I headed to the grand finale; the NASCAR race. Hoping to come across a truly delightful race full of adrenaline in good old rowdy NASCAR fashion, I was sorely disappointed. The NASCAR race was dull compared to the previous two and involved more or less simple turns and long stretches of straights. The car handling in these races also left something to be desired. The only redeeming aspect of these races was the music which still held promise.

And with that I had finished the game! However as promised by Hamilton and Stewart in the intro, I did learn a few things about the kind of difference engine oil can have on the outcome of the race, all while having a good time.
Was this article helpful ?
0 out of 0 found this helpful