Polaris RZR XP 900: Off road maestro
Modified On Jun 11, 2014 06:21 PM By Abhijeet
Polaris is one of the pioneers when it comes to off-road all-terrain vehicles. Their machines can go places where other vehicles dare not dwell. Uneven surfaces, rocky terrain, wet mud, slippery grass, you name it and Polaris has a vehicle to take you there. But yet this RZR XP 900 is different. It does not have the hardware such as a towing eye or a winch to pull stuff out of tricky spots. Neither does it have a big boot to deliver supplies to remote areas. The RZR XP 900 is purely built for fun. It is a brilliant tool for the ever growing off-road enthusiast population in India.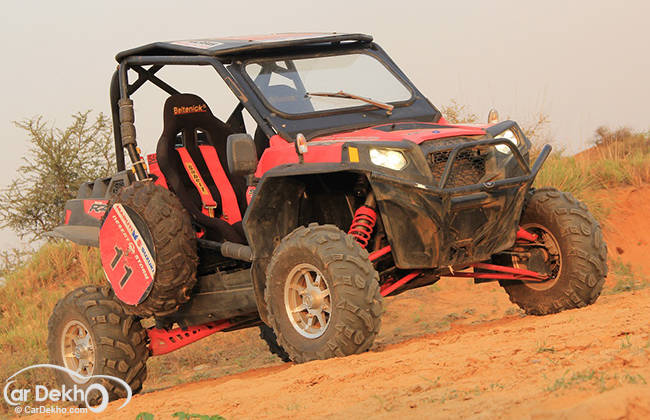 Exterior and interior



The design is absolutely menacing, looks like an off-road terminator to be honest. The massive wheel arches and the open roll cage are the victory of function over form. No curves and swooping lines here, everything is straight and sharp. The RZR XP 900 looks rugged and strong. The powerful LED headlights add a bit more drama to its aggressive appeal. Apart from this, it comes with a plethora of optional extras.

You can endlessly kit it with bumpers, doors, lockable compartment, etc. For customers who do not like the dust in their face experience, the RZR XP 900 can be kitted with an enclosed cab made of canvas, fibreglass or steel. The tyres and rims can also be replaced with better performers. There is even an option to fit tracks instead of wheels, for extreme usage.



The interior is bare minimum with only the essentials. There is a steering, drive selector, 2WD/4WD switch and toggles for the headlight, and done. Sit inside and the racing bucket seats envelop you. The six-point racing harness is a bit fussy, but once strapped in you quickly get comfortable in them. The steering is adjustable for height and reach. The passenger seat has a strong handle grip in front of it for convenience.



Engine

At the heart of the RZR XP 900 is an 875cc 4-stroke twin cylinder engine that produces 88bhp of maximum power. The engine is fed by an electronic fuel injection system and the final drive is delivered via shaft. This machine is capable of touching 60kmph from a standstill in a mere 3.8 seconds, and that too on any surface! RZR has a lightweight transmission called Polaris variable transmission (PVT), which basically is a CVT.

Power delivery, is immediate and is an alarming sensory overload. It instantly puts a huge smile on the drivers face. We have been seeing 70-80 kmph on the speedometer very regularly on this private off-road track.
Suspension and handling



The suspension has been designed to keep the ride smooth on very rough surfaces indeed. Road or no road, the RZR XP 900 just keeps on going without a hint of squirm. The ground clearance is a high 14 inches, giving it huge capability on uneven surfaces. Our man, Prithvi, bought along his rally prepped Gypsy to take on this off-road course.

No doubt the Gypsy in this guise is a fantastic vehicle for loose surface rallying. The loud exhaust and the wiggly tail are a recipe for fun, but today falls short in front of the invincible Polaris RZR. The 900 simply can walk by the Gypsy without effort at all.



Throw the RZR into any corner and use the accelerator to steer, if you understand what I mean. Power slides were never this easy. And when you want serious timing figures through a course, this fantastic machine responds accordingly. While you can use a burst of power to initiate a power slide for fun, serious drivers can get very quick times out of the RZR. The tyres have excellent grip and will not let go on a fast corner. The Gypsy's off-road tyres are sliding around on partial throttle input, but the RZR sticks to its lane and drives away.



Alas the day has come to an end. The sinking sun marks the end of our time with this excellent piece of machinery. As far as we see, there are two big problems with the RZR. First is that it is not road legal, and second is the price. The RZR costs upwards of Rs 20 lakh, and you cannot even take it on the road! But we promise you, get behind the wheel of one of these and it will plaster a huge smile on your face for weeks.



Polaris India Managing Director, Pankaj Dubey, told us that the 900 will soon be joined by its bigger brother, the RZR 1000. This one has even more power.

He also stated that his team is working on a road-legal version of the RZR which will be capable of going on public streets once they have worked around legal issues and a few modifications.

Understanding that not everybody can afford such hardware, Polaris India has created nationwide Experience Zones for people to get a feel of their off-road vehicles.
Was this article helpful ?
0 out of 0 found this helpful