Need Power But Low On Budget? Check Out 5 Most Powerful Sedans Under 12 Lakh
Modified On Sep 02, 2016 12:58 PM By Aman
Ever wondered what your pick will be if you were asked to do a trade-off between money and power? It's a tricky question and, yes, both the options are kind of interlinked. With more money, you will automatically buy power and, with more power, money will follow (well, kind of). The same holds true when you are scouting for a car. A powerful car can ooze confidence and can quench your thirst for bringing back that childish grin on your face. And what can be better than a sedan which not only packs a punch but gives you that big, commanding presence on the road along with being practical too. On the flipside, however, you will have to dig deep into your savings to get your hands on such powerful wheels.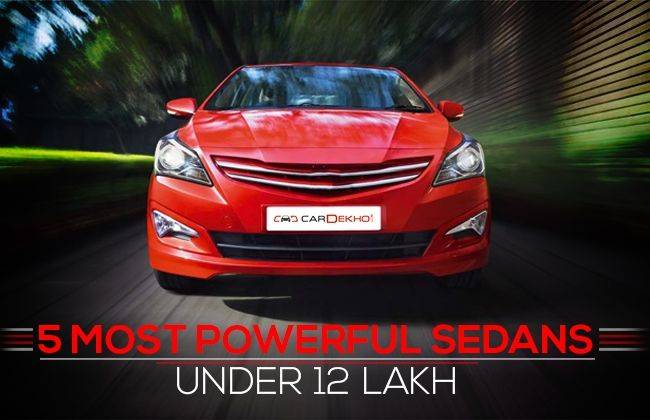 Now, what if there were a middle way out? If you could get to floor the accelerator pedal of a powerful sedan without playing Grand Theft Auto in the real world? In this article, we have done the homework for you so you don't have to think of any crazy, dangerous ways to quench that sedan thirst. Also, as we are talking about the real world, one has to take into account the practicality quotient and drivability too. So if you have around Rs 12 lakh to spend and power is what you desire, you need look no further.
1. Hyundai Verna (Rs 10.29 lakh; S variant, ex-showroom, Delhi)

Thanks to the marvellous engine that lives under its bonnet, Hyundai can really boast about the power of the Diesel Verna. Powered by a 1.6-litre CRDi four-cylinder diesel engine that churns out 128PS of peak power right from 4000rpm, it's the most powerful sedan in its category. The icing on the cake is its impressive torque of 260Nm that is available from as low as 1900rpm.
If you don't really understand the numbers game here, in layperson terms, you get a surge of linear power each time you step onto the accelerator pedal, especially when you set off after a halt. The only downer here is the six-speed manual gearbox, which is not exactly the smoothest shifter in the market, but gets the job done.
2. Fiat Linea 125 S T-Jet (10.46 lakh; ex-showroom, Delhi)

Fiat has opened its doors for performance enthusiasts in our country, which although are not huge in numbers, with the introduction of performance-based vehicles that are powerful yet easy on the pocket. One among them is the revamped Fiat Linea that now gets a spectacular 125PS turbo-petrol engine. This essentially is the T-Jet motor which was introduced earlier on the Linea but has now been reworked to get angrier on the road. The meat of the power lies between 2000rpm-3000rpm and with its 208Nm torque waiting to let-go, you are treated to a sudden thrust which will be helpful especially when performing overtaking manoeuvres.
There is no noticeable lag when the turbo spools up; so what you get is a multitasking engine that remains placid within low-speed city driving and is ready to chase milestones when you press it hard on open stretches. Coupled with a five-speed manual gearbox, the clutch is quite light, but the long travel is something that you will have to get used to. Slotting gears is also not a breezy affair, but it's something that you gradually pick up when driving on a daily basis.
3. Honda City (10.38 lakh; SV CVT petrol; ex-showroom, Delhi)

The City has been in the market for quite some time now, but has undergone considerable changes, making it a solid competitor in its segment. Its old 1.5-litre i-VTEC petrol motor has made its way to the current-gen City as well, and is definitely a peach of a machine. Packed with 119 horses under its hood, the power delivery is very linear and it gets better and better as you climb the rev chart.
Although the power-band is slotted at a higher 4600rpm, its 145Nm of torque is sufficient to make city driving and sprinting on the highways an easy affair. Now equipped with a CVT automatic gearbox (apart from the standard five-speed manual transmission), the City has become an even more potent machine. Combined with its light-weight body, it also possesses the best-in-class power-to-weight figure of 112PS per ton.
4. Volkswagen Vento / Skoda Rapid (Vento Comfortline AT TDI; 11.7 lakh; ex-showroom, Delhi)

We are only taking the Volkswagen Vento here. However, both these cars are equipped with the same engine. So, the Skoda Rapid is also a part of this list.
Known for making 'people's cars' around the world, Volkswagen has also mastered the art of delivering potent vehicles that are not only reliable but are also some of the best handling machines available in the market today. With the Vento sedan, this German auto giant has given buyers the best of both worlds since it is a powerful car and a superb handler as well.
The 1.5-litre TDI diesel engine at its heart makes an impressive 105PS at 4400 rpm. The real deal lies in its punchy 250Nm of torque that's available at your disposal at as low as 1500rpm. Transport that onto the real world and you get a surge of power each time you play with the accelerator pedal, even at low speeds. And that's not all! Another feather in its cap is the seven-speed DSG autobox that's one of the best automatic transmissions available in this segment. The only chink in its armour is its heavy weight (1233kg kerb weight) which makes it a little lazy. On the whole, however, the engine and the superb transmission make up for those extra kilos.
5. Ford Figo Aspire (Rs 7.89 lakh; Titanium+ Diesel; ex-showroom, Delhi)
Price listed after the new price cut from Ford

The latest entrant in the 'powerful sedan' segment is this subcompact sedan from Ford. The Figo Aspire is a true American car catering to power and sturdy build quality as well. Despite its compact dimensions, Ford has not compromised on what's under the hood. What you get is a 1.5-litre TDCI diesel motor that can belt out 100PS of power at 3750 rpm and can generate an impressive torque of 215Nm starting as low as 1750rpm. The best bit about its performance is the linear power delivery that doesn't storm its way (like a turbo-boost in some cars before a delay) but it eventually builds up the revs as you climb up. This compact sedan remains stable even at triple-digit speeds, despite its stretched design derived from the Figo hatch.
Mated to a five-speed manual transmission, the gearshifts are very smooth, and the gear ratios are tall as well. With power available throughout the torque band, you don't really need to shift down much, especially while overtaking.
So, here you go. The cars listed above are your best bet in the real-world to quench your thirst for power and practicality, of course, under a strict budget. But before you bring out the Schumacher in you, don't forget to drive safe and follow traffic rules. After all, as someone rightly said, "With great power comes great responsibility."
Was this article helpful ?
0 out of 0 found this helpful