Hamilton has a field day at the 2012 US Grand Prix
Modified On Nov 21, 2012 03:33 PM By Kritika
When it comes to a Formula One race, drama and controversy can never really be far away. Hamilton's 'wicked' victory, Vettel's addition of three points to his lead over Alonso and Ferrari's decision to incur a five-place grid penalty on Massa's car in order to help Alonso climb up one place to seventh on the grid. That pretty much summarises the happenings of the 2012 Formula One Championship's second last race in Austin at the Circuit of The Americas. Vettel's second place at the podium in the second last race of the season means that the battle for the World Champion title will finally come to an end at the season's finale race in Brazil. After Hamilton's victory, it was Ferrari's rather contentious endeavour to help Alonso close in on the title that garnered a lot of attention.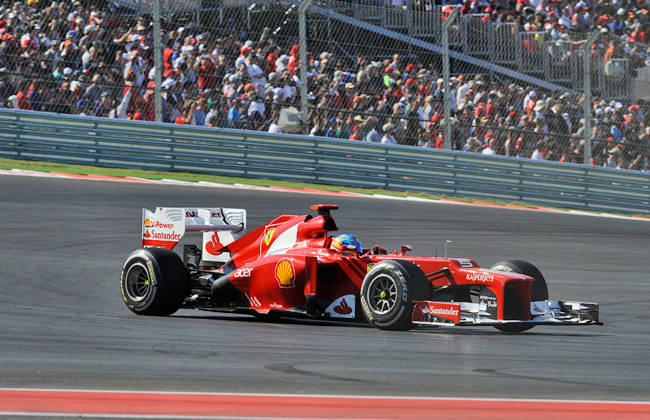 Ferrari had sweared to go all out to assist Alonso stay a contender for the title, which resulted in the Italian car maker bending the rules to their advantage. Scuderia Ferrari broke a seal on Felipe Massa's gearbox prior to the race on Sunday, inviting the mandatory five-place grid penalty, which eventually allowed Alonso to start seventh, a vital and 'clean side' of the grid. Lewis Hamilton, the last winner of the US Grand Prix in 2007, clinched the title again as the race returned to US soil after five long years.

If not the most exciting, the 2012 US Grand Prix certainly qualifies for being described as a very memorable race. Hamilton, Vettel and Alonso delivered an enthralling race to the crowd of about 1,20,000 at the novel Circuit of The Americas. With the German driver leading the pack in his 100th F1 race in the penultimate race of the season, there was little doubt that this one was going to be as exciting as a Formula One race could possibly be. Standing alongside the German whiz kid was Hamilton, who was followed by Mark Webber on P3 and Kimi Raikkonen on P4. But what made Vettel's day and added a little bit of spice to the race was Alonso's P7, though he set the ninth quickest time in the qualifying race. Alonso gained one position after Lotus's Romain Grosjean was given a five-place penalty for an unscheduled gearbox change, and gained another after his team's bosses decided to intentionally incur a penalty for his Brazilian team-mate.

The race started with Vettel pulling away from his pole position to lead the pack as his team-mate claimed Hamilton's P2 and Alonso sensationally climbed up to P4 from P7. The following lap saw Schumacher losing out the 5th spot to Nico Hulkenberg, Hamilton establishing a firm pace at a clear distance from Alonso and Grosjean gaining two positions without causing an accident, though he did come very close to coming in contact with Schumacher. Vettel maintained his lead position as Hamilton and Webber continued to bicker for P2 and Alonso struggled to close in on the 6 second gap between him and Vettel. Hamilton regained his second position during the fourth lap as he pulled an extremely audacious move on Webber, leading spectators to contemplate the question whether he had enough game to get past Vettel. Schumacher continued to struggle through the race as Raikkonen and di Resta race past him, leaving him to fight Massa for P9. And just as things seemed to be going perfectly fine for Grosjean, he spinned out on turn 19 and dropped down to 10thwhile on the other hand, Massa finally overtook Schumacher before the final corner for eighth.

The race was only beginning to get exciting as Hamilton clocked in the fastest lap of the race during lap eight, hence reducing Vettel's lead to just 2.1 seconds. This interesting turn of events stretched on to lap ten as Hamilton further closed in on Vettel's lead, reducing it to less than two seconds.

The gap was further reduced to just 1.5 seconds as the leaders of the race, Vettel and Hamilton, inched towards the DRS territory. Meanwhile, at the back, Massa climbed up to P7 after putting a move on di Resta, while a rather electrifying battle ensued between Raikkonen and Hulkenberg for P5, with Raikkonen eventually getting the overtake. On the other hand, Vettel didn't take very kindly to Hamilton's charge and retaliated with the fastest lap during lap 14 but his lead was yet to reduced to a mere 0.9 seconds by the next lap, a fact that surprised everyone alike. The race's first retirement came with Jean-Eric Vergne after his Toro Rosso suffered suspension damage. It was soon followed by Webber's retirement from the race on lap 18 after his Red Bull's KERS system failed. The Aussie's retirement not only put Alonso on P3, Raikkonen on P4, and Massa on P5, but also put Red Bull's constructor's title in jeopardy.

By lap 20, Vettel's lead was up to 3.2 seconds, and Hamilton was struggling to keep up his pace, but eventually pitted for a new set of tyres. Vettel soon followed suit and took a blink-and-you-miss-it pit stop on lap 21 and rejoined the race in the lead with Raikkonen right behind him. But Hamilton made a move on the Finnish driver during lap 24 to take P2 and continue his hunt for the leader of the race. Even though the McLaren car was kind of inconsistent in terms of performance, the Briton managed to get the best out of his car, taking away the lead from Vettel during lap 42.

This obviously enraged Vettel, who complained about interference by backmarkers and that Hamilton's overtake was a 'silly over take' over the radio. With Hamilton leading by 1.4 seconds, Vettel was in no mood to give up the fight and reduced the gap to 1.3 seconds on lap 45. At the back, Raikkonen and Button were engaged in an ultimate battle for the fifth position, which resulted in Button settling in to P5 after a stunning overtake. By lap 49, Vettel had trimmed down the gap to one second, which meant he could use DRS. And even though there were only seven laps left, the race was far from being over since it seemed that Vettel had made up his mind about fighting it out till the end. With Vettel and Hamilton engaged, Alonso was all by himself at P3, with Massa, Button and Raikkonen following behind him at P4, P5 and P6, respectively. Finally, Hamilton began the final lap of the race with a lead of 1.8 seconds over Vettel and eventually became the first one to get past the chequered flag, taking home his fourth victory of the season and the 21st of his career.

The German driver's second position on the podium gave him a lead of 13 points over Alonso and Red Bull the 2012 Constructors' Championship title. Alonso finished in third, which implied that the battle for the championship title will be settled in final race of the 2012 Formula One World Championship in Brazil next weekend. These three winners were followed by Massa, Button, Raikkonen, Grosjean, Hulkenberg, Maldonado and Senna, which completed the list of the 'top 10'.

Hamilton's victory was special for another reason. His victory was as good as a parting gift can get since he will join Mercedes after the end of this season. However, had it not been for Hamilton's victory at the Circuit of The Americas, there was a good chance that Vettel would have clinched his third consecutive World Champion title here. But now that it is clear that the claim for the crown will be settled in Brazil, here is a bit of title maths for the readers. With 25 points available for victory, Alonso will become eligible for the title if he finishes first and Vettel finishes lower than fourth.

But if Alonso finishes second on the podium, he would need Vettel to not finish in the top seven in order to claim the World Champion title. A third position would need Vettel to finish lower than ninth for Alonso to win the title. However, it is a bit different and comparatively easier for the German driver. With a 13 point lead, he needs to finish only fourth in order to claim his third consecutive World Champion title. But he needs to watch out for the weather and also his strong willed rival Fernando Alonso.

The next and final race of the season, the Grande Prêmio Petrobras do Brasil, will be held at the Autódromo José Carlos Pace circuit in São Paulo on November 25, 2012.
Was this article helpful ?
0 out of 0 found this helpful