8 disappearing car features
Modified On Dec 17, 2014 07:39 PM By Abhijeet
8235 Views

Write a comment
Marred by constantly changing safety and efficiency issues, automobile manufacturers have to convert cars to convenience items from lifestyle statements. This means getting rid of many features that have become old and irrelevant in newer car. Whether you love it or loathe it, some of them will surely be missed. We compile here a list which combines features which have, or soon will disappear from newer cars.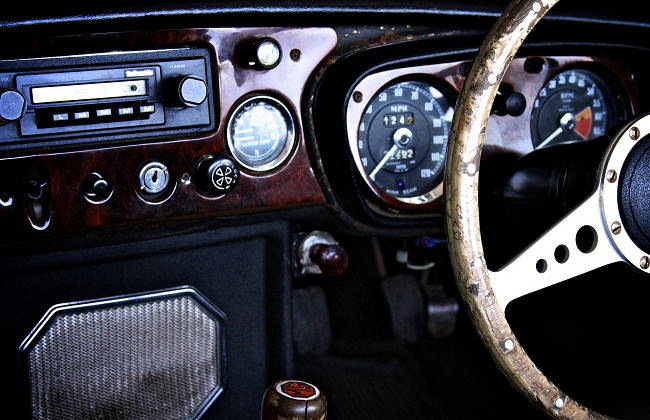 1. Round sealed beam headlamps
Round sealed headlamps have actually become so old that most of the younger audience won't be able to recall them. Seen those circular headlights with a chrome surrounding rings found on Hindustan Ambassador and Fiat Padmini? Yes those are the ones we are discussing here.

Round sealed headlamps date back to World War times and have now disappeared against the much efficient halogen and xenon headlamps. But so has the classic vintage look disappeared which looked absolutely stunning and harks back to the true essence of an automobile.
2. Bench seat
Flat bench seats on the front and rear of older cars have also found their way to the history books. The third passenger used to sit in the middle of the front row with the gearlever hitting both the knees.

It was not comfortable or safe, but elders would remember how everybody used to squeeze in the old car after dinner to grab an ice-cream at the store around the corner.
3. Column shifter
Now these are even older than bench seats. Column shifter is the gear lever placed as theleft/right stalk where normally the headlight or wiper controls reside. The gears were difficult to engage constantly as we never got the automatics in India, which were easier, but this meant there was more space for that distressed front middle passenger.

Mercedes-Benz still puts the gearshift selector on the right stalk, though automatic only, but still looks cool and is very easy indeed to engage. Still the elder gentlemen will get teary eyed when they remember the old cars and their charming ways.
4. Whitewall tyres
Although tyres are black coloured rubber patches stuck on the wheel and are as interesting as floppy disks today, but they used to cool in the days of whitewalls. Zinc oxide was added in the tyre manufacturing process to give the tyre white colour, but unfortunately this reduced the endurance of the tyre and was replaced with carbon black to increase its life.

But just a look at an old classic with fat 3 inch whitewalls makes you fall in love with them all over again.
5. Physical key
Remember when you used a real shiny metal key to approach your car and stick it in the keyhole on the door, gone are those days. The advent of keyless entry, remote locking and smart key means you keep a tiny plastic remote in your pocket or a key card instead of the old faithful.

Though still found on the very basic cars money can buy, slowly and steadily shiny metal keys will be relegated to the past. Most people will suggest it is for the better and it actually is, but we will still miss them.
6. Whip antenna
Old cars employed the services of a long protruding antenna for AM/FM radio reception. These retro looking devices are now replaced by enclosed antennas in the pillars, shark fin antennas or receivers embedded in the rear windscreen of newer cars.

Since they are more efficient, they also receive signals for the GPS and telephone as well, thus they have walked over their classic cousin. Still available on cheaper vehicles, they will soon be entirely gone.
7. Crank windows
This feature is still very recognisable as affordable cars are equipped with them to keep the price point as low as possible. As opposed to power windows, you have to physically wind and unwind the window using a crank. Classic cars have sculpted winders which actually added to the appeal of the cabin.

But with the convenience of electricity, the effortless task of pulling up, or down, a window has been made further easier. Bottom-line is that you will still miss this trinket when there is a need to open/close a window without the car's key.
8. Cassette players and Radio knobs
Today is a world of touch screens, USB/AUX/Bluetooth connectivity and DVDs. The elder generation would still remember the cassettes we used to stack in the glove box, choosing and picking them for a long journey, rewinding them with the use of a pencil, and many other miseries. With the advancement in technology, songs shrank down to a couple of megabytes and mobile phones are able to store hundreds of songs, the omission of tapes and cassettes was very likely. But as cassettes will not be missed much, what will be missed are radio knobs.

Fidgeting and trying to set the desired frequency by turning a knob on the player was still a lot easier than pressing a button on the steering wheel. As far as technology helps, radio knobs will be always missed.
Yes we realise that the doing away of these features is obvious in the developments of cars. New developments related to the automobile industry will always turn tides against the classic and less efficient. But as far as memories and that love affair with cars are concerned, these old ways will stay intriguing. We are sure that many more features are there which you might want to add to this list.
Was this article helpful ?
0 out of 0 found this helpful