10 most common car scams in India- BEWARE
Modified On Sep 01, 2014 06:25 PM By Rajpal
4570 Views

Write a comment
Do you own a car? Have you ever witnessed a fraud on road, well if you had, you are not alone as the Indian roads are filled with such scams. Therefore, we have come up with 10 most frequent and common scams on Indian roads, so you can escape to be duped next time.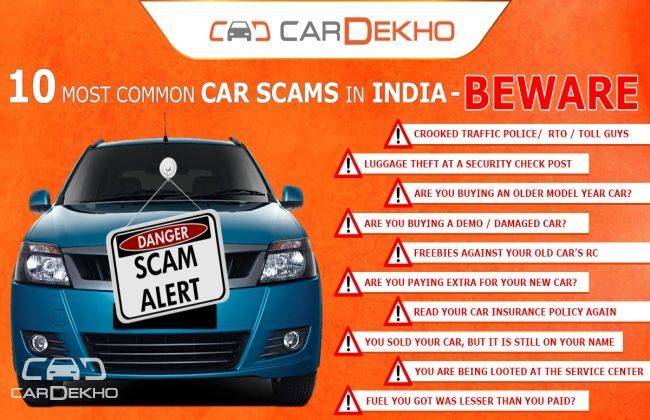 1. Crooked Traffic Police/ RTO / Toll guys:
If you are not abiding by the law, you need to pay a fine, but what if you are getting crooked. Sometimes, the traffic police or RTO personnels tries to dupe you by misguiding you on the fine amount and threatens to book you or seize your vehicle. In such scenario, it is important to have basic knowledge about traffic rules or if you are unware of it call your lawyer or google the same. There were incidents, when the travelers have been crooked by some fraud in police uniform, if you have a doubt on someone, it is your right that you can ask the personnel for the identity proof or you can call and verify the same from local police station.
2. Luggage Theft at a security check post:
If you are driving to some other state for a long journey, it is very common that state police stops you to check your luggage on state border. There are many incidents, where the luggage has been stolen from cars on the name of security check. The best practice is to first ask the guy to provide the ID proof, get out from the car and get the luggage checked in your presence.
3. Have you stuck somewhere because the fuel you got was lesser than you paid?
One of the most common scam is the petrol pump is not giving you lesser fuel. There are multiple ways to do it, but mostly the petrol pump guys alters the fuel machine to give lesser fuel, this is a common scenario with the highway pumps. If you suspect, ask the dealer to fill up the 5-liter measurement flask available at pump, it will clear your doubt. The other important thing is to get the machine reset to 0.00 before taking the fuel.
There are chances that you might get low quality fuel, in that scenario you can ask the petrol pump personnel to do paper filter and density check test.
4. Are you buying an older model year car?
Model year is one of the value decisive factors, when you resale your car. However, if you are buying a new car in the first quarter, there are probabilities that the dealer can sell you a older model year car. To get the manufacturing date of a car, you can ask the dealer for the Form 22 (issue by manufacturer), in which all the information like VIN (Vehicle Identification Number), Engine & Chassis Number and manufacturing date.
5. Are you buying a demo / damaged car?
We have come across incidents, where the dealer or sales guy tried to sell a car, which have been used as a test drive vehicle or being used by the dealer. In this case, see if the speedometer is disconnected or there are any signs of wire tapering, also check the Odometer reading, it shouldn't be more than 100 km. Even worse, the dealer can also reset the odometer, for this you can check the car for these telltale signs-
Flickering speedometer needle

Scratches around the instrument cluster and dashboard screws

Excessive wear on pedals and driver's seat

Examine for re-painted and less shiny body areas, also check for gaps / mismatch in panels or difference in paint
Sometimes, dealers also tries to sell a damaged car, so it is necessary to examine the car before taking delivery. Take a trusted mechanic with you and let him examine the car for any damages or repair works.
6. Freebies against your old car's RC
If your dealer is asking for your old car's RC and giving you some freebies, he uses the same to get the exchange bonus on it and you ended by getting free mud flaps or car perfume. So, in any case don't provide any extra paper to your dealer, get the information of available offers from manufacturer's website or consumer help line.
7. Are you paying extra for your new car?
When you get a price quote of your new car, dealer gives you a whole list of charges above the ex-showroom price and you tend to ignore these small charges and sometime bargain for a little concession. But, if you scrutinize all these charges, you might save thousands as dealers unnecessarily charge you some time. These charges can include
Calculate the road tax amount and verify it from your local RTO office or website.

Check that the insurance amount they quote is comparable to other companies or an online portal. Read the insurance policy and ensure, what all it covers

If you are not satisfied with the insurance policy, you can get it insured by any of your familiar insurer. The dealers might insist that they will not sell you a car unless you buy insurance from them, complain it to the manufacturer and change your dealer if required.

No dealer can collect handling charges, as directed by the Supreme Court.
8. You don't know but you are being looted at the service center
Service center scams are one of the most common and frequent ones in India. From unnecessary part change to spurious engine oil, you can witness anything even worse in some of the workshops. Some of the most common scams are-
Oil change scam: Indian service centers are infamous for pouring spurious engine oil, top of engine oil and charging for full oil change and ask for engine flushing on every engine oil change.
Remedies: Ask to change the engine oil in front of you, it just take 2 minutes and nothing can beat it, the other ways to check such scam is to examine the colour of the engine oil if you can reveal a lot. Read your car's user manual and try to figure out when to get your engine flushed and follow it.
Spare part scam: Service centers earn a lot in spare parts, therefore sometime they ask to replace a spare part unnecessarily most common is clutch system. If you complain about a hard clutch, which is generally due to clutch cable or hydraulics, the service center guy ask you to clutch overhauling. There are also incidents, where the service center replaces old parts with your newer ones or doesn't replace part and billed you for a change.
Remedies: It is hard to find that a faulty part has been replaced or not, however the best practice to get it changed in front of you and stick to the replace cycle given by manufacturer. Some costly parts that service centre personnel ask to change commonly are- the suspension components, for example, or the turbocharger, brake and clutch master cylinders with initial signs of failure, faulty brake boosters.
9. You need to read your car insurance policy again
You got a cover note after paying for your car's insurance, but when you make a claim, you find that the insurance cover note is bogus. The other common scam is that the insurance guy sells you a policy on reduced premium and removes essential cover for flood / riots / natural calamities. Read your insurance policy, and get it checked online that it is genuine or not.
10. You sold your car, but it is still on your name
You sold your car and provide form 29 and 30 to the new owner, later on you got to know that the car is still in your name. In such case, all the liabilities of the car is on you be it accident claims, theft or some illegal work. So, it is necessary that you transfer the car on new owner's name by yourself.
Was this article helpful ?
0 out of 0 found this helpful