Basic Do yourself Car Maintenance Tips
Modified On Aug 14, 2014 05:48 PM By CarDekho
Owning a car is not only a satisfactory and convenient aspect but also an essential obligation when it comes to maintenance. Performing regular car maintenance is very crucial as it keeps it in optimum condition. However, if you have little bit of experience in dealing car problems or want to save money on maintenance, here are a few tips to keep in mind when performing Do-It-Yourself job.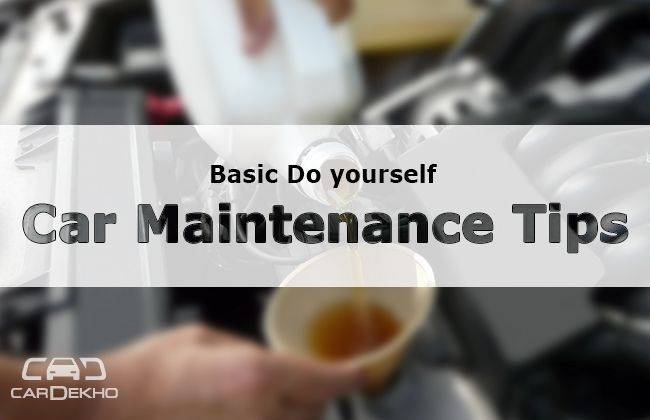 Engine
The first and foremost pointer in this respect is to check engine oil level. Normally, this has to be checked every 5000km or after every six months. Checking is pretty simple and even a novice could do this. For precise inspection, the vehicle must be parked on a flat surface and wait for few minutes. Now, locate the dipstick and wipe it with a piece of cloth and place it back into the dip tube. Wait for a while and pull it out slowly to check the levels on the dipstick. If it shows between high and low mark, then the engine oil is fine and if it is not within the specified range, then it need to be replaced immediately. Make sure to choose the right grade of engine oil for your car.

Checking coolant level is another Easy-To-Do task. Usually, a check on every 40,000km is recommended. Check the manufacturer's handbook for locating the coolant tank. Once you have found the translucent container, You would see the markings of high and low; make sure the coolant is between these markings.It is recommended to change the oil filter on every other oil change or after the first 8000km for enhanced performance and smooth functioning of the vehicle.

Generally an air filter lasts till 10,000 km, and mainly it depends on the amount of filth it gathers. Change the filter at the periodic interval prescribed by the manufacturer.

Similarly, the spark plugs are one of the important parts of car's combustion system. They allow smooth functioning of engine by compressing fuels using the electric spark. Spark plugs wear down gradually and need to be changed regularly to get healthier fuel economy and better performance.

Under the hood, there are several rubber driver belts that are disposed to exhaust that could eventually give rise to other technical glitches. In order to evade such situations, auto-experts recommends that these belts need to be checked every 40,000kms and a complete replacement on every 80,000kms.
Wheels and Tyres
Wheels and tyres are the worst affected parts. Especially the tyres that need to be examined regularly for cracks and irregular wear and tear. Now-a-days, there are tread depth gauges available at auto-component stores which will help you determine the limit of tread wear. Using tires beyond the limit could turn unsafe.

Secondly, checking tyre pressure and maintaining manufacturer recommended pressure is a very critical aspect. If it is checked regularly, it not only helps in achieving best results in handling, comfort & road grip, but also helps in returning good fuel-economy. For this, a simple instrument known as 'tyre pressure gauge' can be used to analyze the proper pressure readings.

Thirdly, to keep tyres in optimum condition, they need to be rotated at the prescribed kms to make sure they wear down evenly.

If in case the tire gets uneven wear after the recent installation of new wheels or steering wheel feeling rigid or the vehicle is inclined to either side, wheel alignment must be checked to get things right.

Lastly, wheels are prone to dirt and grime. If this concoction of dirt remained untreated, water and heat coming from the brakes makes it solid and hinders smooth movement. In this case, proper cleaning agents can be applied with some damp sponge to remove this brake dust. Cleaning products are available at local stores for this purpose.
Battery
Although modern batteries in the cars need not to be maintained regularly, but at the same time it is extremely important to keep a check on this power supply component to prevent shortening its life.
The terminals of the battery need to be cleaned once in a month if there are any signs of corrosion. Washing with hot water and cleaning it with a wire brush is recommended. One can also use mild detergent or baking soda for the purpose. Cleaning helps easy flow of electric charge in the mechanical systems.

If you are replacing a battery or cleaning it, it is recommended that first negative and then positive terminals should be disconnected to avoid any electric shocks. Apply some grease before putting it back and then connect positive terminal first and then the negative one.

Some car battery needs water; in that case, make sure the electrolyte level is at the correct mark. Refill it with distilled or de-mineralized water and never use bottle or tap water.
Brakes and shock absorbers
Safe and comfortable ride is always a key priority of a car owner. Some important tips in this regard come handy at times.
Although most of the braking problems develops gradually rather suddenly, automobile experts recommend that braking system must be checked after every 16,000kms. Some of the ways to spot any potential problem in the brakes is to look through various aspects like a lot of pedal movement and screechy sound occurring from it, lack of sharpness or the brake feels a little spongy, then it points towards a possible air infiltration in the system.

Brake fluid level must be checked every month and the reservoir must be refilled to the recommended mark. It should not be taken from any previous opened container as brake fluids are prone to contamination if exposed to air and moisture. Use manufacturer advised brake fluid.

Shock absorbers plays important role in car's suspension system. It reduces bounce and whenever passenger hits a bump or goes under difficult track, it absorbs them smoothly giving comfortable ride quality. To check these shock absorbers, grab and hold the corner of your car's bumpers and press down as hard as you can. Repeat the procedure on each corner. Observe it carefully and if it jumps back and goes down once or twice, then its ok but if it continually moves, the shock is no longer effective and need to be replaced.
As long as the above mentioned tips are applied carefully, the car owner will certainly save money in the long run and achieve maximum performance from their car.