A two way German battle: BMW 320d V/S Audi A4 2.0 TDI
Modified On Feb 12, 2016 05:33 PM By Prithvi
As exciting as it sounds, these are two of the best German sedans in the ever so competitive entry level premium car segment. Can BMW's latest revolutionized 3 Series topple the likes of Audi A4 is what we are here to find out.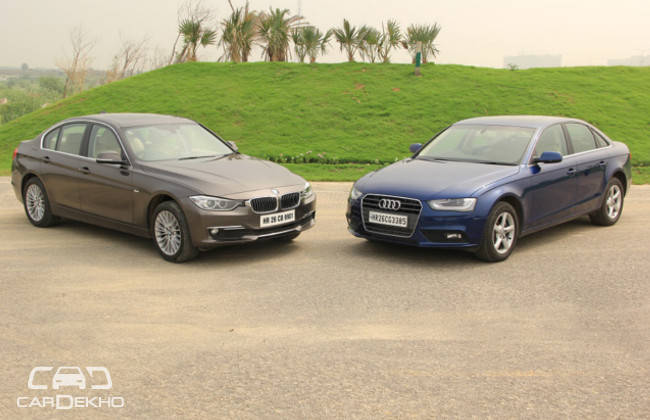 Ideally, we would have preferred to add in yet another German to this shootout but currently due to its ongoing refreshment – Mercedes-Benz C Class has been left out of this comparison. So to get on with it, initial impressions of both these machines can form a contrasting opinion in one's mind especially when viewed from an individual perspective. In this particular case we shall be laying out the specifics that bring them head-to-head.

Exterior

Somehow there has always been something about BMW that clicks in the manner in which they design cars. The same holds true in the case of the latest generation 3 Series not dismissing the fact that the A4 is a stunner nonetheless. Christened as 'Ultimate 3', the manufacturer seems to have cracked the code when it comes to the latest generation not just in looks but also for the technology it has offer on board. Therefore the 'Ultimate 3' brings forward features such as BMW's trademarked kidney grille which is more pronounced than before along with it comes a pair of stretched headlamps that forms the focal points with a large sculpted hood making it look really masculine. Audi's A4 on the other hand has an element of finesse in it, which thus provides it a mature look. With a few minor upgrades, its front is highlighted via a three dimensional bonnet, hexagonal grille with 'four ring logo' sitting right in the centre of it, Xenon headlamps with LED function, a pair of angular fog lamps and a pair of air inlets completing it subtle looks.

Short over hangs and a long wheel base attributes to a coupe like profile for the 3 Series while the A4 has an elegant silhouette which has a perfect balance of flattened out surfaces with straight line emerging all the way from the front to its rear. In this particular case, the 3 featured 18 inch alloys in comparison to 17 inch on the A4 that further adds appeal to their respective profile. Coming round to the rear, both feature wedged boot lids however their distinctive tail light design further brings out their individual appeal. Both feature LED tail lamps, with the 3 offering reflective inserts in the lower half of the rear bumper while the A4 has a plastic diffuser to complete its look. Just to say it out loud, BMW 3 Series which now adorns a new look in comparison to its predecessor definitely looks menacing and ready for business. Meanwhile the A4 with its minor updates is subtle and soothing to the naked eye.

Interiors


Well since majority of us spend decent amounts of time on road, courtesy city traffic it comes more than imminent to be cascaded in luxury and comfort. My discontent with BMW is that no matter which model, they all offer a similar interior and same is the case with the 3.

In fact once inside, the quality of plastic does come across as substandard whereas in the case of A4 things seem a bit more premium. Beige and black interiors on the 3 Series makes the cabin look bright and airy whereas for the A4 the grey cabin brings together elegance. Their respective dash provides a wooden finished panel on the Beamer while Audi has a silver grey finish to it.


As for the infotainment, there is not much to differentiate between the two in terms of sound quality, nevertheless the 3 Series caters to the famous i-drive system which comprises of a numerous elements such as app integration, Aux-in, USB port, Bluetooth connectivity with navigation while Audi's MMi system with facilities like a DVD player, Aux-in, utility of a Micro SD Card brings out the best from within.

Mind you, Audi A4 does not feature a USB port which is a downside to it though one could get an additional cable in order to avail this function.

In comfort, one would have expected both to be at par but somehow it is the BMW that lacks a bit in comparison to Audi. The reason being that there is no under thy support to begin with, the cushioning for another instance is far from impressive in comparison to its opponent. Lack of head room especially for people who are tall undermines the cabin experience in the 3 Series versus the A4 that stands to benefit the occupant. Rest there is decent amount of leg and shoulder room in both sedans.

Performance

This is one area where all the anticipation and excitement would be laid to rest as one is a rear wheel drive and the other one a front wheel drive. There are no guesses like tradition goes the latest generation of the 320d offers a 1995 cc diesel engine under the hood that is capable of producing a maximum power output of 184 bhp with 380 Nm of torque. Whereas in the case of Audi A4 which is in fact a front wheel drive, there is a 1968cc oil mill beneath the skin churning out 174 bhp along with a peak torque of 380 Nm. Offered with an eight speed automatic transmission, the 3 Series provides decent shifts however in Sports mode it is a bit erratic in line with its exterior design and appeal. Audi's Multitronic transmission is a far smoother on the shifting side.

Ride quality on the Audi is superior to that of the BMW, especially when it concerns going over potholes and broken roads with ease. The odd bumps can be heard within the cabin of the BMW whereas the Audi seems to be better insulated. Coming to handling characteristics, the 3 scores well above the A4 standing tall on its claim of providing 'Sheer Driving Pleasure'. This does not mean that the Audi is boring to drive, in fact looking at a broader picture it is much more refined and does what is required to get one from point A to point B in style.

Verdict

To sum it up, in my opinion the 3 Series is a pure driver's delight offering ample of excitement with a few drawbacks while the A4 is more sublime and well suited to those who like to be chauffeur driven without much fuss. If you are on the lookout for a radical looking sedan and do not mind a few teething issues then BMW's 3 Series is the ideal fit otherwise Audi's A4 with its sophisticated yet elegant design is best other alternative for the time being before the launch of latest generation Mercedes C-Class.

Was this article helpful ?
0 out of 0 found this helpful