Interstate Car Selling Must-Do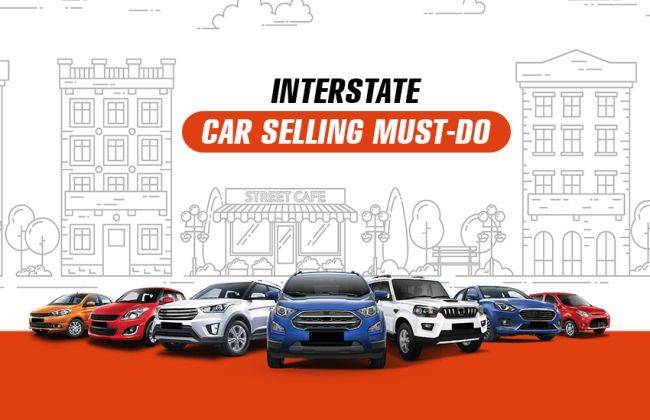 Selling your old car to another state might seem complicated but in reality, it's not that difficult. Yes, you require some additional documents to conclude the sale to a buyer of another state but these papers are easily available and can be gathered with little effort. To help you out, we have prepared a list of documents that are required if you want to sell your old car to the buyer of another state.
1. Documents related to the Vehicle
a) Registration Certificate (RC): RC is mandatory for selling the car in both intrastate and interstate selling. It is the single most important document and has crucial details about the car like registration number, owner's name, engine number, cubic capacity, chassis number, etc. You have to submit RC in original to the RTO of buyer's state for processing the transfer of ownership.
b) Insurance Certificate (IC): IC is the second mandatory document and proof that the vehicle has valid insurance. Usually, IC for a vehicle is issued for one but now thanks to the decision of the Supreme Court of India, all the vehicles sold after September 1, 2018, are required to have long-term insurance of 3-5 years. You need to submit a photocopy of IC to RTO.
c) Pollution under Control (PUC): This mandatory document signifies green credentials of the vehicle and you are required to submit a copy of valid PUC certificate to RTO.
2. RTO documents required for interstate selling
a) Form 28 (no objection certificate): If you are selling the car to another state, form 28 is a mandatory requirement. It is used to transfer the vehicle from your state to the buyer's state but in case, the transfer of ownership is happening between different cities of the same state, form 28 might not be required. Still, there are some states which are an exception to this rule with Maharashtra being the prominent one. You will require three copies of form 28 with the pencil print of the chassis number that needs to be submitted to RTO of buyer's state.
b) Form 29 (notice of transfer of ownership of a motor vehicle): Two copies of form 29 duly signed by both the parties need to be submitted to RTO along with a passport size photograph of seller and buyer.
c) Form 30 (intimation and transfer of ownership of a motor vehicle): Similar to form 29, two copies of duly signed form 30 with passport-size photographs of buyer and seller need to be submitted to RTO.
d) No Objection Certificate (NOC) from registered RTO: In the case of interstate selling, a NOC from the RTO office in which the car is originally registered is also required to RTO in the buyer's state for transfer of vehicle ownership.
e) National Crime Records Bureau (NCRB) report: A report from the NCRB verifying that your vehicle wasn't involved in any kind of criminal activity is required. The certificate needs to be submitted to the RTO under which the new registration needs to be done.
f) Receipt of Road Tax: Road tax has to be paid to the state in which car is going to be registered and a receipt of the same has to be enclosed with the documents.
3) Personal documents required from buyer and seller
a) Proof of residence: One self-attested copy of address proof of both buyer and seller is required.
b) PAN card: Again, one self-attested copy of PAN card of both buyer and seller is required.
c) Passport size photograph: Two self-attested copies of passport size photographs of both buyer and seller are required.
It is to be noted that as soon as you sell the car, immediately initiate the ownership transfer process (ideally it should be done within 14 days of sale). Intimate the RTO about the sale and submit an application for the ownership transfer along with the documents mentioned above.
An easy and convenient alternative: a visit to CarDekho Gaadi Store
If you find all these processes complicated, a rather convenient way is to sell your car is to go to a CarDekho Gaadi store. You need not be bothered about the documentation as all the procedural requirements of transferring the RC are handled by their executives and that is too free of cost. There is no limitation regarding selling the car interstate either as they have a strong network of 1,600 plus channel partners spread across the country.
Also Read:- 10 Steps to Selling Your Car