How to Set the Budget For Your Next Car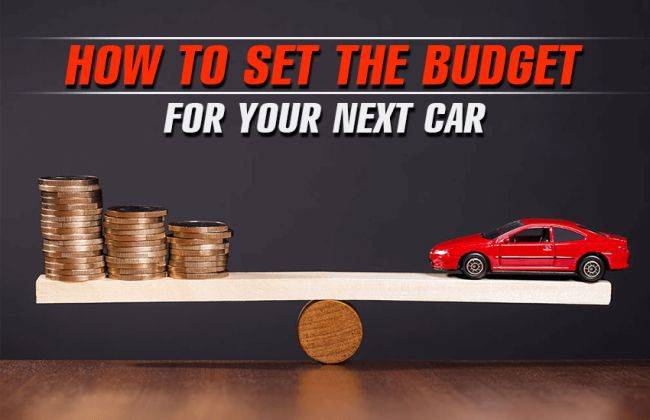 The biggest mistake prospective car buyers make while making a purchase decision (irrespective of a new or old car) is not fixing the budget for it. Most buyers have no clue about how much money they need to spend on the car monthly and they tend to take decisions solely on the basis of the retail price of the car. Remember, the sticker price of the car is only one component of the total cost of ownership and taking a decision purely based on showroom price is not an intelligent way of doing things. We help you out in this article by listing the parameters that you should consider while fixing a budget for your next car purchase.
1) On-road Price: The on-road price is an important component of the overall cost of ownership and you should carefully consider how much the car will cost you on road. There is a considerable difference between ex-showroom and on-road price and this difference increases as you go up the price ladder, moving from budget cars to luxury cars. For example, Maruti Alto 800 STD variant costs Rs 2.93 lakh (ex-showroom, Delhi) while the on-road price of the variant in Delhi is Rs 3.27 lakh – a difference of Rs 34,000. However, in the case of Toyota Innova Crysta 2.8 GX AT variant, the difference between ex-showroom (Rs 17.51 lakh) and on-road price (Rs 21.04 lakh) in Delhi is around Rs 3.5 lakh (10 times the difference of Alto 800). It is, therefore, recommended that while making the car purchase decision, you must consider its on-road price rather than looking at the lower ex-showroom price.
2) Calculate EMI well in Advance: There are a number of EMI Calculators available on different websites that you can use in order to calculate the EMI amount. You should try to achieve an optimum balance when it comes to loan repayment tenure and the EMI payment amount. Don't overburden your finances with car's EMI and ideally your EMI should not exceed 10-15% of your monthly income. So if you are earning Rs 1 lakh/month, try to restrict the EMI amount below Rs 15k or definitely below Rs 20k.
3) Insurance Cost: Higher the value of the car, the more insurance amount you have to pay. According to the new rules, you have to mandatorily buy a three-year insurance cover for your car. The decision is good for enhancing the safety aspect but has certainly added to the cost pressure on owners. Therefore, when you start planning for purchase, factor in the insurance cost into your budget and work out how much extra pressure it will be going to exert on your finances on a monthly basis.
4) Fuel Cost: With the price difference between petrol and diesel coming down to only Rs 8-10 per liter, the motivation to buy diesel vehicles is on the wane. Mind you, the fuel cost is going to make a major portion of your spending and you should carefully plan it with a focus not only on current fuel prices but also on future fluctuations. To calculate your monthly fuel cost, find out what the car company claims about the fuel-efficiency of the model you intend to purchase. If the manufacturer claims a figure of 25 kilometers per liter (kmpl) then roughly it will translate into 18-20 kmpl under normal driving conditions. Divide your daily distance travel by the fuel-efficiency number to find how many liters you require per day for your commute. Then you can multiply this figure by the price of petrol (Rs 73/liter and diesel Rs 67/liter) to get your monthly spend on fuel. This amount should be a primary criterion for the selection of the car and guide your choice between the petrol and diesel variant.
5) Service, Repair, and Maintenance Cost: Before purchasing a car, you should comprehensively enquire about its service schedule, maintenance requirements, and cost of repair to get an estimate that you need to spend on all these aspects of your car per year. Ask from the sales executive kilometers interval after which the car requires service, check online reviews about the car's reliability, and investigate the cost of the model's spare parts to reach a ballpark figure that you need to spend per month on car's maintenance and repair. This estimate will help you in reaching the right conclusion of the ownership cost associated with a vehicle.
In sum, fixing a budget for your car is required for a hassle-free ownership experience. Its importance becomes even more significant if you are financing your purchase. You can follow 20/5/15 thumb rule method while planning to buy a car. According to this rule, you should make 20% down payment, the loan repayment tenure should not be more than 5 years, and your EMI amount must not exceed 15% of your monthly income. This rule is not cast in stone but then it could certainly guide you to make an intelligent and considerate purchase decision.
Also Read:- Tips to Become an Informed Car Shopper