Tips to Become an Informed Car Shopper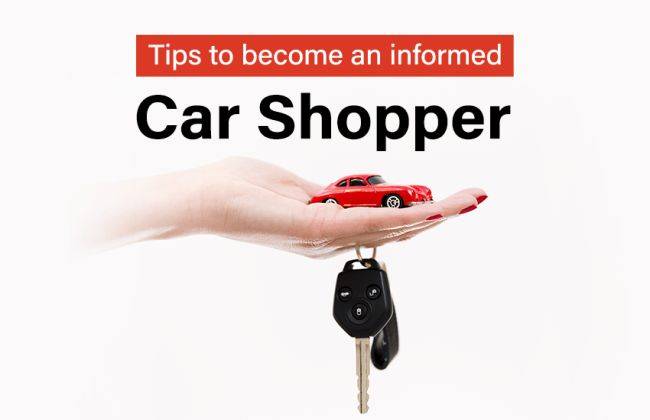 Selling and buying a car is among the major decisions in one's life. Perhaps, it is the second most important decision after buying a house, and hence requires a considerable deliberation and careful analysis. To make an informed choice, you have to consider a number of factors ranging from budget, choice, expectations, etc., and we have come up with the following list to help you make a better decision.
1) What do you want- New or old?: Before you start searching for a car, the most basic and primary decision you have to take is to decide whether to go for a new car or to purchase an old one. The decision might sound complicated but if you consider the following facts we believe you won't face much difficulty in making up your mind.
On average, you can buy a well-maintained used car at half of the price of a new car.
The depreciation rate is highest in the first three years of the ownership with a new car depreciating as much as 40% of its original price during the initial period. Further, a new car loses 20% of its original price as soon as you drive it off the showroom.
A majority of new cars sold in India are financed which not only add to the burden of EMI to person's overall financials but also makes the experience of depreciation even more painful.
You can buy a segment higher used car with your existing budget rather than going for a segment lower of a new car. This provides you an opportunity to upgrade your status while going for a used car than going for a new one. Psychologically, you feel more relaxed while driving a used car rather than a new car. The pain and agony in case a new car take a blow are far higher than the feeling of hurt you have when a used car gets a dent or scratch.
2) Fix a budget: You don't want to land yourself in a situation where you realize after buying a car that you cannot afford it anymore. To avoid this, take a hard look at your budget and realistically decide how much you can pay upfront, or what would be the amount of EMI you can afford without stressing your financial resources. It doesn't make sense for a salaried person getting Rs 40,000/month to have an EMI of Rs 20,000 for a car. Ideally, you should limit the EMI for your car around 10-15% of your salary and must avoid paying more than 20% on your monthly income on car's EMI.
Not only the upfront amount requires comprehensive analysis but you also need to account the cost associated with the insurance, service and regular maintenance of the car. When you add up these two components (down payment and maintenance cost) then only you will reach a realistic figure of the cost associated with the car's ownership.
3) Choose a Reputed Dealership: One of the common worries of people looking to buy a used car is about the price. Most of us believe that the prices of used cars are manipulated and this belief is not entirely false. People do manipulate prices to earn maximum profit but then you have to learn the art of identifying the genuine price to become an informed car shopper. One way to reduce this manipulation is to choose a dealer of repute having a genuine approach towards selling used cars. More specifically, choose dealerships that focuses on selling low mileage used cars and offer certified vehicles with warranties to customers. You'll find their prices genuine too, and hence there is no scope of haggling either.
4) Avoid common mistakes: If you are buying a car for the first time you are prone to making mistakes. One of the most common mistakes that people commit is to select a car purely on its looks rather than selecting it according to their needs. Some don't even bother to test drive before buying a car and then regret their decision at a later point in time. Not doing homework about the expected price is another common mistake that most of us commit. It is recommended that before you make a purchase decision, you should research price of similar cars on the internet or in the market to have a fair idea how much the car is going to cost you. You can also use the car price calculator of CarDekho Gaadi at used car valuation to get a rough estimate of the car's value.
Another important aspect where you can possible falter is the financial contract. If you are planning to finance your car purchase then you should be careful while choosing your financing partner. Banks and Non-Banking Financial Companies (NBFCs) are two primary options in the Indian market which offers car loans and both have their own pros and cons. While banks provide you loan at lower interest rates NBFCs offers faster processing of a loan. Depending upon your requirements and priorities, you should select the financing partner diligently.
5) Avoid buying from private seller: There are some critical disadvantages of buying a car from an owner and ideally you should avoid this route of purchasing the car. First, the person is a complete stranger to you and you have no idea whether he/she is honest with you. Unlike dealerships or used-car selling platforms whose reputation you can check online through the various reviews, there is no genuine method available for checking the credentials of a private seller. In another case, suppose if you purchase a car from the private seller and then find it is not up to the mark, there is nothing much you can do except filing a court case against the owner which is a rather cumbersome and time-consuming process. Therefore, it is recommended that you should not buy a car from a private seller until and unless you are sure about his/her credentials.
6) Be aware of scams: You might come across an offer in the market which seems to be too good – it's like you have hit a jackpot. If that is the case, we advise you to be aware as these kinds of lucrative offers could be part of a larger design to cheat or defraud you. There are many scams running in the automobile industry ranging from title washing to odometer fraud to curb stoning and if you are not vigilant then you could easily become victims of these frauds. Remember the deal which seems to be exceptionally good needs to be viewed suspiciously. The best method to avoid falling into trap of these fraudulent offers is to purchase the car from a genuine used car dealership which has earned a name for itself in the market over the years of honest dealing and transparent performance.
We believe that following all the tips mentioned above will make you an informed car shopper. This, in turn, will help you to make the right purchase decision. If you want to get more information about selling and purchasing of used cars then check out the blog section of CarDekho Gaadi at Car Selling Tips. Here you find loads of useful information that will help you to become a well-informed and rational decision-maker.
Also Read:- 10 Pro Tips to Sell Your Car