How to sell your used car in India?
Modified On Mar 27, 2015 12:17 PM By Aman
4332 Views

Write a comment
We at CarDekho have been connecting used car buyers to sellers and vice versa for quite a long time now. After listing down lakhs of used cars till now and matching the right dots w.r.t finding the right buyers for them. We have gone ahead to devise easy steps for our audiences on 'How to sell your used car in India'. After crunching our used car data and consulting with used car buyers in the country, we have come up with an easy guide to help you sell your car quicker and faster.
Here is how to do it:
Pamper your car, what looks good sells good!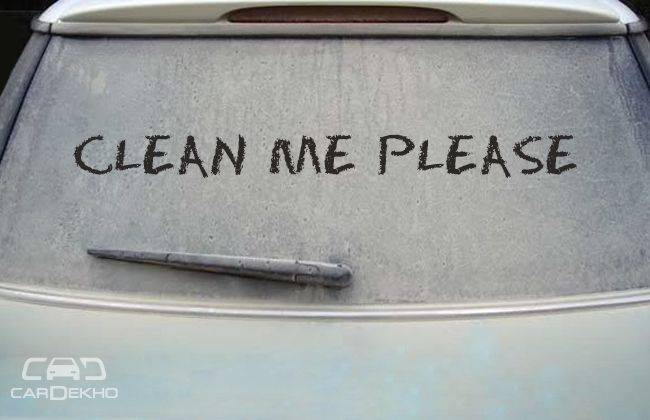 If you were to go for an interview, try and visualize what all you would do to get yourself ready. Selling your used car is somewhat similar, well not for you but for your car. After all, your car will be going out there to find a new owner. So, it is ALWAYS recommended to first pamper your car a bit. Even if it requires shelling out some extra money, but do not worry the end result will be in your favor only. You can start by first getting your car washed inside out (not forgetting missed out areas such as all four door panels and the inside roof of your car). An under body-wash is a MUST along with seats dry-cleaned to make your car clean and ready. Another factor which will increase your car worth are tires. Make sure to change worn out tires by throwing in new ones. DON'T WORRY, the money you spend on tires can be easily recovered when the buyer notices how clean and drive-ready your car is. In the end, if you feel there is a noticeable dent or scratches on the exterior do try to go for a repair, if your budget allows.
Now that your car is ready to face the world. It is time you stick to your car and be a good owner.
Its your car, you know it better...
Sell it yourself: The process of selling your own car might take time, but its worth every single minute of yours. Try not to give your car to a car dealer or anyone who claims to sell your car better than you. No one knows your car better, and if it requires some attention from you, its worth giving.
Don't go for a six: If you really want to get the maximum share out of your used car then we highly recommend not going for a one shot approach. By this, we mean not selling your car to the first stranger you come across no matter how hard you are persuaded. Always consider your options and try to get the most out of your car by interacting with more people.
The more the merrier: Its always better to have competition, well atleast when you are selling your car and you have more than one person trying to vouch for it. This increases your car value, but make sure to play this game right so you don't end up rubbing your hands with nothing in it!
Before going ahead in search for a buyer, now that you have followed the major two steps it is also recommended to keep in handy the below information as this will be required during selling your car:

The MUST have information:
. Year & Month of manufacture / registration . City of registration . Number of owners . Insurance type (comprehensive / third party) . Car Service history . Variant / Trim level . Kms covered . Accessories fitted . Reason for selling . Colour (interior & exterior)
Now comes, the decisive factor of selling your car. You need to set your expectations right and this is how you can do it:
Setting the price right:
An efficient way is to first go to your car manufacturer showroom nearby and get a realistic price from them. However, the figure they might quote can be the least price that you can get because of there extreme bargaining techniques. But this will set things straight for you. If the car showroom option is not available, you can also go to a local car dealer just to check on the market price they quote. Don't be disappointed if you get a low price but you can consider that price to be the lowest selling price for your car. Now, you would know what can be the minimum price that you can expect.
So you can always quote a little on the higher side and once you have narrowed down the price of your car, you are now ready with information and so is your car to find its new owner.
So now you have prepared your car, have information handy, estimated the price. The next BIG step is to finalize your options of where to sell?
Where to sell ?
We are listing down possible options where you can maximize the reach of searching for the right buyer for your car.
Spread the word: The word of mouth publicity is a reliable option by approaching your friends, family and people within your network. But a word of CAUTION: It can be helpful but at times can really be a pain when you sell your car within close family or friends. If your car demands high maintenance or even if there are some shortcomings, your near and dear ones might not spare you and be prepared for some after-sale cribbing.
A nice tip: Make sure you do not crib about your car to your friends and people in your network all the time, or to the ones you have, do not approach them. This can further deteriorate your car price if you are considering selling the car within your network.
Newspaper Advertisement: Well, without a doubt you can reach out to a lot of reader's when you take the newspaper route but mind you, they will be 'readers,' not exactly potential car buyers. There is a strong chance after spending money on the newspaper add, you might not end up with a single buying request. After all, taking so much pain of registering a newspaper add, you should get in touch with the right audience.
What we recommend: Go Online- By far the most easy and efficient way to sell your car is to take the help of Internet. Even if you live in an area where internet is not much used, need not worry, going online means you are now catering to car buyers all over the country. You can take the help of social media or ask your son/daughter or any social media savvy person from the family to do so for you. Again social media might be helpful but you are not really targeting the right audience as its an open ground. Taking help of car listing sites and popular automobile portals which has a good site hit ratio will help move your used car from your garage as quickly as possible.
At CarDekho, we help thousands of sellers on a daily basis to sell their car easily. It's just a click away, you can choose between our FREE listing and also the PREMIUM listing option where your car will be made available to the potential buyers seeking the similar car type.

However, before you sign-in on our used car network, we have listed down various factors to further help you in the pursuit of selling your car to the right owner. Now that you know where to go and what medium to go for, you also need to have a reality check about what to expect when you are selling your car.
The Buyer's mindset
As per the data taken from our used car section of CarDekho.com which receives thousands of queries for used cars on a daily basis connecting buyers to sellers. We have narrowed down the top three requirements of buyers which are the decision making factors. Of course, price is an important criteria and is well known so we are not including that factor to help you understand more about the buyers mentality.
The three most important requirements of used car buyer's:
. Owner Type – If your car has a single owner i.e. You, the probability of selling your car is increased vis-a-vis multiple owner types.
. Model Year- As per our current data, we have encountered that cars which are manufactured on and after 2005 have a very good chance of selling. Whereas, leaving behind a few exceptions, cars manufactured before 2005 do take time to find the right buyers.
. Km driven – The last but not the least, is the kilometer driven question which is of major concern to the car buyers. Make sure, you do not hide this factor from the buyer.
Towards the end, do go through the points below to make things clear when it comes to selling your used car.
The Do's and Dont's when interacting with buyers:
Do's:
Make sure to post as many photos of interior and exterior of your car so the buyer can get a good view Be ready for negotiation post setting the car price keeping in mind that the actual selling price will be brought down. Our study of used car buying behavior suggests the negotiation can take your car price down to an average Rs. 50,000 – 60,000. Make sure to give original documents of the car to the buyer but keep photocopies of the same with you just in case

Dont's
. Do not over price your car, this will only effect its selling
. A buyer will always prefer a genuine seller i.e direct party, so DO NOT take the dealer route unless you are really not able to sell your car. This is where taking help of car expert sites like CarDekho can help you as it connects buyers straight to sellers.
. Do not degrade the price of your car running after a buyer. Remember a buyer always has a budget in mind so your car either fits his/her budget or it doesn't.
We hope the above listed parameters will help you sell your used car as quickly as possible. Now, you can continue clicking on to our website and let us find the right buyer for you. Happy selling!
Was this article helpful ?
0 out of 0 found this helpful