Buying a New Car: Become Street Smart in 4 Easy Steps
Modified On May 31, 2016 02:18 PM By Aman
Indians are by nature quite emotional when it comes to buying, especially if it's a house or a car. However, despite knowing how big an investment car buying is, many of us don't put in as much thought or effort in choosing the right car and end up buying one that is either too costly, not in sync with one's lifestyle, or is loaded with features that serve you no purpose, etc.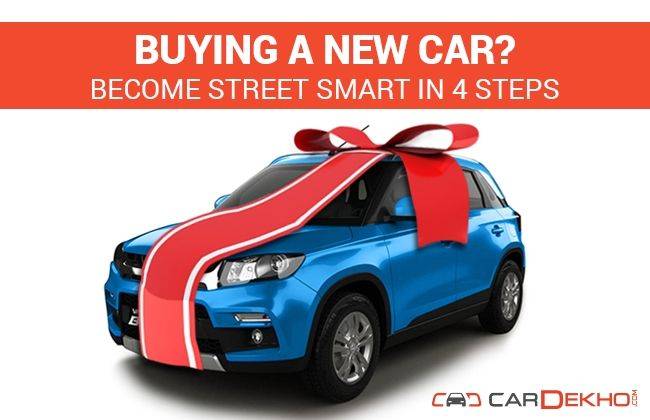 The journey of buying a new car is simple but it does require a process to be followed. With the market flooded with options these days and car brands trying to lure buyers with increasingly higher discounts and freebies, you now have the upper hand in finalising the right car for you. Of course, snagging a good deal also depends on how street smart you are – an art you can pick up by following these four simple steps!
Step 1: Do the homework right
Before stepping into the showroom, make sure you have covered the below aspects.

Know your spending bracket:
This happens to a lot of us. We set our budgets low and end up liking a car that's priced way above what we had planned for. Avoid the urge to raise your budget and shake up your finances in pursuit of your dream car. Instead, draw a line which you just cannot cross unless, say, you are willing to compromise on that new diamond earrings for your wife or expensive gadget for your husband. In fact, you can now be more specific using the CarDekho app to get detailed on-road prices of the model of your choice.
Don't go for all, pick 2-3 top features:
Features are a top priority these days and this is something that actually makes or breaks a deal at times. You might be tempted to go for all the latest offerings but it's better to just list down 2-3 important features in a car that you just cannot live without. It could be as basic and practical as power-folding mirrors, phone connectivity and Bluetooth support, or more fancy stuff such as a touchscreen infotainment system. Automatic climate control, rear AC vents or height adjustable driver seat can also be a part of your checklist.
If you are not familiar with all of these above, our CarDekho app can churn out specific details at your fingertips. You can easily find in-depth car specification, pictures as well as reviews to help you narrow down your choice. Apart from this, you can also use our Feel The Car feature in the app which takes you through a virtual tour like never before.
Finalise your usage and car type:
Before you start your car hunt, understand your usage which will determine the type of car that will be apt for you. So let's get these questions answered:
How many kilometres will I be driving daily?
If you are traveling less than 50-60km a day, opt for a petrol car instead of a diesel. With the extra Rs 1-1.50 lakh spent on a diesel purchase, you can actually drive a similar petrol car for as many as two years! So, do your math carefully. A diesel usually makes sense if you are driving above 80km a day.
Is it for the entire family or for personal commuting?
If you are planning for daily commutes with occasional family drives, a hatchback can be a better buy than a sedan or an MPV, especially if you drive through thickly congested roads. If your entire family will be traveling, then an MPV makes more sense. To solve this confusion, you can compare between different car types and brands easily on the CarDekho app or website.
Will the car be frequently driven outstation or used on highway trips?
If you travel a lot by road with luggage or drive on hilly terrains as well, an SUV can be a good idea but if there's a budget constraint, you can opt for a compact SUV.
Do you drive for pleasure and mileage is not a concern?
If you are an enthusiast and don't care about fuel efficiency, then you can opt for any of the umpteen performance cars available in the market. Aside from the thrill of driving, most of them also offer safety features such as ABS (Anti-lock Braking System) and airbags.
Regardless of which car you buy, we strongly recommend buying a car that offers necessary safety equipment such as ABS and airbags. It's a must and can help save lives.
Narrow down your search:
After deciding on your budget and the type of car that will suit your requirements, you will have to narrow down the best options for you in a particular segment. You can consider going through user reviews at CarDekho to see what the owners of different cars have to say about their experience. You can also go through our expert road tests to find out how good or bad a car is by covering different aspects.
Now, before we go any further, below are some pointers that you should simply avoid:
Avoid going for a car model/brand that is about to be discontinued, no matter how good a deal you get. Repairs and finding spares can become a pain in the future and the resale value could also take a hit.
Avoid buying a car just because your neighbour, Sharma ji, drives one and he finds it 'out of this world'. What works for him may not work for you!
Avoid buying a car during December. It's better to wait for some time and get the next year registration done. This is most handy in fetching you a good deal when you plan to sell it as the car is a year younger, at least on paper.
Avoid going to unauthorised dealerships for purchase. Always consider OEM (Original Equipment Manufacturer) dealerships, and they can be easily located online.
Step 2: Time to step out
Take someone along:
Taking a friend or a relative along can be a smart move. A second opinion can help you make an unbiased assessment that is not pressured by the salesman's pitch. Also, the friend may end up pointing out something important that you'd have completely missed.

Test all the options:
Of course, do not just rely on the word in the market. The ultimate decision has to be yours. So step out, go to a dealership and test drive the car you like. Do not restrict yourself to just one car; drive all its competitors in the segment. If you are not sure which segment the car falls in, you can check our compare section in the app or website. If you want to know more about test driving a new car, check out CarDekho's comprehensive checklist even before you begin the test drive.
Don't fall for verbal commitments:
Once you have finalised the car, it's time to take things forward. We live in an age of proofs, so don't let any verbal commitment be your assurance to purchase. Always, take everything in writing from the dealership and get it signed from the selling authority.
Step 3: Finalise your purchase
Put you bargain hat on:
To get the best deal, shop around and place one offer against another. Research about all the available discounts, forthcoming price cuts and manufacturer's special offers. Visit CarDekho to find out the best deals in your city.
At this stage, you can also explore the same car model in multiple OEM dealerships within your city. Let them do the talking by making the best offer. Once you get a good offer, check with next dealership if they can better it. But be realistic; after all, it's not the same as buying onions from the bazaar.

Getting the car loan right:
If you are considering taking a car loan, feel free to ask for quotes from multiple banks from the dealership itself. A lot of banks and lending authorities have tie-ups with dealers to offer you easy loan. Or, you can check with your own trusted bank and authorities in case they have a better loan plan to offer.To find out more on the lowest possible EMIs on your loan, visit CarDekho car Finance.
Shop for the best insurance deal:
Just as you compare cars to find the one right for you, search for the best insurance deal as well. There are a lot of insurance companies offering multiple schemes for your car. Comparing insurance is your right, so do not let any dealership salesman pressurise you into picking their in-house insurance.
Don't shy away from a pre-registration check:
It's a good idea to go for a pre-registration inspection to avoid getting duped by dealers for a faulty or even an accidental car which is mended to look new. Check out our pre-delivery inspection checklist article here to get more insights on the same.

Step 4: One final check
Before you take home your precious car, here is a quick brush-up of the things that you need to check just when you are taking delivery.
All receipts should be in place
Permanent RC (registration certificate) or at least a temporary one
Get insurance paperwork checked (in case you are buying one from the dealership itself)
A pollution under control (PUC) certificate is mandatory
Check all manuals, service booklet (with free service coupons), warranty cards and roadside assistance number as well
Congratulations! You are now ready to drive your new car and we wish you all the best for this new journey. Drive safe and keep us posted about how your car is performing in our User Reviews section. We would love to hear about your driving experience!
Was this article helpful ?
0 out of 0 found this helpful