Buying A New Car: All You Need To Know About Paperwork
Modified On Jun 12, 2019 05:55 PM By Aman
So it's finally time to bring home the car of your choice. But, before you take the keys and celebrate, there is an all-important step to be taken care of – paperwork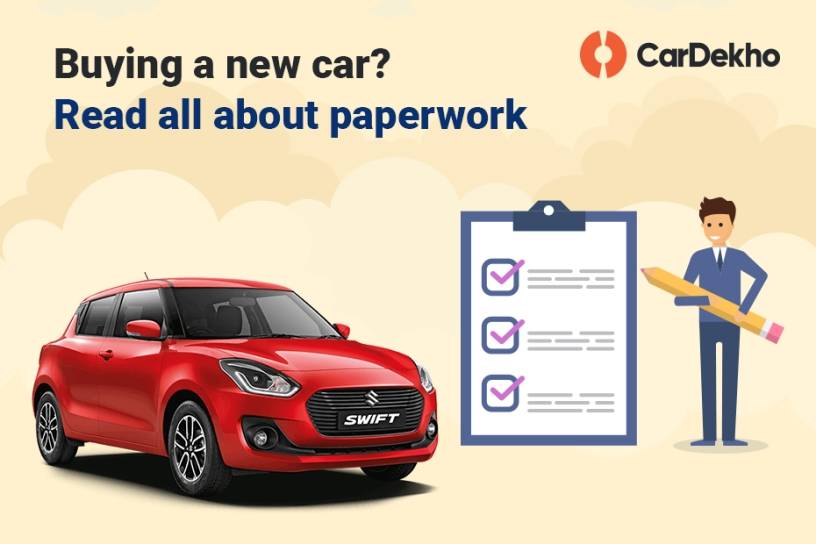 Most of us tend to skip this step, especially first-time buyers. Besides, this is one boring part that you are more than willing to let your father or an elderly figure handle. While it may seem like a daunting task, it's actually quite simple if you follow this step-by-step approach towards completing the paperwork.
Finalising your car loan
Once you have narrowed down the car of your choice, it's time to take matters to the table. If you are paying entirely in cash, then you may skip this step and start thinking about explanations to the tax authorities.
If you are opting for a loan, ask multiple banks for quotes. A lot of banks and lending authorities have tie-ups with dealers to offer easy loans. Or, you can check with your own trusted bank and authorities in case they have a better loan plan to offer.
What to watch out for
Ideal down payment: Normally, one should pay at least 15-20 per cent of the car's purchase price as down payment and take up loan for the rest of the 80-85 per cent. However, there is no set rule. Depending on the car type and your budget, you can even extend the down payment to lessen the burden.

Lowest EMI is not always the best: One term that really attracts us is 'Low EMI'. Don't fall into a trap just because the loan plan has the lowest EMI amongst the rest. Read the entire loan process and check for processing fees, other one-time payments and tenure along with the rate of interest that you will have to pay. Once you have taken care of all the math, only then should you finalise the loan that you want to opt for. To understand this better, visit our car loan EMI calculator, enter the amount and get the EMI as per your plan.
Documents required: The car will be under the name of the individual taking up loan till the time it's fully paid to the lending authority. You will need the following documents for the same.
Identity proof: PAN card / Driving License / Passport / Aadhar Card / Voter's ID
Address proof: Electricity bill / house purchase agreement / rent agreement (if you are on rent) / ration card
Income proof: Bank statements for last six months / last three months' salary slips / letter for loan closure (for previous loan except home loan) / last two years' income tax returns

Insurance
Just as you compare a car with other options in the market, you should do so when buying insurance too. There are a lot of insurance companies offering multiple schemes for your car. Compare insurances to getter a better deal and do not let any dealership salesman pressurise you into opting for their in-house scheme.
What to watch out for
Dealership salesmen are experts in selling cars, not insurance. A car salesman can sell you the best car, but there is no guarantee that he/she will offer you the best insurance deal. Don't rely on their advice as it's better to go for your own insurance plan.

Dealerships are not the only places to get your car insured. Don't follow the myth about dealerships being the only place to get your new car insured. There is no mandate to buy insurance from the dealer, no matter how much you are lured to go for one (unless it's free or the plan is the best in the market). Always consider the options available in the market. Nowadays, everything is online, so don't be afraid in saying 'NO' to the dealership and get your own insurance plan.

Make the booking
Once you have figured out the financial aspect, it's time to sign the booking papers. Do remember, the car will be under the name of the person who is taking up the loan. Even if the car is for you, the person taking the loan will have to make the booking in their name.
Documents required:
The person making the booking will have to show proof of identity, nationality and address as well. Below documents should suffice.
Nationality: Voter ID / Passport / School certificates
Identity: PAN card / Driving License / Passport / Aadhar Card
Address: Electricity bill / house purchase agreement / rent agreement (if you are on rent) / ration card
What to watch out for
Take everything in written: Make sure to get everything in writing. This should include the exact delivery date, exact price (both down payment and on road price), accessories, add-ons and discounts offered as well.

What if you cancel the booking or if delivery is delayed: Always check in a subtle way about the clauses of booking – are there any charges involved in case you change your mind? Also what happens if the dealership doesn't live up to the promise of the delivery date, will you get a refund? Clear all of this beforehand.
Finally, before you get carried away and drive the car out to your garage, check for the following documents:
Receipts

Permanent RC (Registration Certificate) or at least a temporary one

Insurance paperwork (in case you are buying one from the dealership itself)

Pollution under control (PUC) certificate

Manuals, service booklet (with free service coupons), warranty cards and roadside assistance number as well
That's it from us! Drive safe, follow traffic rules and let the celebrations begin...
Was this article helpful ?
14 out of 14 found this helpful