It's like my elder brother
It's like my elder brother
My new Honda City SV petrol I was in search of my first car. I started with Maruti Swift and during the search one of my uncle asked me to have a look at the Honda Amaze. Me and my parents went to the Honda showroom and while entering all our eyes fell on the new Honda City displayed at the entrance. Actually, we went to see Amaze, and funny thing is, we started exploring the all-new Honda City and no one bothered the Amaze. The 2014 Honda City is an eye catcher and my cousin sister has the old dolphin model which is a joy to ride car. Amaze seemed to be non-existent after entering the showroom. We zeroed on the City and after two weeks we booked a Crystal black Honda City SV petrol. It was delivered to me on June 6th, 2014 just after 2 weeks from the date of booking. It is an awesome feeling, to have your first car. Its been almost 3 months that the City became my companion. So far I have done 5000 kms and I am very happy with the performance of the engine. I was driving my father's WagonR before and my god the engine refinement that you get in a petrol city is more than just awesome. You could barely notice whether the engine is on or off. This is not a Honda City initial excitement story by a 26-year-old. So let me throw some light on the pros and cons of the 2014 Honda City, as per my experiences. **==Pros==** Engine refinement is extraordinary (everyone knows the same). No engine noise filtering into the cabin. 2. Rear seat space is very good. Three persons can easily be seated without touching each other. Front seats - they just hug you. 3. The in-built audio system is very good, good sound quality and Bluetooth playback are possible. 4. Steering controls are easy to use and are of good quality. 5. Seat height adjusts and steering reach adjustment helps to find a comfortable driving position. (I am a 6 feet tall person) 6. Capacitive touch controls are superb. They respond to every input effectively. 7. AC is very good, with good cooling ability. 8. You may find the tyres very skinny. You are right, they are skinny, but I am surprised with their ability to handle corners. There is a bit of body roll but not at all scary. 9. It is a joy to ride the engine. 40 kmph in 5th gear, no vibes, no knocking. Press the pedal it just moves on. 10. Gear shifts are very good. Clutch is light. 11. Breaks are good, have good braking power. 12. Increased ground clearance have really helped the car not to touch underbelly on the scientifically made speed breakers. 12. MID showed 19 km/l for a(considerably) long drive of 150 kms(It is Kerala and you will feel even 50 kms drive very long, with the so called scientifically made roads). I am getting an average of 15.4 km/l now(as per MID), consisting of horrible city roads(they make roads using potholes and somewhat good roads(they call it highway and funny thing is even Google maps call it a high way and people wonders "Which way, what way!"). Note: You could find a lot of frustration displayed in the above statements. There is a reason for it. I have paid 1 lakhs+ as VAT and Rs. 76000 for 15 years road tax. And I am getting such pathetic roads in return. Now let me come to the cons. **==Cons==** 1. Delivery day was very joyful. The black beauty. But after reaching home I could find the black color had become brown(Don't panic! It is the contribution of our so-called roads and rains). It is very difficult to maintain a black car as a black car. But if it is washed and cleaned, black is too much Royal. 2. While washing the car I came to know the bumpers and the metal body are of flimsy build(Enthusiasts have given advice on the same in many reviews but I never expected this much). If I press it a little hard it just bends!. Same is the story with the roof. Our 4 lakhs WagonR feels more solid than the 10 lakhs City. 3. There are some bits inside the cabin which make you feel like you are sitting in a Maruti 800. Door panels are hard plastic of low quality. 4. Low-speed ride is bumpy and bumpier in Kerala roads. 5. Engine guard is plastic. I think an "Engine-guard guard"(not a typing mistake) should be also provided. 6. Suspension noise filters into the cabin. They should have given better insulation in the cabin. 7. The inside portion of the boot lid is uncovered. It is useful for a student researching on "How stuff works - A car boot lid" 8. Panel gaps are terribly inconsistent. I feel ashamed when I look at a VW Polo or Vento. Nothing is perfect. But a little more attention to details can make anything close to perfect. The car is a joy to ride and it is giving good performance and fuel consumption. It is a good car provided you neglect the cons I mentioned above. You won't be regretting on your decision to buy the new Honda City, realizing the fact that "there are always some cons for every car made in this world, even with Audi, Bimmers, and Merc".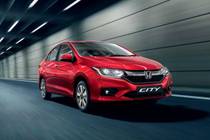 Rs.9.29 - 9.99 Lakh*
*Ex-showroom Price in New Delhi
Rs.9,29,900*EMI: Rs.19,772
17.4 kmplManual
2 Offers
On Honda City 4th Generation :- Honda Cust...
28 days left