Nice car to drive, its HONDA
Look and Style Great look, its a little H city Comfort Spacious cabin, good leg space, though honda is known for low heights its adjustable seats are comfort to drive Pickup though power comes late by few seconds, it has enormous power, you will feel small amount of power being utilized to overtake, be it city or highway. Mileage currently i am getting 16 km/l live av as per car meter and on tank full its 14.8 km/l on summer AC when we are on AC all time during idel as well. Best Features Power and Soft maneuver on steering Needs to improve Sound of engine during 30-40 km, early loss of power, it should be bluetooth enabled, glove box small. Overall Experience fun to drive, still waiting for stright 400 km ride... driven 1000 km and race is more so waiting for first service and my cars performance.
Write your Comment on Honda Amaze 2013-2016
1
a
ajay
Nov 3, 2013 12:56:44 AM
NVH Level : RPM meter helps in Synchronizing the gears, so that you get maximum fuel efficiency. When you shift to 1st gear you can pull your car to 1500 RPM. On 1500 RPM shift to 2nd gear. Then on every 2000 RPM change gear so you don't strain the engine. Only in climbing you can pull it to 2500 RPM. Most of the time eco lite will be on and average and engine life will be good. People talk about high NVH level and the drive is very smooth. People who say NVH is high well they are idiots I have never heard high NVH so no complaints so far.
Reply
1
a
anurag
Sep 29, 2013 11:11:57 AM
after my second service i drove the car from lucknow to delhi and back- from lko-del i was driving crazy at 100-120 km/hr and with my diesel tank full, on reaching 560 km my car diesel was down and showing low fuel warning... and av of just 17 km/l, i was shattered!!! but while returing back i maintained my car at 80-90 km/hr speed and at first 180 km my car was giving av of 25.7 km/l (best i have seen) and during rest of my journey till lko it came down to 23.4km/l, not bad while driving on kanpur traffic bottleneck. my tank is still to go a long way...!!! i like it!!!
Reply
1
a
anurag
Aug 10, 2013 7:29:35 PM
after my 3000 km drive i am getting a mileage of nearly 17 (16.8) in city drive with rough AC use and on highway nearly 21 km/l. driving is a comfort.
Reply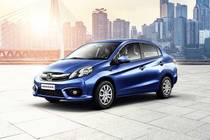 This car model has expired