Just bought thenAmaze
I like the looks and exterior of the car, well designed. Honda always spends time and money on designing their cars. Engine is too powerful for an entry level sedan, and that is probably the main reason you hear engine noise in the cabin since there's a 1.5 L monster engine under a tiny entry level sedan. Interiors are simple, but everything you need is on board. Performance wise, I have driven it for about 100KM now, after I bought it on May 6th 2013, and so far no trouble. Gear switching is easy, and handling is good. Afterall its Honda we are talking about. Best features: Steering controls, powerful engine, space, looks, ABS on all Diesel model. Worst features: no fog lamps on SMT model, no parking assistance as well.
Write your Comment on Honda Amaze 2013-2016
1
a
ajay
Nov 3, 2013 1:05:32 AM
NVH Level : RPM meter helps in Synchronizing the gears, so that you get maximum fuel efficiency. When you shift to 1st gear you can pull your car to 1500 RPM. On 1500 RPM shift to 2nd gear. Then on every 2000 RPM change gear so you don't strain the engine. Only in climbing you can pull it to 2500 RPM. Most of the time eco lite will be on and average and engine life will be good. People talk about high NVH level and the drive is very smooth. People who say NVH is high well they are idiots I have never heard high NVH so no complaints so far.
Reply
1
r
ramana
May 11, 2013 12:37:17 AM
Hello, please write a review after doing 500kms, we would be glad to get to know ur findings. are you experiencing annoying engine noise in driving honda amaze? pls reply back.
Reply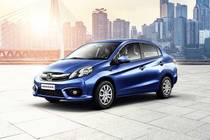 This car model has expired