Great Expectations Dashed!!!
Look and Style: Not an eye catcher. Comfort: Good. Rear seat space is very good. Pickup: Very poor. Everytime I need to get to the 2nd or 1st gear!!! Mileage: Very poooooor!!!! I get only 10km per liter in the city. My elevn year old Lancer gave me the same mileage!!! Best Features: Everything is strictly functional. Needs to improve: Mileage, pick-up and ac cooling. Overall Experience: Disappointed.
Write your Comment on Honda Amaze 2013-2016
1
a
ajay
Nov 7, 2013 12:32:39 AM
NVH level, Clattering & Mileage : if one drives in one gear for a long time. To reduce the NVH and clattering - RPM meter helps to reduce it by synchronizing the gears as mentioned below, you will feel the difference. It will also increase fuel efficiency. Initially you may find it hard, but once you get the hang of it, you will automatically reduce your acceleration and your car will automatically roll in one gear and eco lite will be constantly on. In this way your gear shifting will reduce. Focus a bit more on RPM and Eco Lite you will get the hang of it. When you shift to 1st gear you can pull your car to 1500 RPM. On 1500 RPM shift to 2nd gear. Then on every 2000 RPM change gear so you don't strain the engine. Only in climbing you can pull it to 2500 RPM. Most of the time eco lite will be on and average and engine life will be good and the drive will be very smooth.
Reply
1
R
rakesh
Jul 1, 2013 11:58:33 AM
u need to check ur driving... every amaze owner is getting arnd 20kms/l minimum....mileage...check with ur dealer....car is amazing
Reply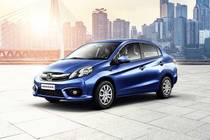 This car model has expired