poor fuel economy
I have purchased a figo from kairali ford, cochin. its diesel Exi red with reg no: KL-7-BN-1226. overall performance is good and the vehicle is really rigid. But mileage seems to be pathetic. I am only getting 10 KM/litre in city whereas company is offering 15-16 KM/litre in city rides and above 20 in highways. My friend is also having the same mileage problem. Other than the poor fuel economy, the car seems to be very good and value for money. I dont know how an engine giving excellent mileage in fiesta and ikon is performing so badly in their own other car
Write your Comment on Ford Figo 2012-2015
1
v
vyom
Jun 22, 2012 2:22:58 AM
Hi,i have booked this car and unfortunately read reviews after booking. Now i am in big trouble, i have given 11k as token money. Though i have test drive my relaitve figo car actually, and it gave me a better feel then swift,ritz,uva,i10,santro to be very frank. I got a feel, of like driving a sedan car, suspension is awesome..good leg space,strong grip even when you drive it at more than 100km/hr. Overall i was fully satisfied with it looks, driving etc. but not aware about the mileage. Please suggest whether to cancel this booking to go for new one or continue with this.
Reply
2
m
manu roy
Jun 22, 2012 8:38:58 AM
Dear, I am taalking about the city mileage of figo diesel. it gives 10-12 in city but in highway its give 20-22 km/ltr
Reply
1
R
rishi
Jul 5, 2011 4:55:22 PM
My Petrol Figo Milage droped ... its around 8-9 in NOida.. I purchased the car on 3-jan-2011....i am fully satisfied with my car.. but milage is really concern of worry... Any Ford Officials ..please contact ...
Reply
1
A
aman
May 22, 2011 9:46:49 PM
But I truly won't recommend the petrol version
Reply
2
T
tej raval
Jun 24, 2011 3:10:05 PM
Why? What r the is issues pertain to petrol version..your feedback will realy help me to take correct decision..
Reply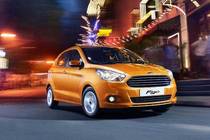 This car model has expired