I GOT FIGOttitude
When i decided to buy a hatchback and chose Figo, my family was a bit skeptic about Ford. The service would be expensive, spare and maintenance. The one step into the showroom changed all that. The executives showing the cost of spares in detail blew me away. Its easy convincing a 25 yr old but very difficult to convince a 50 yr old. But my parents were, impressed, stunned and happy. 4 months from the day of purchase, me and my friends planned to go for a long drive. With the rainy season on full swing, we decided to head to Nagarjuna Sagar Dam. A civil master piece, a splendid scenic with the water gushing. The distance was about 170 Kms from Hyderabad. Filled up the tank with Diesel and head out. The drenched roads, the lush green sight were mesmerising and so was my stunning Figo. The car is a gem,a master piece in engineering. The usual rattling,noise in the cabin all were just OFF. Crusing at almost 150 KMPH the car was hugging to the road and absolutely stable, the Ford's are known for Driver's Car and so is Figo. We stopped for break fast and lunch. On the return journey, one of my friends dragged my attention to the mileage of the car. We took our mobile phones out, pulled out the calculator application. To our shock and surprise the car was giving 21 KMPL Diesel. The sense of satisfaction in buying the right car was clearly on my face, with a huge smile. The Indian market is flooded with hatch backs. We have many choices, its a customer driven market and my suggestion to the new buyers is to convince both your mind and your heart for a better purchase, cus each Rupee counts!
Write your Comment on Ford Figo 2012-2015
1
R
rajesh
Sep 23, 2010 11:31:23 PM
Please don't misguide people by telling lies. I big LIER.
Reply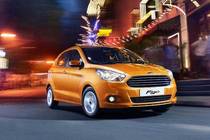 This car model has expired