Great car, great service compared to Maruti and Hyundai.
Ford Figo is a nice car. I am using it for last 2.5 years, getting maximum mileage of 22.6 kmpl and minimum 19.3 kmpl with AC on. The minimum mileage is 19.1 kmpl. Service is excellent than my previous car service providers (Hyundai and Maruti). I love the ride quality of this car. The music player sound quality is of top quality. Bluetooth connectivity is good. More comfortable than Swift. Looks are greater than Swift and Grand i10.
Write your Comment on Ford Figo 2012-2015
1
u
ubaid
Feb 9, 2015 7:35:58 PM
I baught figo last 4 months before after a long search of evry where on web or all hatch car model valuation.. Than i go with figo exi diesel n now i very much satisfaied with it..now today my all frnds those who sitted in my car first time than they feel its luxarusness n told me yaar its really awosome bosss ....in my opinion it has evrything...full fill with all fetures n bidaway its a/c ekdm dhasoo cimate controll is fbulas n music system i never feel sound like that ...compny fitted music system awosome yaar its supports all connectyvity option ....like cd/pendrive/auxin/blutooth powerfull radio tuner..road griping is awosome..because its got aerodynamic shape Power dosent low even ac swich on mod tyre size also very good 178 r14..no maintanance car depend on the driving n road condition..car body rocksolid..intirior is eyecathing..ac blower is ike exaust cooler so mch speed air flow even feel in rear sheet ..car built with the hydrolic power steering its gives hazzle free driving ..miledge is also very economy ..figo exi comes with centralocking with remote key..boot spce enough for mid size family N also after sales servise is aso very good my dealer sairamford supports me very frndy in my first servicing n company cutomer care reprentative taking feedback with customer evrytime in evry step..so i completly satisfaid..
Reply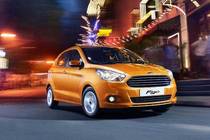 This car model has expired