Good Car
Hi ! I have purchased Diesel ZXi and driven 1500 kms. Highlights are below. 1) Good fuel miliage.22 highway and 16 -18 city (Approx.) 2) Little noise at startup but smooth after engine heats up. 3) Gear ratios are good. but need an improvement. upto 20 knph you need to drive at 1 gear only. 4) Poor ground clearence reported. Difficult to drive in rural areas. Figo as ground clearence higher than Maruti but most of components/systems are has uniform gound clearence whearas in maruti800 low ground clearence at few locations. 5) Heating at leg space during log drive. AC should be on to avoid this. Thanks BMR balu.raut@gmail.com
Write your Comment on Ford Figo 2012-2015
1
s
sandeep
Sep 14, 2010 3:42:48 AM
I was thinking to change my 2 yrs old omni to figo, estillo or beat. Very much liked with figo (estillo and swift is very very common) and started searching for reviews. Have read lot of comments in different sites... Now afraid of figo's mileage... a lot of people having trouble with mileage... somebody having mileage from 6.5 km on petrol. I can't definetely afford it.
Reply
1
r
rameshkumar
Sep 4, 2010 2:02:25 PM
well,quite a lot's been heard about the figo.I too had a good look at this..Sadly even the top end model dosent have the split option on rear seats which most of the hatches are providing as some thing basic.I wish ford re-think about this,I dont think a genuine buyer will mind paying 5k-10k for an extreamly useful feature like this which make the vehicle suitable for wider choices.Other wise the car looks a pretty good one.
Reply
1
P
p k hui
Sep 4, 2010 1:49:30 PM
Good to read all the positive comments. Am deciding between all the new hatchbacks for acquiring one on my return to India around Oct. and Figo has caught my attention particularly due to its price because performance-wise I find all are near about the same going by the reviews I am reading. Two other particular needs- ground clearance and drivers seat height adjustability since I hv a lower back problem and prefer high seating position with suitable head clearance naturally. Any suggestions anyone?
Reply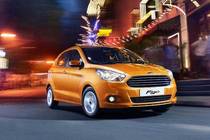 This car model has expired