ford figo
Look and Style very good style when look from the sides. have a strong body, and quality materials than swift Comfort when driving feels like to drive a very big car Pickup poor pickup when a/c is on Mileage good mileage of 17.5 on a/c Best Features low price and a big vehicle Needs to improve power of petrol engine has to be impove. Overall Experience very good experiance with the small ford.
Write your Comment on Ford Figo 2012-2015
1
p
preeti
Oct 17, 2011 11:18:58 AM
thanx krishna.
Reply
1
p
preeti
Oct 12, 2011 1:08:35 AM
I am planning to buy ford figo petrol version but a little bit confused...regarding mileage and its performance.pls guide
Reply
2
k
krishna
Oct 12, 2011 2:42:22 PM
hi preethi, I am using of figo petrol zxi for last one year. I am very very happy with my figo. very cofort to drive even you feel you are driving a sedan. It actually a big car in size and weight. steering control is high compared to other. But a little poewr loss appeares when drive in A/C. The mileage in the early stage is 14kmpl average. But after the vehicle comlplete a total km of 10000. I get the a stunning mileage of 19kmpl in a/c .But in the city it is 15kmpl. In my opinion figo is the best choice for you than other.
Reply
3
d
dheeraj
Oct 27, 2011 10:49:49 PM
how to get more mileage in petrol model?
Reply
4
d
dheeraj
Oct 27, 2011 10:53:09 PM
i am using of figo petrol exi and i get the mileage 10-12kmpl.
5
k
krishna
Oct 28, 2011 2:25:04 PM
IN THE INTIAL STAGE ME TOO GET ONLY THE MILEAGE OF 13-15 KM/L. AFTER 10000 KM I GOT THE MILEAGE OF 19KM/L. REMIND NOTHING, ALWAYS KEEP ENGINE RPM BETWEEN 1200-2000 IN ALL GEAR. KEEP TYRE PRESSURE ALWAYS 36 PS. YOU CAN FEEL THE DIFFERENCE. THE WEIGHT AND SIZE OF THE CAR IS VERY BIG, SO A SMALL VARIATION IN DRIVING INFLUENCE THE MILEAGE.
6
d
dheeraj
Oct 31, 2011 3:59:02 PM
thanx krishna.one more dout,how to install a USB port in the music system?
1
R
ranjit kumar singh
Aug 31, 2011 3:01:47 PM
I AM PLANNING FOR A NEW DISEL CAR.BUT LETTLE BIT CONFUSED TO SELECT. PL. ADVICE
Reply
2
k
krishna
Aug 31, 2011 6:43:52 PM
hi ranjith, if you planing to buy a deasel car, you go to figo, swift, punto. figo had large iterial space and fiesta,s popular engine which proves outstanding perfomance in indian roads. swfift is the mind of indian, but know onething, you will not get the old swift with fiat engine. new swift is with the engine that owned by maruthy, we dont know the perfomance of the maruthy deasel engine. then punto, good looking , popular fiat engine. all the above,my vote is for figo, beause of the price is outstanding compared to other.moreover the mileage is outstanding for figo compared to other. I strongly advice to buy a new figo. after all it is your choice.
Reply
3
A
amit
Sep 1, 2011 1:48:17 PM
Hi, could you please provide any reference for the claim that new swift dose not have the fiat diesel engine
Reply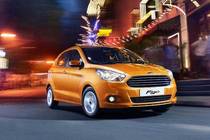 This car model has expired