Except the Engine, rest poor quality product used
Look and Style : Excellent Comfort: Very good to drive also to travel back seat Pickup: Good (Not excellent) Mileage: Low (9km/L , city) Best Features: Very smooth perfomance of Engine Needs to improve: Brake and needs to tight all screws and bolts before selling. The car makes a rottling sound from back side. The whole cars make horrible sound when crosses speed braker. The right door of drivers side makes sound of tractor when road is bad. Very very dissatisfied with cars body build. The iron used was already rusted before buying. The very next day after buying the car, i had to put the the car in ford garage as the brake does not work at low speed. There i saw all the iron rod used was rusted. Overall Experience: Bad, NOT Value for money
Write your Comment on Ford Figo 2012-2015
1
N
niks
Nov 7, 2012 9:23:02 AM
I have ford figo EXI bought 3 month ago, mileage 11km in city condition. Handling is very good and the most very specious and comfortable. If you just think of mileage then TATA NANO is better.
Reply
1
d
dina lal chhetri
May 25, 2012 4:32:06 PM
dear all, i liked n purchased, beautiful CAR FORDFIGO ZXI,,ITS NAME IS INOUGH,,IN current year,,,,interior layout is very gud n morespace,inthis side,,,gud pickup,gud control,on the road,,also likes windowpower...totallty i can say,,ford figo zxi,,LIKES HOME THEATER,,,, 2,, ONE IMPROVEMENT NEED TO DO,,,,SHOULD BE STEEL BUMPER REAR N FRONT SIDE,,thanks,,
Reply
2
d
deep
Jun 8, 2012 1:46:01 AM
dina lal chhetri.. I likes review yours but i wud no steel bumpers IRON BUMPERS best. hit Figo damage others dats iron bumper. INOUGH!
Reply
2
d
dina lal chhetri
Jun 9, 2012 8:26:35 AM
dear sir, thnks for liked my cooments,,,can i fix iron bumper in my car ,purchage on 31 march 2012,,from BHAGAT MOTOR DEHRA DUN,,your coop,,,will be highly appriciated,,lot of thnks,,FORD FIGO,,DIL BHAR KE JIO,,,,,REGRDS,, CHHETRI FAMILY.....
Reply
1
D
deepika chhetri
Mar 2, 2012 5:13:28 PM
Hi Ford Figo Titanium Petrol Users.... I am planning to buy Ford Figo Titanium Petrol. Please suggest me or guide me with your experience with Ford Figo Titanium Petrol. I am not going for Diesel one because daily running of my car is not fixed. i might use it twice in a week and once in a 3 months for long tour from Guwahati to Siliguri. Please give your comments... Regards Deepika
Reply
2
D
diganta
Mar 28, 2012 9:48:06 PM
I will not recommend figo (petrol)reason is- We in our whole family have following cars which i have driven now an often. Ford Figo (Mine), Santro xing (Father), Wagon R (Elder brother), SANTRO XING IS BEST.
Reply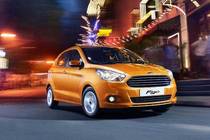 This car model has expired