Car with a big smile on driver's face
Look and Style Good. A headturner in the city Comfort: Good AC, good suspension systems Pickup: OK. Requires idle conditioning for 30sec for best performance Mileage: Excellent Best Features: Everything Needs to improve: Interior plastic and instrumentation lighting Overall Experience: Very good, fun to drive. We bought this car about a couple of months back. Its a good car and fun, smooth and silent to drive. It can handle sharp corners with ease. It also comes with good features like theaterical lighting and its easy for the eyes. The eats are comfortable and very roomy and also with large boot space. Everyone can even feel the space when viewed from outside. AC is very powerful and you can instantly cool the car with only fan speed 2 although till 5 is available. The pedals and the gears feels smooth and easy to shift. Engine is almost vibration proofed. Its so silent that sometimes you may be confused whether its turned on or not. The features look more for its price but the round buttons of the stereo may make it look a bit down market. Also the orange backlight is not interesting always(feels like old Nokia phones) and may have been made to blue or gray. The engine requires a 30sec idle conditioning at start and final stop or else it may not provide good pickup. This is normal for all diesel engines. When we first bought the car, not all the warning lights were working and it had to rechecked thoroughly by the experts later. For my car the mileage showed somewhere near 18 for city and 20 for highway drives. With the AC on this figures drop slightly. This variant do not come with ABS and the brakes are highly sensitive and strong and you nay find it difficult to manage it in the beginning. I recommend this car to everyone. It won ICOTY, Zigwheels, Top Gear and CNBC TV18 Overdrive viewers choice Car of the year & compact car of the year 2011. What else? Follow my blog about my Ford Figo at myfigo.blogspot.com
Write your Comment on Ford Figo 2012-2015
1
s
suneel
Jan 26, 2012 5:55:13 PM
is there any chance to convert CNG for ford figo?
Reply
1
s
shrey
Feb 2, 2011 1:07:23 PM
i m going 2 buy a car in nxt 3 days n confused abt the figo's mileage in city. Is it an ideal car for bumpy roads?
Reply
2
S
saran
Feb 19, 2011 5:12:02 PM
yes
Reply
1
G
guru prakash
Jan 31, 2011 8:48:27 AM
Bad Pik up & too much noise in Diesel
Reply
2
S
saran
Feb 19, 2011 5:17:49 PM
As I have described, all diesel engines require some idle conditioning( running the engine at start to first 30sec before applying the gear) then you can drive it at any harsh throttle, it will perform well. All diesel engines are noisier than petrol engines since diesels produce more power.
Reply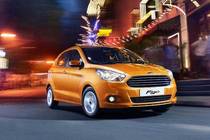 This car model has expired