A clear winner among hatch backs
Earlier last 4 months i was surfing and test driving on what car to choose my budget is max 7 Lakhs and according to my usage patten and raising fuel price decided to settle with a diesel. I 20 is above my budget and it has more buzz than what i expected Swift long wait period and same old design seems the new 2011 model is also not much different FIGO sounds good and i like the classy look and waste interior space PUNTO got impressed with the test drive on the 90 HP wow but the price is much higher than my budget moreover the service of TATA you know better I didnt own a FIGO But decided to bring home the FIGO Diesel Titanium ony Feb 2011
Write your Comment on Ford Figo 2012-2015
1
A
ashok parmar
Mar 20, 2011 10:40:39 PM
Does the FIGO MUSIC system come with a remote control? Is it kenwood remote control?
Reply
2
m
madhu
Mar 21, 2011 6:51:58 AM
No remote control and it says ford not kenwood but sound quality is good
Reply
1
S
santosh kaluskar
Mar 3, 2011 2:43:28 PM
Hii, I am planning to buy Diesel Titanium by this monthend,i just wanted to know weather any discount offers available which i can bargain with my local dealer. i.e Metro Ford B'lore Please suggest! ThanX
Reply
2
m
madhu
Mar 3, 2011 11:29:06 PM
Discounts are over by last december I bargained and got accessories worth 5000 And third year extended warrenty I got it from metro ford st marks road bangalore
Reply
1
h
harry
Feb 12, 2011 9:31:36 PM
what is the figo diesel mileage and what about the pick up.
Reply
2
V
vishal bhargava
Feb 14, 2011 4:43:48 PM
Dear User, We would like to inform you that Ford Figo Diesel gives mileage of 14.5 kmpl in city conditions and 18.5 kmpl on highways. The pick up of Ford Figo Diesel is good, the car is powerful enough to churn 69 PS at 4,000 rpm and maximum torque of 160 Nm at 2,000 rpm. Thanks
Reply
3
t
tom
Feb 16, 2011 11:02:52 PM
some people said the were getting about 20 on the highway and 16 in the city? it depends on the driving habits.
Reply
2
C
cardekho team
Feb 14, 2011 4:53:32 PM
Dear User, We would like to inform you that Ford Figo Diesel gives mileage of 14.5 kmpl in city conditions and 18.5 kmpl on highways. The pick up of Ford Figo Diesel is good, the car is powerful enough to churn 69 PS at 4,000 rpm and maximum torque of 160 Nm at 2,000 rpm. Thanks
Reply
2
m
madhu
Feb 20, 2011 9:40:54 AM
Mileage purely depends on how you drive. purchased my figo on jan 28th it made me drive more and more thus i made it reach 1200 kms :-) on long i got 22.5 kmpl and local 16 kmpl
Reply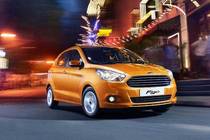 This car model has expired