A Car For the Family!
Look and Style At first sight, I was not very impressed by the looks of the car. But, it slowly grows on you. The front windshield is wide and gives a full view of the road. I found this very useful, especially when it rains.The headlights give a very stylish look. I like the christmas tree arrangement of the rear lights. After adding fog lamps, the car looks really good. Of course, alloy wheels will make any car look awesome. What is miss is the spoiler that I had in my earlier Wagon R. It relly changes the entire look of the car. I will definitely fix it soon on my Figo also. Comfort The entire seating arrangement is very good. Once I am seated in the driver seat, I feel like I can drive for a thousand miles. The rear seats are also spacious. We have travelled many times with three people at the back, but nobody has complained. Only thing was the lack of head rests and storage at the rear. The steering is solid and correctly positioned. With the seat adjustment you can assume the most comfortable position for driving. The air conditioner is fantastic. I have never had to increase to the second position so far. & it cools so fast. The Bluetooth connectvity is excellent and lets you attend your calls without taking your hands off the wheel. You can also stream music from the mobile phone & pair 5 mobiles. The speakers are very good. If anyone owns this car, please play the song Fireflies by Owlcity when you want to show off to your friends. You will know what I mean. The automatic rear view mirror adjustment is also good, but I feel it is a luxury. I have adjusted this just twice in the last 3 months. Pickup This is an area that Figo is lacking in. I am not an expert, but when we change from second to third, there is a definite lull. I have got stuck in the turns so many times. My colleague who bought the car on my recommendation has the same complaint. Same is also when you are uphill. One has to go down to a lower gear (sometimes back to first) when you slow down while climbing a hill. I would not recommend any risky overtaking while going up the hill. But once you are out in the open, the Figo is all game for a great drive. I have cruised at 140 kmph with no vibrations or shakes. The car just glides on the road. Mileage Awesome! I have got 19 kmpl on a 500 kms drive (80% highway, 20% single bad road). Just completed my first service & have done 420 kms in the city with 24.6 litres. (Approx 17 kmspl). Best Features Air conditioner, Bluetooth, Space, 1.4l diesel, Automatic Seat adjustment Needs to improve Rear power windows, quality of plastics, headlamps are not powerful enough, rear seat head rests, pick up. Overall Experience Great value for money. Great car for the entire family. I never really thought of buying a diesel car, but the price was so attractive that I got hooked.
Write your Comment on Ford Figo 2012-2015
1
A
arun mahanta
Sep 23, 2010 9:30:16 PM
Thanks for sus a informatic reveiw.
Reply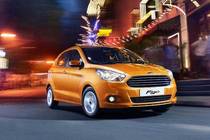 This car model has expired