Ford Classic Review
Look and Style- Looks n style good. But still need to improve interior. Interior is very simple and dashboard is quite empty Comfort-comfort very good Pickup-- good, but sometime it feels like dragging. Service center engineers need to be trained properly Mileage--Good. Average on city road 16.7 Best Features--Drive quality Needs to improve--Interior, post sales services and should try to keep promises made Overall Experience Good
Write your Comment on Ford Classic
1
R
reeto
Oct 26, 2013 1:25:35 AM
I own the Fiesta Classic 1.4 Duratorq since 6 years, build quality is worse than a Tata car. Interiors are at best average, legroom is cramped, plastics are cheap and produce excess rattles in the cabin. Worst is the suspension, it creates a lot of noise on bad roads. Excess body-roll problem, at par with an SUV. Ford SVC is as usual utter crap.
Reply
1
S
srinivas thatipelli
Feb 10, 2013 8:35:45 PM
ford classic looks are on the best side and comfort level is even too gud built to last i have driven classic many times includind a long trip from jalandhar to mumbai 1700km on one side . the car has now done 81000 km. and their are no cabin noise no vibratins but but from engine side noting left car is now consumig 2lts of oil every 5000 km . when shown to ford workshop the adviced us total engine overhaul .and the estimate given was 35000 thousand .the mecanic told us that this is normal with ford fiesta[classic] their engine lasts only maximum 1,20,000km overall car is maintained well proper serviced regularly by ford .ford really have to do some thing with their engines.
Reply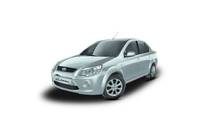 This car model has expired