Fiat Punto Vs New Swift (Diesel)-
Fiat Punto Vs New Swift (Diesel)-
Fiat Punto Vs New Swift (Diesel)- 1.Swift top Model (ZDI) is costlier then Punto top Emotion Pack model(excluding 90hp model),being 2.Swift VDI does not have - Rear Defogger,Rear Wiper,Driver seat Height Adjustment,Music system,ABS EBD, where as in the same price of VDI you get PUNTO Emotion Model, which is quite a good deal as anytime driving Punto is better then Swift. Who will buy Swift VDI, if we get these many features in the same cost...only if you are a fool you will go for Swift VDI 3.Punto at the moment is giving features such as 4 years warranty (insc of parts & clutch plates) or 1,45,000 KMS which ever is earlier + 50000 KMS road side service free + A lucky draw in which you may get either Rs 6000 (assured) or Rs 26000 diesel coupon or 1,00,000 coupon that is Diesel car in petrol price...I got Rs 26000 coupon... I am very happy to be a Fiat Punto owner Rohit - 9811611365
Write your Comment on Fiat Grande Punto 2009-2013
1
J
jagannathan ramasamy
Dec 19, 2014 8:32:10 AM
With fiat punto diesel upon highways I get 26-27 kmpl (speeding 80-90-100) very good power and pulling and city driving gives me not less than 20 kmpl;but at speed breaks the pickup power is sluggish.I am a proud owner of tusken wine punto active.
Reply
1
A
apoorv
May 18, 2014 11:28:57 PM
Hi guys...I m looking for a car with gud mileage, better safety features and of course...price. I m into sales and my monthly running is arund 3k. Checked with swift, ritz, beat, liva and punto. So far punto matches all the requirements. will it be a good buy considering it is a Fiat..in India..??
Reply
1
P
prashanth
May 18, 2014 10:30:30 PM
Hi Guys, Am comfused between hyundai i20 and punto 90 bhp diesel vehicle....as i saw the space is not very much comfortable in punto and interiors are not so impressive in punto... but the power is much better than i20.. so can anyone suggest me...?
Reply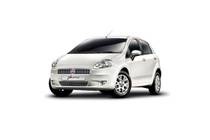 This car model has expired