Volvo V40 R-Design: Expert Review
Published On Jan 29, 2016 By Akshit for Volvo V40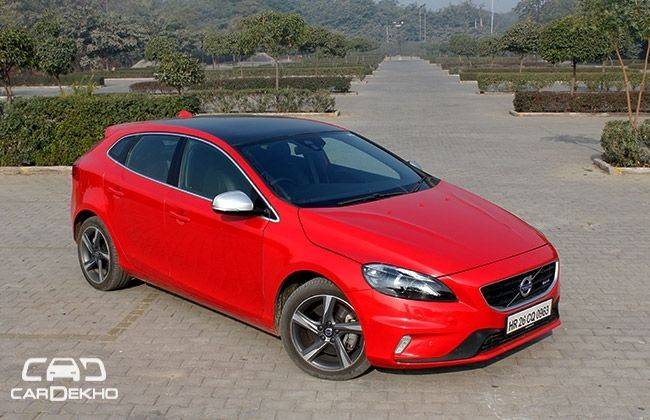 Volvo's direct rival to the Mercedes-Benz A-Class and BMW 1-Series, the V40 forms the basis for its Cross Country sibling which has been on sale for more than two years in the country. It is a fantastic looking car and in this dazzling red shade – it attracts eyeballs like Scarlett Johansson would in a big fat Indian wedding. Its charm forces you to stop whatever you're up to, freeze and give a long gaze while it passes by. But is it all show and no go? We tried to find out.
Pros:
1. Powerful Engine
2. Fuel Efficient
3. Comfortable seats
Cons:
1. Ride Quality
2. Ground Clearance
Exteriors:

Hatch's design is essentially the same as the Cross Country version, sans the body cladding. To put briefly – there's no cladding, no unnecessarily raised stance and no pretentious off-road capability to boast off. Rest remains identical, though.

It gets the same drooping nose, leading into a rising and broad shoulder that eventually culminates into a coupe-like rear. There's a certain gorgeousness to the whole design, but the most alluring bits are persevered for the rear. The part-glass boot lid, sporty bumper with silver inserts and twin exhaust pipes looks charismatic and could possibly give Kim Kardashian some serious competition.

This isn't a regular V40, but the top-end R-Design trim which packs some special elements including a glossy R-Design radiator grille, sexy two-tone 17-inch wheels, chrome-tipped exhaust pipes, contrast silver wing mirror cases and panoramic sunroof.

The V40 is a large hatchback. At 4.37 metres, this 'smallest' Volvo is as long as our average mainstream sedan. It's considerably wider too and sits deliciously low.

Interiors:

Interiors of the V40 aren't quite as radical as the exterior design. Like all other R-Design Volvos, it also gets an all-black theme with chrome inserts and ritzy double stitching on the steering, gear lever, handbrake and seats. Volvo's trademark floating centre console continues to impress and so as the simplistic dash design.

The all-digital instrument cluster looks snazzy and comes with three swappable themes – Sport has a red theme while the Elegance is blue lit and ECO displays green colour. While this looks modern, there's a dial-operated five-inch screen in the centre console that seems too outmoded in today's world of touchscreens.

Also, there's no reverse camera on offer in the standard package and Volvo charges over half-a-lac for it. Though, the stock offering does come with a likable automatic parking feature that can parallel park itself at the touch of a button. You just have to control the brakes and the throttle inputs, while the steering is managed automatically.

The Swedish carmaker has certainly mastered passenger comfort in its cars, be it with the leather quality, contouring of the seats or adjustability. When I drove the S60 few months back, seats were amongst the most likable elements and V40 isn't any different. Seats offer utmost comfort for all occupants and there's a memory function for the driver's perch.

The heavily contoured rear seats, make the space behind the driver best suited for two passengers only. Legroom and headroom there is decent for an average sized passenger, but tall ones wouldn't be quite happy. Due to an all-black theme, cabin lacks the sense of airiness, but the fixed panoramic roof works well in compensating it up to a certain extent.
Engine & Performance:

Unlike the XC60 and S60, that now comes with Volvo's modern Drive-E 4-cylinder engines, the India-spec V40 still gets the older five-cylinder mill. The 2-litre unit puts out a total of 148 horses and a good 350 Newtons of twist – more than any other offering in the segment and cracks a ton in shade above 9 seconds.

There's a sense of lag at low revs, but beyond 1,600rpm, an unadulterated surge of torque hits you, which gets even stronger at about 3,000rpm, before fading off at just under 4,600rpm.
The engine offers plenty of punch and feels reasonably quick too, but the refinement we liked in the newer Drive-E mills, is somewhat missing. Also, it gets quite loud when revved hard, though cabin insulation works fantastically and there's hardly anything audible in the cabin.

The six-speed torque converter gearbox is not the fastest shifting auto unit and works rather well when driven in a relaxed manner. In Auto mode, it shifts-up early and there's a slight pause between shifts when you try to go too hard on the throttle. Slot into the Sport mode and it holds revs at the peak for a bit before it upshifts on its own. Though there are no paddle shifters on offer, but you can get the manual controls via the tiptronic function that involves nudging the gear lever forward and back.
Ride & Handling:

V40 has a superbly composed chassis and being an R-Design Volvo, it gets stiffer suspension for reduced body roll and better stability into corners. While the car spent some days with us, we did introduce it to many corners and it just held the line without a hint of protest. The 225/45 R17 Michelins are super sticky. Yes, it's not as enjoyable as the rear-wheel-drive BMW 1-series, but the dynamics, reassuring weight to the steering and stability is impeccable.



With very little done to make the car suited for Indian road conditions, V40 begs to crawl over bad tarmacs. The 133mm ground clearance feels negligible on our tattered roads. Even mildly broken patches can be felt in the cabin and the bigger ones need to be negotiated very carefully.
Safety Features:

Safety should be the last concern when you drive a Volvo. Like any Volvo, this is also an NCAP 5-star rated car and gets host of safety features to save your life. Alongside the front, side and driver's knee airbags, the V40 features a pedestrian airbag. Yes, an airbag inflates under the bonnet to provide additional safety the pedestrian's body. That safe! Brilliant. A City Safety system has also been installed, which automatically applies brakes during an impending collision.
Verdict:

The V40 R-Design is a very likable proposition. It's a very well built car that comes equipped to the gills, boasts an imposing road presence, has been priced well and looks dashing. The slightly lethargic performance and stiff ride are some of the let-downs, in what is otherwise a well-rounded package. At INR 24.7 lacs for the base and INR 27.7 lacs for this R-Design top-end variant (all prices, ex-Delhi), the V40 undercuts its closest rivals and presents a great alternative to the often-seen German battalion.
Pictures: Anupam & Aman