Renault Triber 20,000Km Long Term Report: Pros And Cons So Far
Published On May 10, 2022 By Nabeel for Renault Triber
We have been driving the Triber AMT since Aug 2020 and these have been the highlights of our experience over the last year.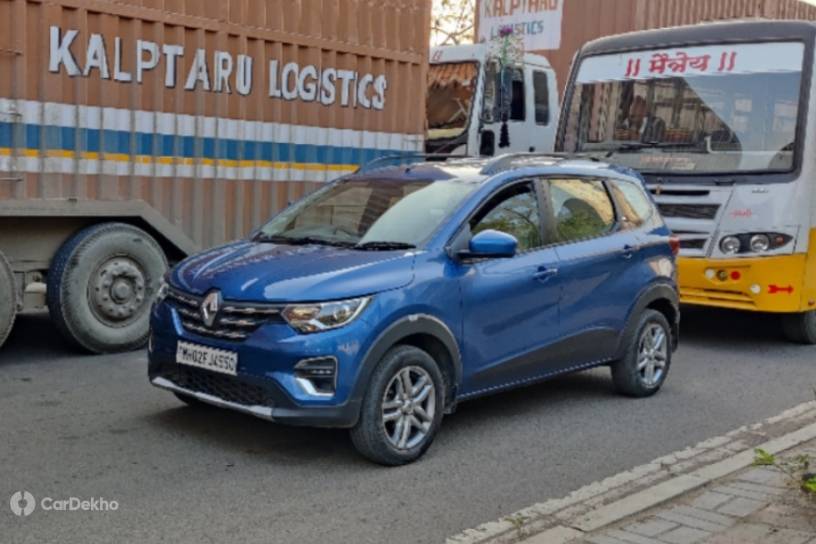 If you have been following our previous long term reports, then you'd know we have been impressed with the Triber's practicality. It's being used as our production vehicle (the toughest job for a vehicle in our line of work) and hasn't really let us down anywhere. That being said, there have been instances where we wished for certain elements to be better. Listed below are all the pros and cons of the Triber that we have come across in the last year and 20,000km.
Cons
1. Slow shifting transmission
The Triber's AMT transmission has always taken flak for being a bit too slow to shift. While this can be overlooked in regular laidback city driving, it just fails to deliver on the highways and in a hurried city drive. The shift logic is not suited for a fast-paced driving experience, and this leads to unnecessary shifts, which then makes you lose more time. You can take manual control over the shifts, which does let you carry more speed for overtakes, but the shifts are still too slow. So if you are looking for anything more than a laidback commuting experience, the AMT won't cut it.

2. Not-so-quiet cabin experience
While the quality of material used in the interior does feel sturdy, Renault has cut corners in using cabin insulation material. From the driver's seat, you constantly hear the engine growl and even the AC compressor clearly. And from the second row, the road and traffic noise creeps in a lot. This is a sore spot in an otherwise comfortable cabin experience.
3. Limited boot space with the third row up
If you're planning to use the Triber as a 7-seater, keep the roof carrier handy. Well, not for the passengers; the seats are spacious enough to seat seven in reasonable comfort. But the measly 84-litre boot space behind the third row is fit for just a medium-sized backpack or duffel bag.

Pros
1. Plenty of storage spaces in the cabin
Despite being a sub 4-metre MPV, the Triber has a surprisingly spacious cabin. You get tons of storage options as well for all your knick-knacks. You have a separate phone tray, a large open space under the centre console, two glove boxes, a separate cooled box between the front seats, and two spacious glove boxes. Charging options are aplenty too, with two 12V sockets and a front USB port. So, though storing luggage for seven occupants might be an issue, stowing away your knick-knacks will be rather simple.
2. Comfortable ride experience
Renault has always been a whiz at tuning the suspensions of each of their cars perfectly for the Indian road conditions. So no matter how bad the roads got, the Triber managed to tackle most bumps with ease. Even with all five passengers on board, the ride never gets harsh, and you remain isolated from the surface. So if you live in an area where the roadworks never start or just dont end, the Triber is a safe and comfortable bet.

3. Boot space behind the second row
The Triber has a seriously impressive boot space for a sub4-metre car. With the third row removed (not folded), you get a massive 625-litre space, which can be increased even more by sliding the second row forward. However, the second row doesn't fold flat, which does feel like a bit of a miss in this flexible seating setup.
To know more about our experience with the Triber AMT, have a look at the articles below.
Date acquired: Aug 14, 2020

Km done when acquired: 600km

Km done till date: 20,000km

Fuel efficiency: 13.8kmpl
Words by Keyur Joshi