Do You Drive Late In The Night? Then You Must Read This...
Modified On Oct 17, 2016 02:21 PM By Aman
For some people, driving is all about freedom and exploration. For some others, it is purely a matter of getting from one place to the other comfortably and safely. However, out on the road, every driver is pretty much left to tackle any unforeseen situation on his own and that can be a challenge, especially during the night or if you're traveling outstation.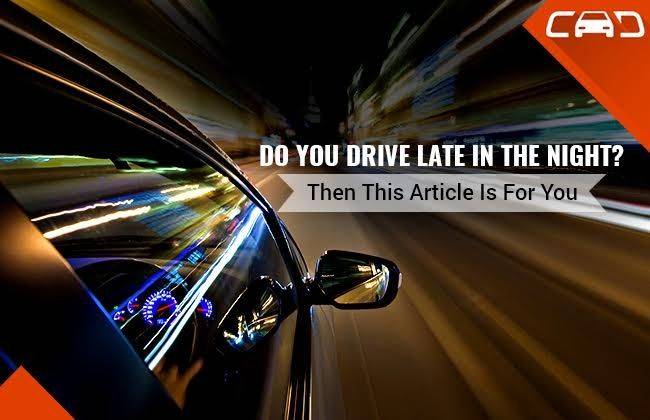 Imagine a scenario when you are taking a road trip on a hilly terrain late in the night and you run into a flat tyre. Or what if the car suddenly develops a mechanical fault and refuses to start? We are not trying to scare you but such scenarios can be encountered by anyone. All it takes is a snag and you can be left stranded – regardless of whether you are driving out of town or in city, night or day!
Of course, such unwanted scenarios are beyond your control but there's no need to panic. We have got your back, no matter where you are headed and at what time – CarDekho's Roadside Assistance is with you 24X7. So, say goodbye to night-driving hassles as all you need to do is make is a phone call and we will make sure to get you back on the road as quickly as possible. Our PAN India network of Roadside Assistance ensures you are never alone, be it any terrain. By opting for a convenient plan, you gain access to a number of facilities that are tailor-made for your comfort. Facilities include:
24X7 road assistance: Our team of fully trained representatives are there to help for on-the-spot assistance and repair anytime, anywhere!
All time call support: As stated earlier, we are always watching your back. Our in-house expert representatives are available on phone 24X7 to guide you through any common issues.

Flat tyre problem solved: Don't know how to get the spare tyre on? Or ran out of spare tyre(s)? Not to worry, our technicians can get that fixed and can even get you the spare tyre.

The towing advantage: If your car cannot be fixed at the site, don't worry, we offer towing facility to the nearest workshop as per your Roadside Assistance plan.
Jumpstart dead battery: In case you encounter a discharged or dead battery, and you are driving alone, our technicians can offer a helping hand to jumpstart your car so you can drive away without a sweat.
Fuelling solution: In the event you are unable to locate any fuelling station nearby, you can rely on us for immediate refilling of 5 litres of fuel (charged separately). You can avail this facility anytime and anywhere.

Cab support: If your car is not in a condition to be fixed on the spot, we will arrange for a cab to take you to a convenient spot.
Hotel Booking: This one's especially for road-trippers. If you are driving out of town and your car breaks down, we will help locate a nearby hotel and make suitable arrangements for you.
Medical help: If there is any medical emergency during your car breakdown, we will get in touch with the nearest clinic/hospital to arrange medical support.
With the above listed benefits, you can say goodbye to 'night-driving' hassles and drive comfortably without worrying about the time and place of travel. To get started, you can avail CarDekho's RSA plan at as low as Rs 1,299 which is valid for one year and to get the most out of this service, a premium plan for four years is also available at Rs 3,999. But make sure whenever you are driving during the night, your focus is completely on the road ahead and you are driving free of distraction. Drive safe and be always on the alert.
Was this article helpful ?
0 out of 0 found this helpful