This Holi, follow these 5 steps for a clean car
Modified On Mar 12, 2017 09:52 PM By CarDekho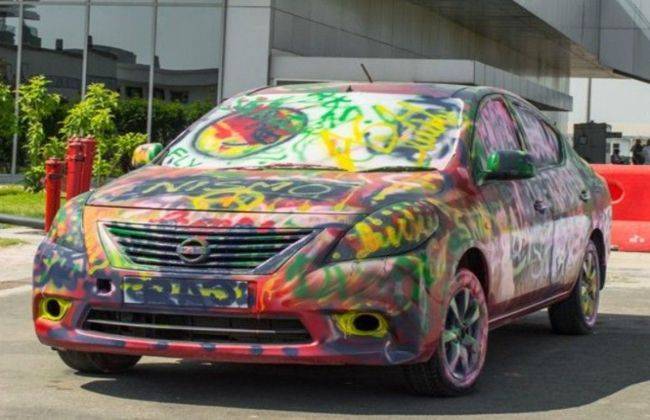 Holi can be a nightmare if you're looking to protect your car away from getting stained from revellers playing with colours. It's all the more painful if the upholstery or other parts of the interior get soiled by colours. Here are 5 things you can do to ensure your car stays spick and span after Holi:

Step 1 – Use a body cover
This is a no-brainer. Keep your car under wraps until the festival is over. This is all the more important if you have an open parking where chances of the car getting splattered on with colours are higher. If you are playing Holi, you shouldn't be using the car anyway so better keep it covered.
Step 2 – Create a protective layer on paint with wax polish
Wax polish is often associated with making your car shine. However, that is half true. What car wax polish also does is create a protective layer on top of your car's top layer of paint (the clear coat). This protective layer ensures all the dirt can be washed off without trouble at all. Use car wax to ensure dirt and dust do not harm your car's great-looking paint.
Step 3 – Use a plastic food wrap
Take a large wad of cling film, the thin plastic wrap that's used for packaging food. You can buy them online too. The cling film will cover and stick to the car's body and protect colour from getting into the panel gaps. It may look a bit silly or even tiresome but the effort will be worth every bit.

Step 4: Protect interiors with cling film, old curtains
In case you still intend to use the car on Holi, cover the seats with old curtains or towels. Use some of the cling film on the dashboard, steering wheel, door handles and gear knob as well to prevent staining. Protecting the cabin is even more important as getting colour off the interior is more difficult than the exterior.
Step 5: Use car cleaning shampoos/gels
If your car gets stained despite your best efforts, don't worry, start with giving your car a thorough wash using just a car shampoo and water. Do NOT use household washing powder, dish washing liquid or hair shampoo as they may end up ruining your car's paint job. If that doesn't work, try using a rubbing compound on the affected area. Rubbing compounds like Motomax, Formula 1 Scratch Out, etc, are available at any car accessory shop. Make sure you buff gently with a microfibre cloth and do not apply excessive pressure while rubbing as that could peel off the paint layer. Once the stain has been removed, wash the car and apply a generous dose of car wax to keep the paint finish intact. If the seats have been stained, try and remove them immediately to avoid permanent damage. Use a dry towel to blot the stain but take care not to rub it too hard as that may end up staining the seats more. If the seats are of fabric, suggest you get the upholstery dry cleaned or even replaced depending on the damage. If they are leather or leatherette, then use a household detergent along with a soft brush to work up a lather and remove the stain. Apply leather polish afterwards.
Was this article helpful ?
0 out of 0 found this helpful