How to maintain your chrome alloy wheels
Modified On Mar 27, 2015 01:14 PM By Prithvi
Alloy wheels are an essential criterion to the way in which your vehicle appeals to the naked eye. It is a medium through which an individual can spruce up his or her own set of wheels thereby making the overall look of their machine very attractive. One such enhancement is the use of chrome alloy wheels which are becoming a craze for consumers in our country. Though they might look flashy due to their shine and design but unfortunately not many of us are aware that they are one of the most difficult to maintain. Over a period of time, they tend to lose their shine and develop rust and scratches if not taken good care of.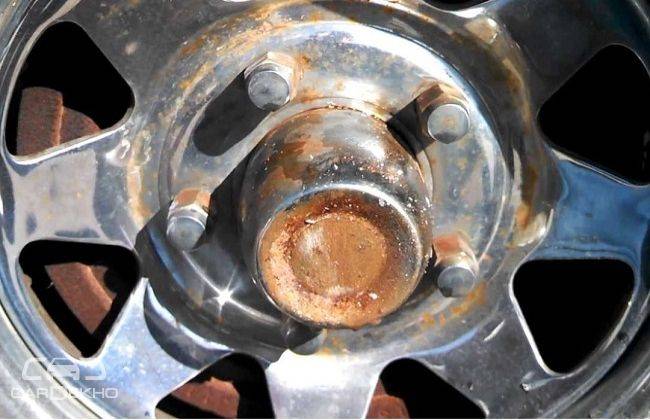 In order to avoid such wear and tear, there are a few simple steps through which one can still maintain the shine without having to spend loads of money on a chrome specialist.
Step 1: In case there are signs of rust on your set of chrome wheels then the first thing one should do is to clean them using an aluminium foil and vinegar or cola. Make a ball of the aluminium foil with its shiny side up. To remove the stains/marks pour some white vinegar or cola on the effected portion. The reason for vinegar or cola use is that both these liquids are acidic in nature that help in dissolving any rust build up on the wheels. Citing its right logic, now apply the aluminium foil in small and circular motion in order to remove the marks. Once that is done wash the alloy wheel with water after which it should cleaned dry with a soft and a clean piece of cloth.
Step 2: Second step in this entire process is to clean the wheels with soap and water. In order to do that take a bucket of clean warm water add some soap in the form of a washing detergent or liquid. Use a clean cloth, soak it into the soapy water and then apply to the entire alloy. During this activity one could also use an old discarded toothbrush to take off the settle dirt.

Having cleaned it thoroughly, wash the surface with fresh water so that all the soap that had been applied to it gets washed away after which ensure the alloy is cleaned dry there by leaving no sediments. Otherwise there is still a chance of corrosion.
Step 3: Once again use vinegar to tidy up the look as serves as a cleanser. Prepare a mix by adding in a bit of baking soda in which another piece of clean cloth can be immersed. Once soaked, pull it out and rinse before scrubbing the wheel. The wiping process would involve turning in and out of the cloth so that the dirt gathered does not get smudged on other parts of the alloy. With that done, wash the wheels once again with water so that left over vinegar is instantly drained away.
Step 4: Use of chrome cleaner is a must. These are basically 1 liter bottles that either come in the form of a spray or as bottled solutions which one can procure from any car market but are a bit expensive. Given that, it is still worth buying as these solutions help restore shine to your chrome alloys really very quickly. Take a small strip of clean cloth and place on the mouth of the bottle or if it's a spray sprinkle it over the cloth and the rub the surface. Also keep another piece of dry cloth handy so as remove any kind of particles and restore the new shiny look.

Step 5: Last and final step is to apply some car-body wax. Use of wax insures that the life of chrome is prolonged there by giving it that much needed sparkle. To be able to do this, take some wax on a soft piece of cloth thereby rubbing in onto the rim followed by a wipe off via another clean rag which would help restore the shine. Repeat this process from 2 to 3 times till the time you feel it has been given the all the important needed shine.
Was this article helpful ?
0 out of 0 found this helpful