A Tire is Not Just Rubber
Published On Apr 15, 2013 12:38 PM By Mohit
3698 Views

Write a comment
Most car owners do not pay much attention to their tires and this is a grave error. Tires are one of the most essential parts in an automobile as they make the most contact with the road. Neglecting tires mean overlooking safety issues, incurring added expenses and compromising ride comfort. In our latest India Tire Customer Satisfaction Index Study, we found three important findings that should translate into important questions every car owner should ask themselves regarding their tires.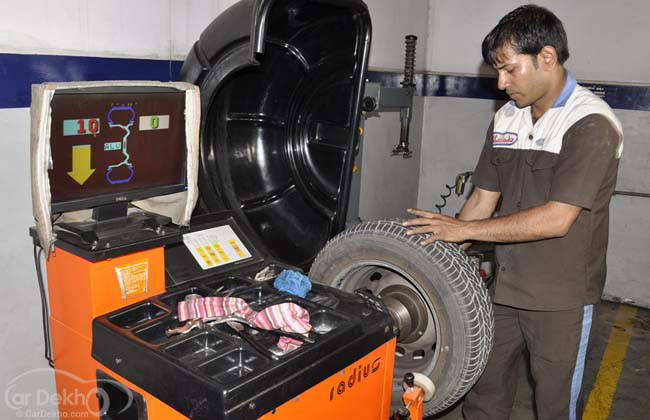 First, car owners are increasingly reporting that they want better fuel economy from their tires. Excessive fuel consumption has always been the top reported problem in our studies and will continue to be so in light of rising fuel costs. But does the average Indian car owner know how to optimize fuel economy from their tires?
Second, a startling 40% of drivers report that they do not rotate their tires in an ownership period of 12 to 24 months. This is a cause for concern as it will not only impact fuel economy and durability of the tires but more importantly, on safe driving. Why is tire rotation important and at what frequency should it be done?

Last, nearly three-quarter of the respondents report that run-flat tires are very important and express a need for them. However, does the average driver know exactly what run-flat tires are and is there a necessity for them?
We set out to answer these questions and to provide car owners with some advice and tips on how to get the best out of their tires.

Optimizing Fuel Economy from Tires

The simplest thing that one can do is to give your tires a visual inspection and check that there are no major cuts on the tires or stones embedded in treads. Tires should also not be very worn out as it will compromise the grip on the road, especially when it is wet.

In our study, seventy percent of car drivers report that they check their tire pressure once or twice a month and while that complies with the international guideline, we recommend drivers to check tire pressure every time they visit the gas station to fuel up. This is because the climate and road conditions in India necessitate regular checks to ensure the tire is of optimum pressure.

Ensuring the right inflation levels per the manufacturer's specifications will help to maintain the best fuel mileage, reduce the rate of deterioration and provide the right kind of handling and ride that is intended by the carmaker. Never ever be tempted to over-inflate tire pressure to improve fuel economy or to lessen the times required for tire pressure checks. This has a potentially disastrous effect of causing the tires to skip, bounce and slip off course as the grip is sacrificed.

The Importance of Tire Rotation

Tire rotation is simply the practice of moving wheels and tires from their original position to another to distribute tire wear evenly. This has the effect of prolonging the tire's lifespan and also to provide the optimum fuel mileage and ride. While our study finds that only sixty percent of drivers report that they rotate tires, it is more likely that this percentage is under-reported. Service centers will typically conduct tire rotation as per the automaker's service protocol. Therefore, this indicates that many customers may be unaware that the service centers are providing this service and are giving responses in the lack of knowledge.

In spite of tire rotation being done as a standard, drivers should still always request for their tires to be rotated at every service visit and never assume that it has been done proactively by the service centre. Having this knowledge will assure peace of mind when driving and also improve the durability of the tires, reducing the need to change tires which can be fairly expensive.

Should you get run-flat tires?

A run-flat tire is designed to offer extended mobility so that the driver can proceed to a safe place or the service center to have the tire replaced in cases of blow out or punctures. It works by having very strong reinforced sidewalls so that they hold the tire's shape and retain directional control. For many years, damage from punctures is top reported problem in our tire studies. Also, punctures may often happen when the car is running at high speed and therefore there is a great chance of an accident to occur. In less severe cases, the car may be stranded on the road and block traffic for a significant period of time.

However, run-flat tires command a price premium and are not usually provided as standard option in mass market models. And although it seems like a good idea to install run-flat tires, customers must be aware of the trade-offs that come with it. Consumers in the US are reporting in our study that their satisfaction levels are declining with their experience with run-flat tires. This is mainly because run-flat tires need to be replaced more frequently compared with standard tires. Even more damaging to the wallet is that run-flat tires cannot be repaired and often need to be replaced in pairs rather than as a single tire.

These inconveniences may be quickly forgotten in an event of a potential fatal tire blowout but there is a need for a technology solution for manufacturers to innovate and come up with more affordable options to provide customers with a run-flat experience. Till then, car drivers must decide for themselves if they can absorb the added costs of ownership for safety, or that they can live with the disadvantages and start getting acquainted with the wrench and practise how to change a flat tire!
Was this article helpful ?
0 out of 0 found this helpful