5 Point Check to Know if Shock Absorbers are Working Fine
Modified On Jan 05, 2015 03:44 PM By Firdaus
Shock Absorbers
We all like to be comfortable, be it in our personal lives, in our commute or anything that we do; it's human tendency to look for comfort. So even when it comes to cars, we all like a comfortable drive. When I say a 'comfortable drive', I mean we like it when the road undulations and jerks are not transferred to us. We like the ride quality to be soft on our back as well as our backside. But there are times when the soft comfortable ride becomes hard. You start feeling the small bumps and potholes which you wouldn't earlier. Why does this happen? The reason why you get a comfortable, soft or hard ride quality from your car is credited to shock absorbers or suspensions. This spring like (they are actually springs) piece of machinery is a crucial but much neglected part of your car. They are fundamental to passenger comfort and often them not being in shape makes a huge difference to your drive quality. Good shock absorbers are imperative for the handling of your car. But how does one know whether these are working fine or not? Like every piece of machinery even suspensions give you hints about their condition. Here are a few scenarios which may help you determine whether your suspensions are in good working condition or not.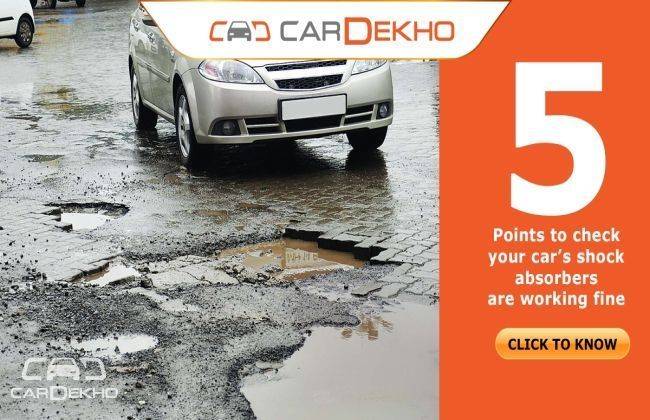 1. Car bottoming with a cranking sound on speed breakers and on bad roads
Do you feel you car lower than normal when driven on bad patches or when going over speed breakers? If yes, then it is an indication that your car suspensions need fixing and in all probability need to be changed. Sometimes the car bottoming is accompanied by a squeaking sound when the springs in the suspensions rebound. Even if there is no bottoming, but you hear a squeaking sound from the suspensions, its best to get them checked from a professional.
2. Longer stopping distances
On a new car you'll notice that the braking is sharp, and the car does not require much distance to stop when the brakes are applied. Of course a fresh set of brake pads along with new tyres help achieve this, but even suspensions contribute to the short braking distance. If your car suspensions are worn out, then the distance required to stop the car can increase by a good 20%. This is not a small percentage and when translated into actual stopping distance, can even be fatal.
3. Swerving and nose dives
Does your car dip or swerve while braking? If yes, then you need to get the shock absorbers checked. If you dip or swerve under braking it reduces your control of the car and can be very dangerous in wet weather and even otherwise.
4. Vibrations
Do you notice vibrations in the steering wheel while driving? If yes, then your shocks are not working properly. When in optimal condition shock absorbers should keep you tyres in maximum contact with the road and there should NOT be any vibrations. If this problem occurs, be cautious while driving at high speeds as it decreases the overall control and handling of the vehicle.
5. Uneven tyre wear
Can you see bald patches or uneven wear on your tyres? These are not always caused by unaligned wheels; it can also be caused due to poor shock absorbers. Uneven wear on tyres means they are not in optimal contact with the road as a result of worn out shocks. This will have an effect on car control as well as the tyre grip. In such a scenario both the tyre and shock absorber should be checked and replaced. Usually the tyre with uneven wear is the one with the worn out shock absorber.
Was this article helpful ?
0 out of 0 found this helpful