How to parallel park: 7 easy steps
Modified On Mar 27, 2015 04:02 PM By Abhijeet
17225 Views

Write a comment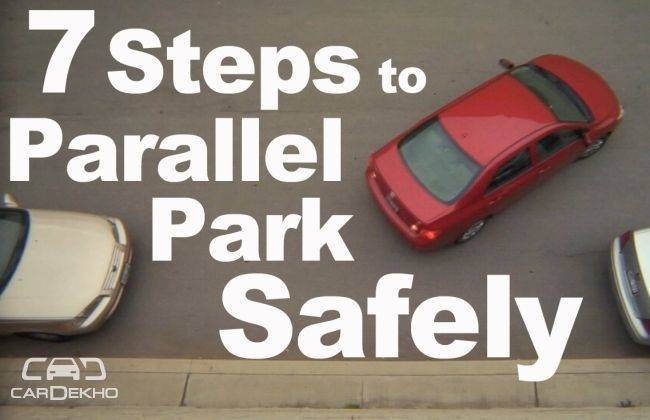 Lots of us love driving cars, but honestly nobody enjoys parking when he/she reaches a destination. Cram the car in a tight spot; take care of the lines and angles, precision steering and building sweat, all gets to you while parking. In fact many amateur drivers do not even bring out a car in the fear of parallel parking it between two cars. Most of the city drivers find themselves parallel parking, which is driving parallel two a car and parking behind it in reverse. Experienced drivers usually do not have a problem while parking, and usually they do not even think while doing so but amateur drivers can follow few simple steps to champion this everyday tedium.
Step 1: Find an apt spot

First, you need to find a suitable space to park your car without touching the other cars or lamp post or anything you are parking between. The space you are looking for should ideally be about a metre longer than the length of your own car. Be careful not to block and entrance, fire hydrant, maintenance entry, etc which you are not supposed to block. If the spot is not suitable, then drive away and look for another.
Step 2: Position your car

Once you have spotted a suitable parking space for your vehicle, slowly come to a stop next to the car in front of the space and turn your indicator on the side you are parking. Keep checking the rear-view mirrors for other motorists approaching quickly from behind. Do remember that if there is already a car parked with its indicators on, then the spot has already been taken. As a sign of decent road using courtesy, stay behind it until it parks or leave around t gently.
Step 3: Measurements matter

Park your car next to the car in front of the parking spot right till both the cars are at equal lengths from front bumper to rear bumper. A distance of two feet is ideal to parallel park, however if the parking spot is smaller you might have to pull up closer to the car in front. Always remember, to parallel park easily you need to enter the spot rearwards. This is imperative because all vehicles steer from the front and it is the rear that changes direction because of the swing in the front wheels. Once you are in a spot with the rear in first, all you need to do is turn the front wheels in and you are in easily.
Step 4: Turn and reverse in

Engage the transmission in reverse and slowly reverse in the space while carefully checking the rear view mirrors on both sides. You may also use the help of your passenger, if any, to guide you into the parking spot. This greatly enhances your chances to park in safely as he/she can better judge the cars dimensions. Turn the steering wheel completely and drive in the spot slowly. Going in slow is the key here, as it gives you ample time for steering corrections. Do also remember to check the front end of your car.

Drive in till you are about a feet from the rear car. Be very careful not to scrape the wheels on the curbs on the side of the street. The rear-view mirrors on either side will help you avoiding curbs. If you are going in very slowly, you might just touch the curb. Just drive forwards a bit and adjust the steering angle to avoid it.
Step 6: Straighten up

Once you are reversed in the appropriate angle, simply turn the steering wheel towards the parking spot and slowly drive in. You will notice that your car has completely settled in the parking spot you had chosen. Adjust a bit if you have to, and be careful not to scrap the car in front or at the back.
Step 7: Finishing up

By now your car must be in the parking place as you desired. Do not forget to straighten the steering wheel now as they carry some amount of clearance on the road. If the space is too tight and you feel your car does not line up to the other cars parked similarly, wiggle in the correct position. Watch out before you open the door as there may be pedestrians and cyclists going about.
All you need is some more practises and you shall champion over this simple procedure in a few days.
Was this article helpful ?
0 out of 0 found this helpful