How to apply wax polish: 4 simple steps
Modified On Mar 27, 2015 04:01 PM By Abhijeet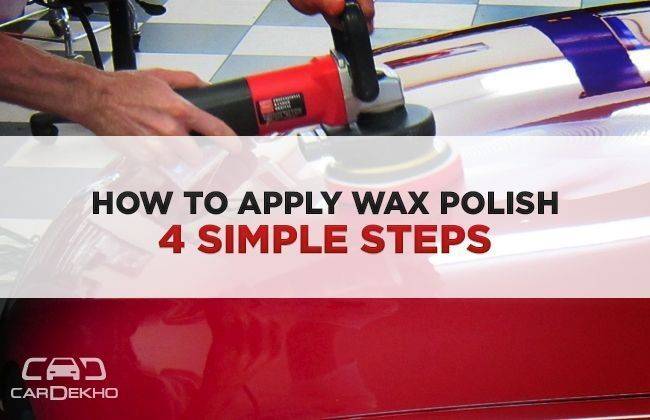 We have already explained you how to wash a car. Now when you are done and the car is now dry, it is always advantageous to apply wax polish to end with a shiny coat on your car. Added to giving a shiny lustre to your car, a coating of car wax also acts as a barrier against corrosive elements that might damage your car's paint. Here are a few easy steps to apply car wax on your vehicle.

Step 1: Preparation

Always apply wax polish on completely dry surface. You will have to wipe the water clean of the body of the car. It becomes difficult for wax polish to stick on a surface that has moisture on it. Also do make sure the car is standing in shade. Sunlight will quickly dry the wax as soon as you apply it, making it a bit tedious the buff out. Although a bit on the expensive side, choose your car wax that contains carnauba in it. Prefer using dry wax as opposed to spray wax, as dry wax is long lasting.
Step 2: Apply wax polish

Take the waxing foam and apply to cover a 2X2 feet area on your car. Remember, the thinner the layer the better. People usually apply too much wax which is actually a waste and becomes harder to remove. Your hand must be gentle while applying wax and keep going in circular motion. Overlap to spread the wax across evenly.

Step 3: Let the wax sit

After applying the wax on the entire body, let it sit for a few minutes. To check whether the wax is ready to come off, swipe your finger on the surface. If the wax smears it is not yet ready, if it is dry and clears away then it is ready.
Step 4: Wipe off the wax

After the wax has set, you need to wipe the entire body with a clean soft cloth. Ideally, this should be done with a microfiber cloth. You can find one at any car accessory store. If however you could not find one, you may use a soft clean cloth. While wiping if you notice that the cloth will start developing more drag through your hand motion. This indicates that you must flip it for a cleaner side and continue. Keep wiping away the entire body of the car giving it a shiny smooth finish.

There are a couple of pointers you need to be aware about wax polishing your car. Read the manufacturer guidelines about the wax polish you have bought. It carries information about how long you need to leave the wax to dry and what surfaces can it be applied on. Also remember matte finish paints are not supposed to be waxed at all.

Was this article helpful ?
0 out of 0 found this helpful