Used Car Price Estimation: Challenges and Solutions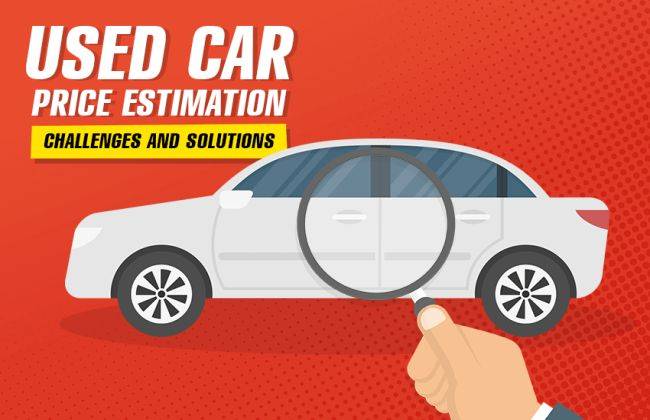 There are many issues which make the selling of a used car a tricky affair. Finding potential buyers, negotiations on the price and ownership transfer are some of the prominent challenges faced by sellers. However, the very first and foremost issue that you face once you decide to sell your car is the price at which you will sell your car – and mind it, it's not an easy task. Take, for instance, the case of a new car buying process. The price components of a new car are divided into its ex-showroom price, registration charges, insurance charges, road tax, accessories, and other levies charged by the government. We can take the example of Hyundai Elite i20 which costs Rs 7.94 lakh (on-road price, New Delhi) and this on-road price can be segmented into Rs 6.90 lakh (ex-showroom price), Rs 67,318 (RTO charges), insurance (Rs 33,860), and other charges (Rs 3,000). However, in the case of a used car, we don't have such clear classifications and prices are highly subjective in nature. There will be a large difference between the price that you think your car deserves and its market price. We list out some of the reliable methods below that will help you to arrive at a realistic price for your used car.
1) Is your car from a popular brand?
The popularity of your car model in the market is one of the most reliable indicators for its value. For example, Maruti Suzuki Swift continues to be the best-seller in its category and thanks to its high reliability and low maintenance; it is very popular among the customers. This popularity has a very positive impact on the resale value of the Maruti Swift and if you own one, you can easily ask for a premium due to its appeal in the market. On the contrary, if the model you possess has already been shelved by the manufacturer, you might not be able to get a good price for it. Once the model is out of the market, there are a number of problems that owners face in terms of repair and maintenance, unavailability of the spare parts, etc. which decreases its resale value. Therefore, you should strive to sell your car before the model becomes obsolete and loses its appeal among potential buyers.
2) Are you the First-Owner of the Car?
If you happen to be the first-owner of the car, do not hesitate to ask for a premium while dealing with the potential buyer. Being a first owner has its own advantages and you should leverage them without any doubt. However, if you are the second-owner, it will have some impact on the value of the car. Roughly, you are going to lose around 15 to 20% in the value when it comes to selling the car as the second-owner compared to the first-owner. In terms of market preference, potential buyers will like to purchase from the first-owner of the car rather than dealing with second-owner which, in turn, has some implications for the resale value of the car.
3) Take help of the Google
Google is our one-stop solution for many things and you should use it to get an estimate what the other people with a similar car model are quoting for their cars. This will give you an idea about the recent value of the car; however, be careful before arriving at a final price as the condition and maintenance have a major say in deciding its final resale value. Nonetheless, you can use Google just to get an idea where you should place your car on the value spectrum or get the price online by sharing basic details of your car. 4) Mystery Shoppers Technique
Another reliable method to determine your car's resale value is to visit some nearby dealerships and enquire about the price of the car you possess. You can act as a potential buyer of a particular model and get a sense from the dealership executive about the price of the car. Similarly, you can also call some dealers as a seller to understand how much dealership is willing to pay for your car. This will help you to have a holistic picture as you know both as a buyer and seller what dealerships are willing to pay for the model you want to sell in the market.
5) Start the negotiations with a slightly higher price
Once you get an idea of the value your car deserves, you should negotiate with potential buyers by taking a margin of at least 5 to 10% on the higher side. This will give you headroom for negotiations and help you to slightly lower the price to successfully close the deal.
Why to Hassle when you have the option of CarDekho Gaadi
If you don't want to go through the hassle and inconvenience of following all these steps, we recommend you to use the platform offered by CarDekho Gaadi to sell your old car. You can get a fair estimate of your car's value on used car valuation and sell your car literally in a single visit. You are assured to get the best value of your car and unlike other conventional methods of car selling; you will get the payment in your account instantly. The value-added services provided by the car buying portal like free RC transfer and assistance in the loan closure makes the car selling experience at CarDekho Gaadi way above others.
Also Read:-How and Where to sell your used car?