Tips on How to Get The Best Value for Your Ford EcoSport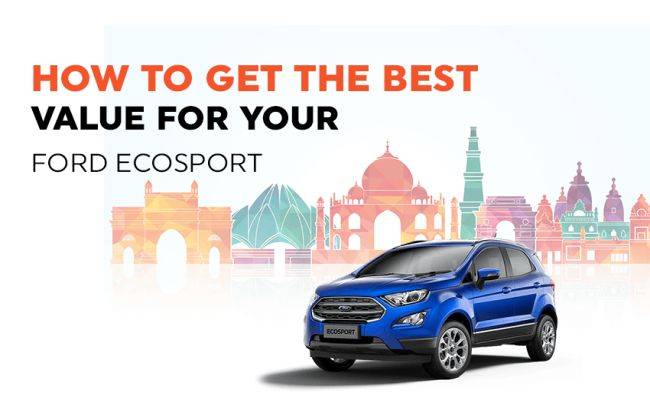 EcoSport is Ford's most successful product in India and was launched way back in 2013. It was one of the first compact SUVs that hit the Indian market and successfully created a good brand image for the Ford. Today, of course, the competition in the compact SUV category is quite high with the likes of Maruti Vitara Brezza, Tata Nexon, and Hyundai Venue all staking their claim for the leadership position. Still, despite the high competition, Ford EcoSport continues to have a special place among the prospective buyers. Even is the used-car market, this Ford SUV enjoys good demand. If you are the proud owner of EcoSport and wants to sell it now, we suggest you to mention (or even flaunt) following positives of your EcoSport to get a good deal for your used EcoSport.
1) Wide range of Engine Choices
Ford EcoSport is one of the few compact SUVs in the country which comes with three different engine options: a 1.0-liter turbocharged petrol engine, a 1.5-liter petrol engine, and a 1.5-liter diesel motor. Also, Ford has also equipped EcoSport with automatic transmission in the 1.5-liter petrol variant which was a segment-first feature when it was launched. While your EcoSport has only one of these engines under the hood, you can always brag about the entire range consisting of three engines while selling your Ford to a prospective buyer. Having such a wide range proves the technical superiority of the product and should favor you in getting premium price.
2) Solid Capabilities and Muscular Design
With the ground clearance of 200 mm, Ford EcoSport is your ideal partner for off-roading and adventurous trips. Yes, it doesn't come with a 4X4 hardware though its other capabilities such as up to 550 mm of safe water wading, best-in-class approach (25 degrees) and departure angle (35 degrees) make it a quite capable SUV. Add to this, the muscular and bold design of EcoSport and it can be easily considered as a perfect recipe for exploring the difficult terrains. Do not forget to mention all these qualities of your EcoSport while pitching your proposal to the buyer – especially focus on the EcoSports' capacity to go to places where ordinary sedans won't be dare to go.
3) Small is Big
Another big plus of Ford EcoSport is its unique combination of space and practicality. The SUV is quite handy and thanks to its responsive power steering, nipping in and out of the traffic is just a child's play. The compact dimension of the SUV makes it an ideal partner for the city trips and even the parking is not a big issue. Now despite having compact dimensions, the space inside the cabin is surprisingly voluminous. Five fully grown adults can easily travel to far places in the EcoSport without rubbing their shoulders against each other. To drive home these points, make sure you offer a test drive to the prospective buyer and ask him/her to drive both in the city and out on the highway. This will help them to realize how practical and spacious EcoSport actually is.
4) Features and Equipment
If you have the top most variant of the Ford EcoSport, you can certainly tell the prospective buyer the unique features and equipment the SUV comes loaded with. Right from the touch screen infotainment system and push-button start-stop to six safety airbags and leather upholstery, Ford has gone out of its way to make sure EcoSport does not lose out on the feature front. Explain in detail all these features to the prospective buyer, make them understand the utilizations of these features, and then while making the deal, make sure you get extra value for all these technically sophisticated and advanced features.
Why to sell your EcoSport at Gaadi?
If you want to sell your Ford EcoSport without any hassle, CarDekho Gaadi Store is the right place to sell it. They ensure that you get the best value for your used EcoSport. All you need to do is to go to the Cardekho Gaadi and book an appointment for a free inspection of your car. In a single visit, you can sell your EcoSport and the money will be transferred to your account instantly. What's more, CarDekho Gaadi will get the RC transfer without charging any extra fee. So what are you waiting for? Visit us and find why CarDekho Gaadi is the first choice of all the customers who want to sell their cars at the best value and that too without any hassle.
Also Read:-Top 10 Tips To Increase Resale Value Of Your Car