How to Determine the Right Time to Sell your Car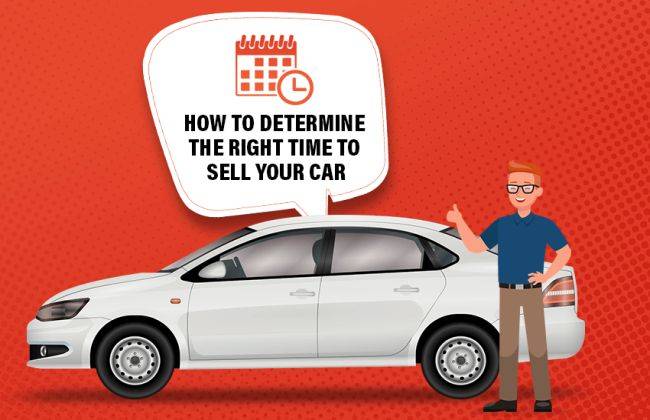 f you want to get maximum value for your old car, you need to sell it at the right time. Although it is a difficult decision to let go of your beloved car but then you have to take this tough call. Ideally, you should sell your car after a couple of years if you want to get a decent deal for it. We explain below the primary factors that you should take into account while deciding the right time to sell your used car.
1) Rate of Depreciation
You will be surprised to note that once you drive off a new car from the showroom, its value depreciates almost by 25% instantly. This means if you have purchased a car of Brand X at Rs 10.00 lakh, the moment you take it home it is worth Rs 7.5 lakh. Thankfully, for the next couple of years (around 2 years) or say around 20,000 – 25,000 km, the value of the car doesn't depreciate much. The second wave of major depreciation hits your vehicle between the third and fourth year when the value of your car plunges to almost 50% of its original value. So the car you have purchased for Rs 10.00 lakh will be valued around Rs 5 lakh at the end of the fourth year. Applying this logic to the car selling exercise, you will agree that getting good value for your car which is more than four years old is quite difficult. In other words, if you are planning to sell your car then make sure it will be sold within the four years of its lifetime, or else you won't be able to get a good deal for it.
2) Mechanical Wear and Tear
One of the primary factors that determine the value of your car is its odometer reading or kilometers it has been driven for. As the car runs, its parts experience frictional losses and tend to erode. More kilometers the car covers, more mechanical abrasion the car will have and hence, lower the resale value it will attract in the market. Adding to the misery is the pathetic condition of our city roads which are inundated with potholes and deep cavities. Further given the fact that 7 out of 10 most polluted cities in the world is in India, the kind of air we breathe or for that matter, our cars intake is bound to have a negative impact on us as well as our vehicles' working conditions.
The dangerous level of rising pollution is the reason why national green tribunal (NGT) has banned all diesel vehicles more than 10 years old in the Delhi-NCR. Therefore, if you are the owner of a diesel vehicle and it is approaching towards the 10-year deadline, you should consider it selling as soon as possible otherwise, it would be hard to find a buyer who is willing to pay a good price for it.
3) Launch of a new version or a facelift
The automobile sector today has emerged as one of the most competitive sectors in India. In order to keep customers excited, manufacturers are developing and launching new cars within shorter intervals of time. The average age of the car that was used to be 8-10 years a decade back has now been reduced to a max 5-6 years. Even within this shorter period, the car makers keep on refreshing the model by launching its facelift versions. It is now common to witness a facelift of the car coming into the market within a year of its launch which is quite quick by any standards of comparison. While this thing is certainly good for the new buyers who get wider choices and refreshing cars every now and then, the scenario is not very rosy for the existing customers. Once the new variant or facelift model of the car launched in the market, the value of the older variant of the car depreciates very quickly. In some extreme cases, a new model launch will erase around 40-60% value of the older model. This indicates that if you are planning to sell your old car then make sure you keep abreast with all the developments in the auto field, at least related to your car model. If you sense that the new and refreshing model of your car is on its way (something that can be easily ascertained from the internet thanks to a plethora of car news websites, blogs, etc.) you should not delay your decision to sell the car. Before the new model of your car launches into the market, sell your car to get a good deal for it.
Also Read:- Things You Should Never Hide While Selling Your Car