Facts about Exchanging, Selling, and Buying Cars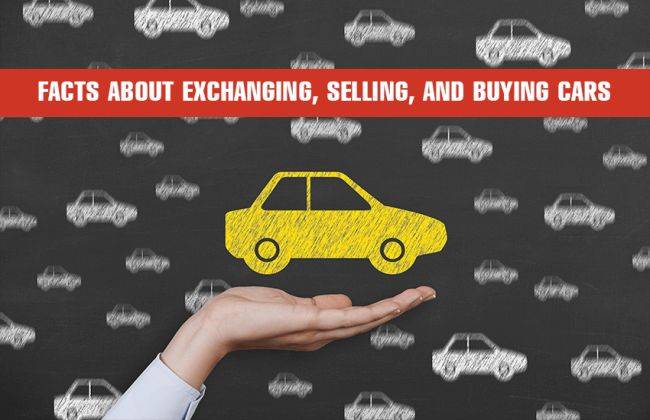 There are some fundamental aspects that help you to take a considerate and informed decision. Irrespective of whether you are in the market to buy, sell or exchange your car, these dimensions will make sure that you get maximum bang for your buck. So read on to find things that you should be careful about before signing on the dotted line for your next purchase.
1) Research and Analysis: A little research related to crucial aspects of the car like its price, features, engine performance, reliability, service and maintenance cost, and after-sales service will come handy while making the purchase decision. The process of researching the car is not a difficult one and thanks to the availability of the internet, most of the information is at your disposal. While researching a car, you should pay special attention to the car's total cost of ownership rather than considering its retail price only. For this you can actually refer to https://www.cardekho.com/.
2) Get a value estimate: This is especially helpful in case you are planning to sell or trade-in your old car. Having a rough estimate of the car's value will help you to negotiate confidently with another party. Even in the case of trade-in, knowing the worth of the car will save you from underhanded tricks adopted often by salesmen to trick you. The estimation of a car's value is very simple – in fact, as simple as visiting used car valuation. Just go to the website, enter some basic details about your car and the value calculator tool of the car-buying website will give you the estimated value of your car.
3) Test Drive Car: Whether buying a new or an old car, a test drive is a must. It is a reality check where you actually put the claims of car manufacturer/owner against the vehicle's real-world performance. A comprehensive test drive will clear all your doubts and help you to make your mind whether or not to go with a purchase decision. It is also an opportunity to know the car better and decides how well it fits in the larger scheme of things in your life.
4) Checking ownership reviews: We concede not all ownership reviews are trustworthy but at the same time, not all are fake either. While checking reviews, make sure you focus not only on the ownership experience but also on the reliability, maintenance cost, and quality of after-sales service. These reviews will give you some idea what the car owning experience would be like. 5) Get several quotes: Rather than sticking with one, you should ask for the quotation from several dealers which, in turn, will help you to get the best deal. You can even use the quote from other dealers while negotiating with salesmen to clinch the best deal for your next purchase.
6) Finance options: If you plan to finance your purchase, you should approach several banks/agencies to know which one is offering you the cheapest credit. Pay special attention to a processing fees, interest rate, loan tenure, and prepayment penalty and then make an informed decision.
7) Private seller or certified dealers: If you are planning to purchase a used car, you might be already struggling with this question. We suggest you buy from a certified dealer rather than purchasing from a private seller. The former option is safe as it comes with a warranty and assurance while the same is not true for the latter. It is difficult to believe on private sellers and unless the seller is someone known to you, you should prefer a dealer option to purchase a used car.
8) Documentation and history report: This is again applicable in the case of used cars. Whether you are a seller or buyer, documentation is a crucial part of the deal. It must be complete and if you notice any kind of discrepancy, it is advisable not to go ahead with the negotiations. As a seller, you must strive to transfer ownership to the buyer as soon as possible while in the role of buyer, you must make sure that the details of the vehicle on the documents and reality must match. The history/maintenance report of the used car is also credible evidence that can prove how well the car has been taken care of.
In sum, it is important to recognize that decision related to buying, selling, or trading-in a car is both critical and crucial in nature. Therefore, it should be taken only after a comprehensive analysis and must not be hastened. All the points mentioned above will definitely help you to make a right and considerate decision related to your next vehicle purchase.
Also Read:- 12 Things to Check Before Buying or Selling a Car In India