5 Reasons Why Car Valuation is Important for Selling Your Car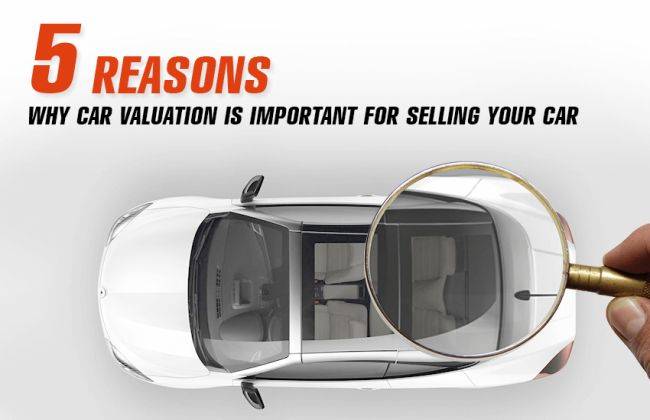 As a customer, we often take pride in our due diligence. We tend to make informed choices - be it buying a product, availing services, choosing an educational institution, or voting for the right candidate. But when it comes to selling our old car, most of us don't demonstrate the same kind of sophistication. We believe that whatever price a dealer is quoting or customer is willing to pay is fine which doesn't sound like an intelligent way to make a decision.
Once you have decided to sell your old car, getting the car's valuation should be on top of your agenda. Not only it will help you to negotiate confidently but also understand what the right resale price should be for your car. Here're the five benefits of estimating your car's value before you decide to sell it.
1) Getting the Best Deal
Having a fair estimate of your car's worth is a sure shot way to get the best possible value for your old car. As a seller, you want to get the maximum price but the aim is the opposite for the buyer or the car dealer. Beware of such things and get your car's estimated resale only from the experts.
2) Protection against underhand practices
Dealerships are one of the important stakeholders in the buying-selling process and they are a good alternative if you want to sell your car quickly. However, dealerships are also infamous for buying cars at low prices. For example, if you have decided to trade in your car at a dealership to avail an exchange offer then the discount you will get on new car will be far less than what you get when you only buy a new car without an exchange offer.
3) Best Deal in Exchange Offer
You might be interested in exchanging your old car for a new one and here's also having an evaluation report of your car will prove to be beneficial. Dealership executives usually try to devalue old cars in an exchange offer but if you know your car's worth in advance, you will be able to get a good deal. Also, sometimes dealers offer good value for your old in an exchange offer but then very cleverly reduce the discount on the new car at the same time. To prevent this, make sure you contact a couple of dealers rather than relying only on one dealer. Also, get the quotation for a new car with and without an exchange offer to find whether there is a difference in the discount on a new car when you trade in your old car.
A better alternative to these lengthy and complicated procedures is to go to a CarDekho Gaadi Store and get the best price estimate in a couple of seconds. You can sell the car in a single visit. You get the best value for your old car thanks to the wide network of channel partners and money gets transferred to your account instantly. The quick and transparent procedure of the portal makes it a preferred destination among used car sellers.
4) Confidence during Negotiations
Knowing your car's value beforehand will help you to negotiate confidently with buyers. In all circumstances whether you are selling your car privately, or to a dealership executive, your car's valuation report will boost your confidence and help you to get a good deal. If you supplement your car's evaluation with its history report and inspection certificate, it will encourage the buyer to purchase your car even at a slightly higher price than its market value.
5) Peace of Mind
Last but not least, knowing the fair value of your old car will help you to sell it competitively. Getting a good deal for your old car will make you happy and this feel-good factor is quite satisfying. However, if you discover that the price you have got is nowhere near the best then you are sure to feel bad about the deal. Therefore, getting your car's evaluated before selling is advisable not only for economic reasons but also to make you feel happy after selling it.
Also Read:- 10 Pro Tips to Sell Your Car